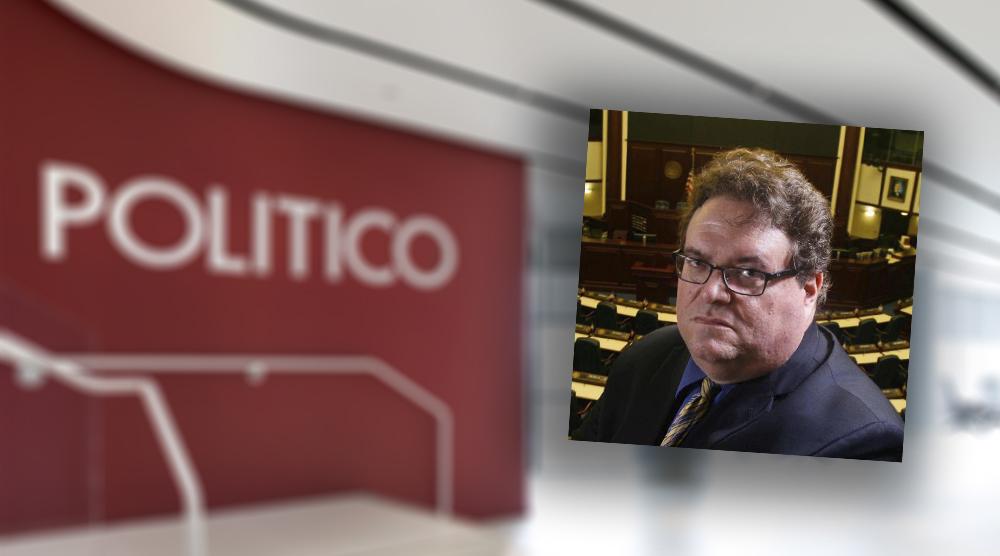 Fineout is joining POLITICO's Florida bureau just when it needs him. But what about readers' needs?
I now know how it feels to be James Harden.
When it was announced last week that veteran politics/state government reporter Gary Fineout was leaving the Associated Press to join POLITICO Florida, I probably felt the same way Harden felt the day Kevin Durant signed with the Golden State Warriors.
Weren't the Warriors already the world champs?
It was hard enough for Harden and the Houston Rockets to keep up with Stephen Curry and the rest of the Warriors before Durant joined the roster. How could the Rockets get past the Warriors now?
All right, enough with the basketball metaphors. The point is, POLITICO Florida was (arguably) the top dog in town before Fineout made the leap from the AP, especially with the near-collapse of the Tampa Bay Times/Miami Herald Tallahassee bureau (Steve Bousquet out the door and Mary Ellen Klas still with a half-year to go on her Nieman fellowship, assuming she comes back to the Herald).
That's in tandem with the Times losing Washington correspondent Alex Leary to the Wall Street Journal and politics editor Adam Smith to a PR firm.
The move is certainly good for Fineout, who now has an outlet that is a better fit for his encyclopedic knowledge of state government. If I had a dollar for every time his editors at the AP weren't interested in an otherwise juicy nugget about state government, I'd probably be able to pay for the salary increase that POLITICO, flush with cash, is giving Fineout.
All of those orphaned items got dumped on his blog and in his Twitter feed, having no natural home in what is now the AP's lowest-common-denominator coverage of state politics.
(And for the record, let us recall this 2014 quote from AP managing editor for U.S. news Brian Carovillano: "At the very core of the AP's core business is state coverage, and at the very core of that is statehouse coverage." What a joke.)
No, Fineout will now prosper in the multi-platformed space that is POLITICO Florida. If Fineout has a scoop but it's really not long enough for a full story, he can put it in Florida Playbook. If Fineout has a question — and boy does he have a question or two — he can ask it rhetorically in a POLITICO whiteboard.
He can drop items into his other colleagues siloed newsletters. He can go long in POLITICO Magazine.
He'll make all of the reporters around him better — as any true NBA star does — by just being there for them to answer questions.
And he (probably) won't have to work weekends, as he did at the AP. And certainly won't have to write summaries of car crashes and murders from other AP Florida member newspapers, as he did for the wire.
As for POLITICO Florida, this is a win-win. With Marc Caputo heading to the national desk (I'm still thanking my lucky stars for that), PF needed another running buddy for the prolific and ubiquitous Matt Dixon.
Truth be told, Fineout is joining POLITICO's Florida bureau just when it needs him.
The inspiring Alexandra Glorioso is still driving the health care news agenda while battling cancer, and the away message for environment/energy reporter Bruce Ritchie's email says he's out until March 1 (¯\_(ツ)_/¯).
Regulated industries writer Arek Sarkissian has his hands full with the burgeoning marijuana beat, while Andrew Atterbury is the outlet's third education reporter in two years. There's also a new editor guiding PF's coverage.
Even if he wasn't one of the two or three best reporters in Florida politics, POLITICO Florida would be welcoming Fineout just because he's another set of eyes and ears as the Legislative Session gets underway.
But Fineout is one of the state's elite journalists. So as Caputo exalted on Twitter, this is not a case of rebuilding, but reloading.
Too bad for the rest of us. Or at least too bad for the rest of the news organizations which rely on the AP to bolster its political coverage. And that's pretty much every news organization at this point because there are so few newspapers with more than one, if any, reporters in the capital.
True, the AP still has Brendan Farrington (who hasn't historically relished covering the Session) and, presumably, it will hire another reporter, at least for Session (although with just weeks to go before the opening day gavels in, the AP has not even advertised to fill the position).
But that's not the same as having Fineout write about state government.
And so now the readers of every medium-sized or small newspaper, and the viewers of almost every TV station in the state — which literally read AP stories on the air — will be deprived of Fineout's coverage of what's going on in Tallahassee.
(A quick aside: The irony here is that there has been no bigger crank, save for Klas, about the rise of the "influence media" than Fineout. But now he's writing for an outlet that is behind a paywall and almost entirely funded by the influence industry.)
Believe it or not, the two most important political reporters in Florida now might be James Call and John Kennedy.
Call is now lead state government reporter for the Gannett-owned USA Today Network, which feeds newspapers from the Panhandle to the Everglades. His main backup, former Florida Politics Tallahassee correspondent Ana Ceballos, just decamped from the Naples Daily News capital bureau to the News Service of Florida.
Kennedy is the statehouse reporter for GateHouse Media, which publishes more newspapers than any other company, including The Florida Times-Union in Jacksonville.
More people are reading their stuff on Sundays than anything Dixon writes in Playbook or that I publish in Sunburn. And while Kennedy is a gem of a reporter — reading him is like listening to Vin Scully call a baseball game — Call is not exactly the most-plugged in reporter at the Capitol.
I guess there's some irony in the fact that a digital-first, digital-only publisher like me is bemoaning what will become of newspapers' coverage of state politics. And this isn't about playing in a league where some people think the championship has been decided before tip-off (it rarely works out that way.)
Rather, it's about this concern: If the best political reporting is only online and mostly behind paywalls, will enough people still tune in to watch the Rockets play the Warriors?