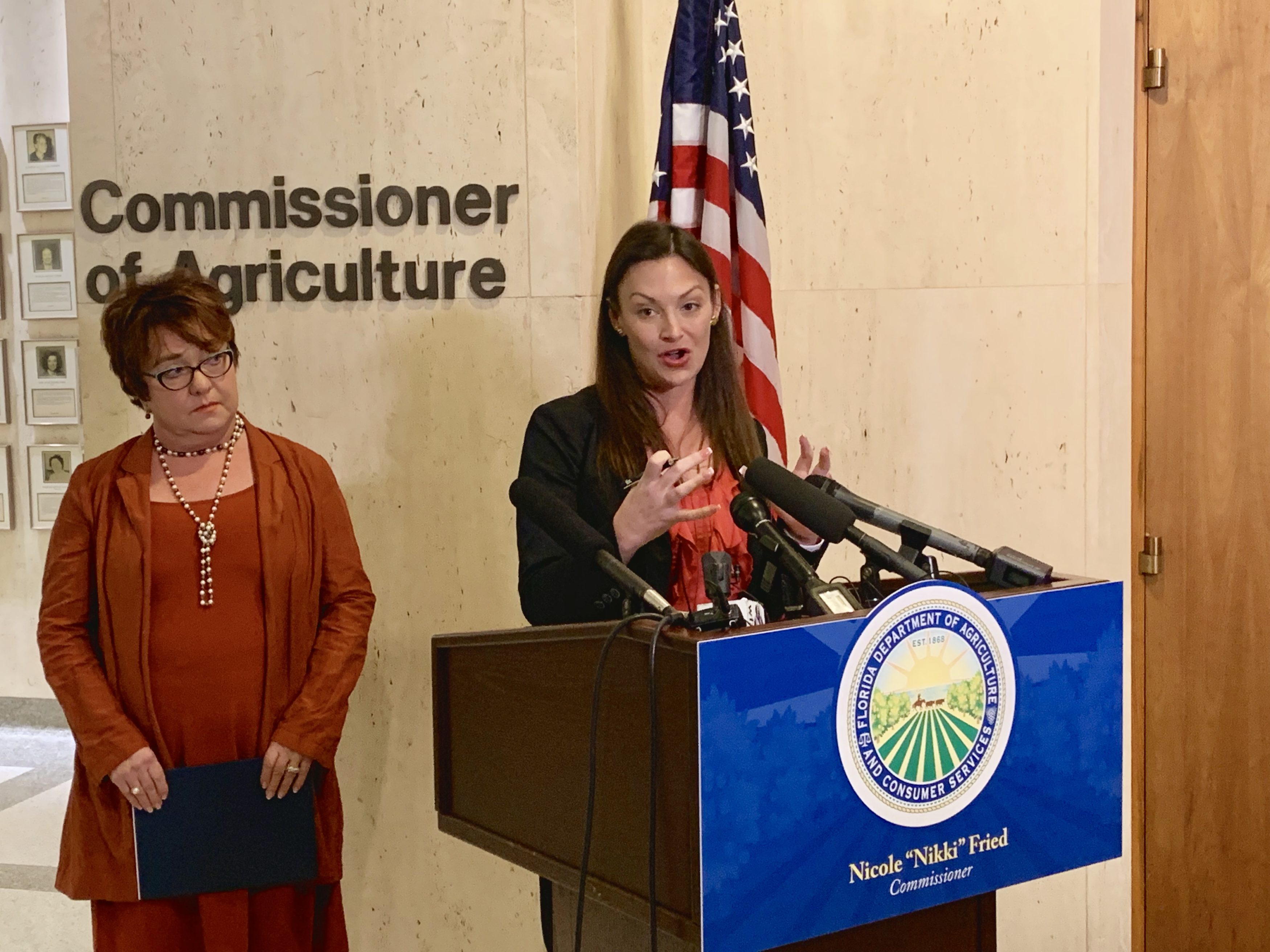 Fried wants Bell to start rule-making for growing hemp, among other things.
As expected, Agriculture Commissioner Nikki Fried on Wednesday introduced Nashville consultant Holly Bell to be the Department of Agriculture and Consumer Services' Director of Cannabis at a Capitol press conference.
Florida Politics and POLITICO Florida reported the pick Tuesday night, relying on unnamed sources and Bell's own professional website, which said she is "currently on permanent assignment as the Director of Cannabis for the state of Florida." That language was later deleted from the site. 
At the press conference, Fried went out of her way to portray Bell as connected to Florida; cannabis advocates began criticizing her selection Tuesday night on social media, lamenting that she was an outsider.
"She has long family roots in the state of Florida," Fried said, adding that Bell's husband attended the University of Central Florida and they have family in Ponte Vedra Beach.
Bell has been consulting for "the cannabis/hemp, entertainment, and finance industries" since last August. Her site also says she "created a turn-key package for banking the cannabis and hemp industries for financial institutions."
When asked at the press conference what her first task as director would be, Bell hesitated: "That's a great question … I need to do a lot of research, get to know the team. I'll work with the Commissioner to put an outline together for her vision. Then we'll be implementing that."
Fried, though, has said she wants the new Director to start the rule-making process for growing hemp in Florida, for example. That follows the Farm Bill that was passed and signed by President Trump last year, which legalized regulated production of hemp.
The Department of Health, under Gov. Ron DeSantis, largely occupies the field of medical marijuana, but the Agriculture Department's food experts are supposed to oversee "processing requirements" of marijuana for edible consumption.
And it was her experience in trying to marry banking and the marijuana industry that caught Fried's eye, she said.
Medical marijuana providers around the country have been vexed by how to handle their money because, as The New York Times explained, "selling marijuana violates federal law (and) handling the proceeds of any marijuana transaction is considered to be money laundering."
Bell also has been a director of business development for Denver firm Safe Harbor Services, where she educated the "Board of Directors and employees on the real story of the cannabis industry," and was a "practice management consultant" for ProEquities Broker Dealer in Birmingham, Alabama.
One patient advocate, who asked not to be named, said Bell now needs to meet with those "who dug the well and carried the water in Florida since this industry finally started in 2014. Especially those who fought before it was a reality.
"She will have to earn their respect," said that person, who did not apply for the position. "We have worked long and hard battles. Ms. Bell did not pay any dues here."
A Periscope video of the news conference is below:
.@nikkifried cannabis press conference #FlaPol https://t.co/Ov0yWrCSXB

— Jim Rosica (@JimRosicaFL) February 6, 2019