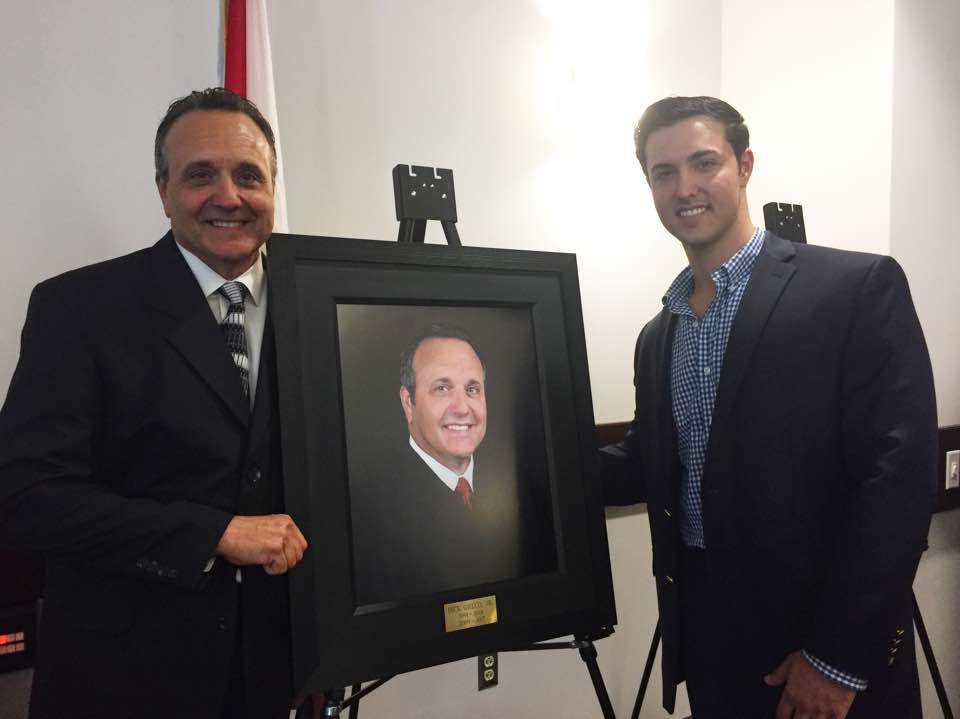 "You cannot implement any plan without the cooperation between the governments, communities and organizations."
If Dick Greco Jr. is elected the next Mayor of Tampa, don't expect any details on how to push the city forward until after he's sworn in.
Asked what sets him apart from other candidates in the seven-way race to succeed Bob Buckhorn, Greco told Florida Politics it's his commitment to establishing relationships and good communication with community partners to fulfill a vision and to not spending his time during the campaign establishing elaborate plans he may or may not be able to see through.
It was the same sentiment Greco shared at a forum Tuesday when he told constituents he wouldn't "cram" plans down their throats.
Greco, whose father served eight terms as Mayor, has plenty of broad goals surrounding traffic gridlock, infrastructure and connectivity. He knows there are problems in all of those areas and he wants to fix them, he's just not going to say how, just yet.
"Plans change. You can have a plan one day and then the next day you have a new plan," Greco said.
He said he's not avoiding looking for solutions, rather he's keeping an open mind about finding the best solutions to the city's worst problems.
"You cannot implement any plan without the cooperation between the governments, communities and organizations," Greco said.
Tampa can't fix transit deficits on its own because it doesn't own buses. The city can't fix all of its roads on its own, because not all of them belong to the city. As Mayor, he couldn't provide better public education because that's the School Board's job.
"I'd have an open door as Mayor," Greco said. "You have to be able to build relationships with these people and groups to collaborate, cooperate and coordinate on solutions."
Through those partnerships, Greco would work to alleviate gridlock in the city, though again, didn't say how.
"All of us know from seven to nine in the morning there's probably going to be some traffic no matter what you do, but I think it's becoming readily apparent that it's at inordinate times of day. It just feels like it's gridlock constantly."
Greco did elaborate on some potential uses for the $38 million annually the city will receive through the voter-approved 1 percent sales tax increase to fund transportation and transit improvements throughout Hillsborough County.
One of his top priorities for that money would be to repair existing and build new sidewalks so kids going to and from school or riding a bike recreationally could do so safely.
"Right now we just kick them out the door and leave them to walk in streets and ditches," Greco said. "We've got to make sure they're safe."
Greco also wants to prioritize infrastructure, including replacing aging sewer lines throughout the city. He said it's a big and expensive undertaking, but one that has to take precedence because as much money as it will cost now, it will be even more expensive later.
Greco said he would explore technology solutions to make that kind of major construction easier for residents including possibly establishing an app that provides neighborhood or zip code specific information on construction, road closures or anything else that might affect residents' day to day lives.
But Greco's biggest thing is building a connected city. He doesn't necessarily mean building paths and transit routes to connect neighborhoods, though that's on his list too. Instead, it means showing residents throughout the city that they are being heard.
"I think that many neighborhoods feel like they're disenfranchised. That may not be true, but it's the perception," Greco said. "I think the Mayor needs to be approachable and the Mayor needs to approach them."
Greco said he would consider providing city staff or finding neighborhood volunteers to serve as neighborhood liaisons so residents can share their concerns and needs.
"And if you can't afford [what they want] or get to it right now because there are other priorities, I think the people need to know. Some things we just can't have. You don't just not answer," Greco said.
Greco also wants to continue growing the idea of regionalism throughout the Tampa Bay area
"I want to take a leadership role and bring all of these entities together to get along. A little competition is healthy, but the people of Tampa need to remember a rising tide floats every boat in the harbor," he said.
Greco said that regionalism should apply to transit and transportation improvements to ensure roads and transit routes are able to connect beyond city boundaries. It also means supporting other areas in the region with amenities and attractions that benefit the whole region. Tourists going to the Pinellas Beaches or to a Tampa Bay Rays game in St. Pete is just as beneficial to Tampa as people heading to Busch Gardens, he said.
Finally, Greco also is focused on improving the city's educational programs ranging from K-12 access to vocational programs and higher education.
"When a CEO comes to Tampa looking to move here, that's the first question she's going to ask me whether she has kids or not because people that come here are going to want that," Greco said. "Good education provides jobs, it helps the economy — you almost can't put a number on it — it reduces crime. We need to work with the School Board to really push that."