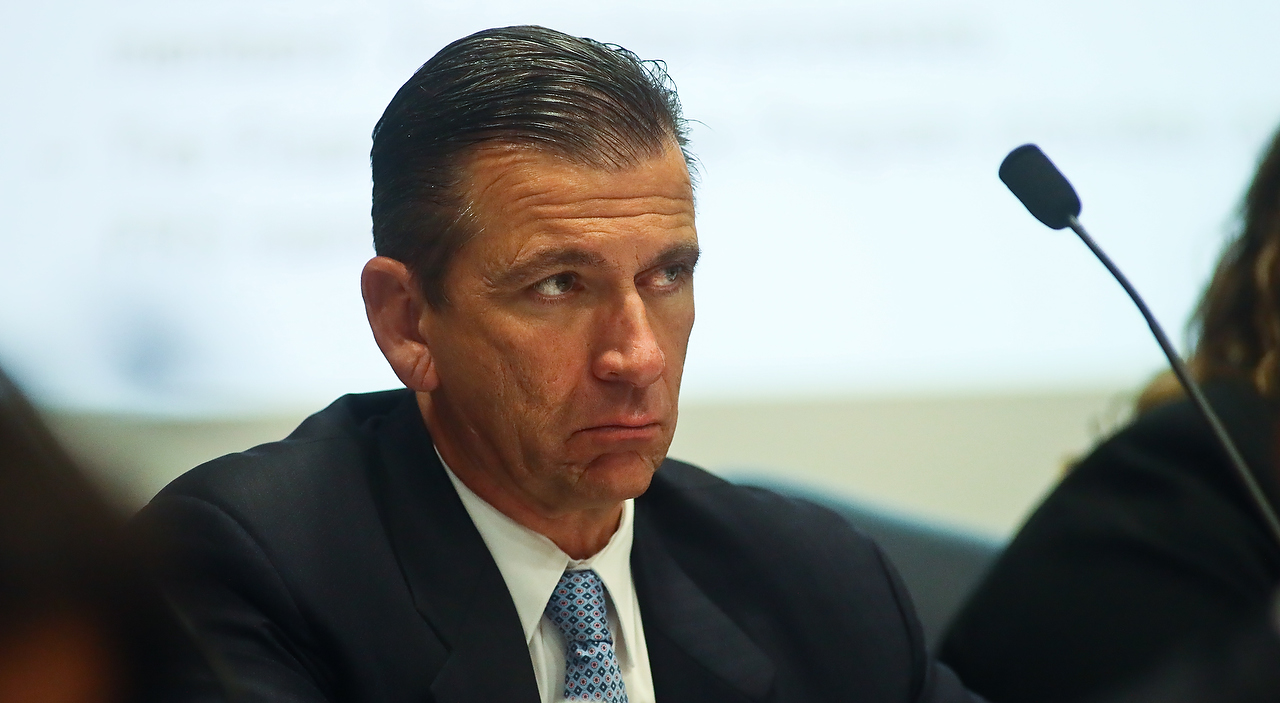 It's one part of the problem of assignment of benefits, or AOB, abuse.
Legislation targeting Florida's one-way attorney fee appeared to gain momentum during a hearing before the House Civil Justice Subcommittee Thursday.
Members listened sympathetically as insurance industry leaders and Insurance Commissioner David Altmaier made their case that the attorney-fee statute encourages abusive litigation that drives up premiums paid by policyholders.
This marks at least the third year that the Legislature has debated the larger issue of assignment of benefits, or AOB, abuse involving property insurance. But the problem also extends to no-fault insurance, auto glass, and other insurance lines.
Attorney fee reform is seen as a way to eliminate an incentive for contractors and their attorneys to sue.
"I loved your description of the whack-a-mole syndrome," Chairman Bob Rommel told James Lynch of the Insurance Information Institute, who'd described how crackdowns involving one line have pushed plaintiffs' attorneys into others.
Democrat Ben Diamond of St. Petersburg said he's taking heat from constituents worried about rising property insurance rates. He thinks restricting the fees to policyholders — not third parties — might be the answer, although he's open to suggestion at this point.
"What we heard today is that the one-way attorney fee provision in Florida law is being exploited. And that the result of that is an increase in the cost to Floridians to have homeowner insurance."
The committee staged a workshop discussion of AOB abuse and the attorney fee statute. The House and Senate insurance committees have held hearings involving many of the same experts.
That so-called 'David and Goliath' law is intended to keep deep-pocketed insurers from using lawyers to beat up individual homeowners, by requiring them to pay customer's legal fees arising from claims litigation.
Legislation (SB122) by Senate Banking and Insurance Chairman Doug Broxson would prevent policyholders from assigning their right to collect those fees to contractors. They'd still be free to hire their own attorneys.
Citizens Property Insurance Corp. President and CEO Barry Gilway told the panel that successful AOB reform would reduce rates. Earlier, his company concluded actuarial data would justify average rate increases of 25 percent; reform would reduce that to just 10 percent.
The Broxson bill would meet his definition of "successful," Gilway told reporters.
"It's the simplest bill known to man," he said — two pages only, compared to voluminous AOB litigation the House has approved in the past.
"It's an elegant and very constructive solution to the problem," Gilway said.
"It would have a huge impact on AOBs. And I'll tell you why: It takes away the incentive for the plaintiff attorneys, and the vendors could get a plaintiff attorney to take the case."
The only contractor the panel heard from was Paul Hussar of Vet Cor Services, who described how unscrupulous contractors can inflate a $2,100 water remediation job into a more than $7,000 bill.
"That's what's causing rate increases around the state," Huszar said.
Foyt Ralston, lobbyist for Florida Association of Restoration Specialists, representing independent remediation contractors, said his organization wasn't invited to participate.
"We heard from a preferred provider for Citizens. We heard from an attorney who is representing the largest insurance companies in the country. We heard from the insurance commissioner and the state-run insurance company, Citizens," Ralston said.
"We didn't hear from restoration contractors who are out there every day carrying the load of the financial obligation and having to fight with the insurance companies to get paid."
However, he added: "The chairman's a fair chairman, so I certainly expect that a request to be able to present at the next committee meeting will be honored."
Meanwhile, Citizens responded to a demand for details about insurance claims and denials between 2013 and 2018 made last month by the Florida Restoration Association, another contractor lobby.
In a letter to the association, Citizens said the request would involve searches of approximately 250,000 claims, details of which are confidential. The company offered to estimate the cost of vetting the files for privileged information, or else to provide aggregated data shielding customers' privacy.
Links to the demand and reply letters available here.
Additionally, the committee heard from Panama City resident Jasmin Tolbert, who said a contractor forged her signature on a document authorizing an AOB.
The Florida Chamber of Commerce-backed Consumer Protection Coalition issued a news release praising the committee for taking the matter up and endorsed the one-way fee restriction.
"We need to decouple one-way attorney fees from AOBs so that policyholders will be protected from the exploding costs and abusive practices of the current situation," Liz Reynolds, regional vice president for the Southeast for the National Association of Mutual Insurance Cos., said in the release.