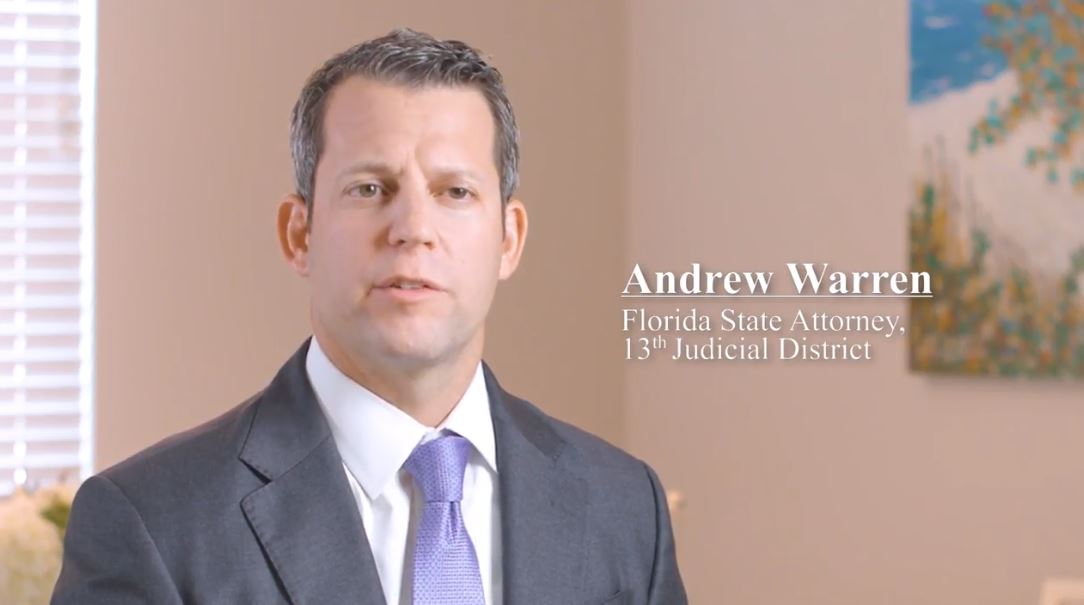 "You can't get what you want done I one term."
In two years, Andrew Warren accomplished a lot.
But the Hillsborough County State Attorney says he has got too much more to do just to call it quits after a single term, the first-time elected official said Friday at a speaking event in Tampa.
Among those accomplishments: Warren took steps to decrease the number of people arrested and incarcerated for first-time, non-violent offenses, and worked to disarm domestic abusers and increase the use of problem-solving courts.
"You can't get what you want done I one term," Warren said. "It's about making sure that things evolve and improve along the way … and [be able to] focus on the things that we need to do to keep our system moving forward."
Speaking at a crowd at Cafe con Tampa at the Oxford Exchange, Warren attracted a handful of people from out of state including a public defender from Kansas City, Missouri, as well as a group of about a dozen local students working on gun control and criminal justice-related issues in their schools.
The talk came the same week Warren announced his re-election bid, the timing of which he said was completely coincidental.
Warren elaborated on the various criminal justice reforms his office has implemented since taking office in early 2017.
"[Our prosecutors need] to think about the cases in front of them not as a person to be prosecuted, but as a problem to be solved," Warren said.
Under his leadership, the State Attorney's Office has diverted 700 kids and 850 adults annually from the criminal justice program by utilizing civil citations for misdemeanor first offenses in many cases. The majority of those diversions were related to marijuana possession.
In addition to civil citations, Warren has also increased the use of problem-solving courts. Those are things like drug court, which offer alternatives to incarceration through treatment programs and various community service opportunities.
Warren called the courts, which work with juveniles, veterans and people suffering from addiction and mental health issues, a backdrop for an overall rehabilitation program. People who go through problem-solving courts are also given access to social services to ensure that once their case has been closed they still have access to things like housing, counseling or job placement assistance.
Warren said, especially on housing, there's still work to be done outside of his agency and encouraged residents to speak to their City Council members and County Commissioners about expanding social services for people reentering society.
The State Attorney's Office is also taking steps to reduce what Warren calls "poverty traps.
"It's the most common case we have in the State Attorney's Office," Warren said. "People who lose their driver's license because they have unpaid civil fines … Rather than charging them, we work with them in the system so that they can get their license back and we dismiss the charges."
Other efforts Warren has spearheaded include disarming domestic abusers. His program requires law enforcement officers responding to domestic abuse calls to ask a series of questions to determine whether or not there the offender has access to a gun. The State Attorney's Office can then seek to have that person relinquish that firearm as a contingency of bail or a plea deal.
"Is it going to solve the problem? No. I'll be frank with you," Warren said. "But if we take one gun, it's a win."
Other internal reforms include adding a conviction review unit that works to evaluate conviction in where there were viable defenses. A team reviews that case to ensure there was not a wrongful conviction. In cases where one is found, Warren's office works to dismiss the charges. The review team uses results from its investigations to identify possible pitfalls within the criminal justice system to avoid future mistakes.
"As hard as we try not to [wrongfully convict someone,] the math makes it inevitable that we do," Warren said. "If I'm at 99.9 percent, we still have 15 innocent people convicted as felons each year."
Warren has also worked to make his office more efficient. Since taking office he's cut $1 million from the deficit and raised starting salaries for employees to $12 an hour.