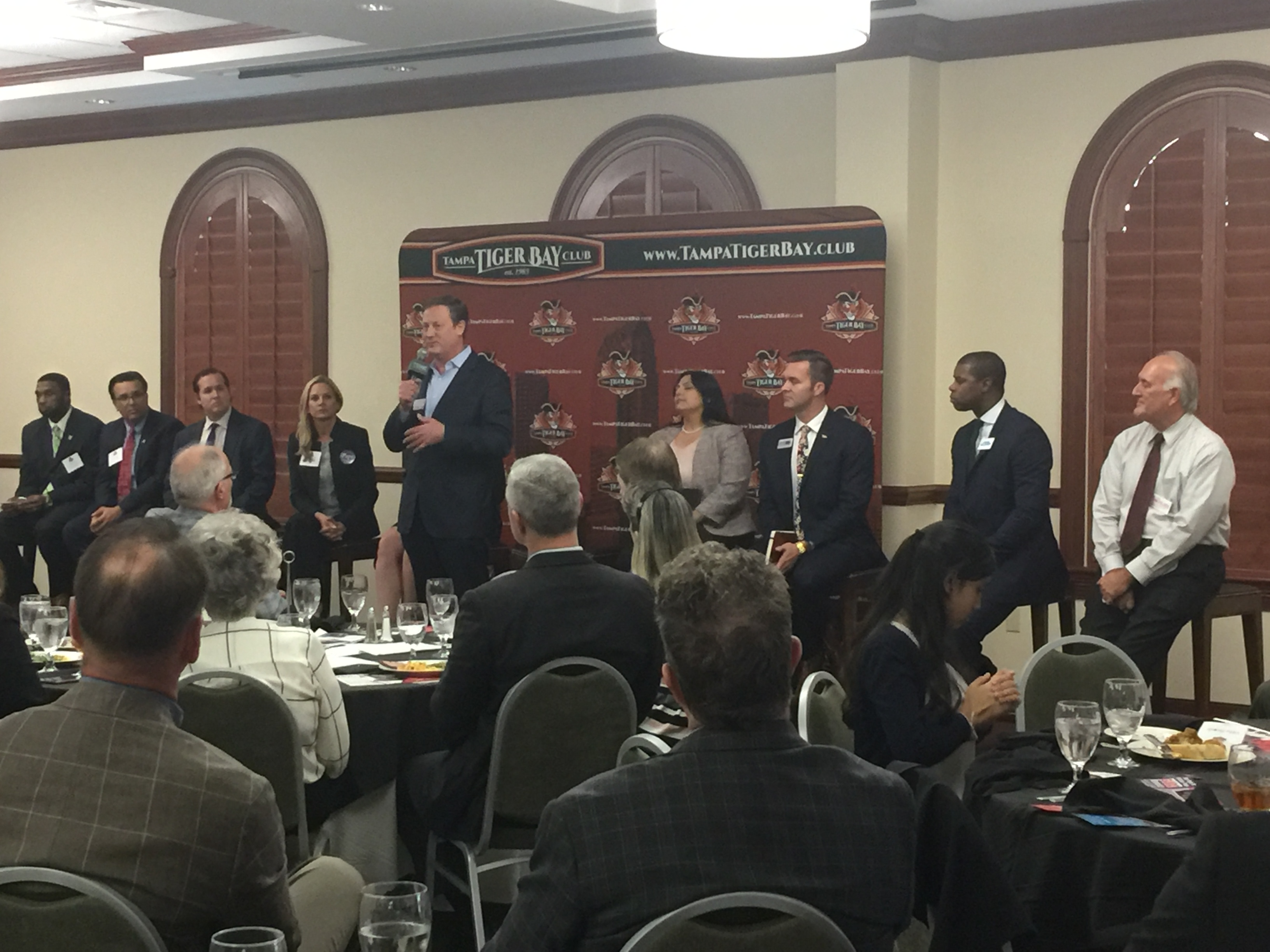 Candidates touched on several issues, including improving transportation.
The Tampa Tiger Bay Club hosted 10 candidates from four City Council districts Friday for what was a tight forum.
Candidates touched on several issues including improving transportation, preserving Tampa's historic culture and making Tampa an international destination.
Candidates representing districts 3,4,6 and 7 had just one minute each to answer questions, forcing succinct answers, but also leaving little room to elaborate on planes.
Candidates included John Dingfelder, Nicholas Glover, Stephen Lytle and Vibha Shevade from citywide District 3; Bill Carlson and Lee Lowry from South Tampa's District 4; Guido Maniscalco and Wendy Pepe from West Tampa's District 6 and Luis Viera and Quinton Robinson from North Tampa District 7.
Maniscalco and Viera are the only incumbents running in those races. District 4 candidate Sal Guagliardo did not attend.
Here are five takeaways from the forum:
Candidates aren't crazy about David Straz's budget plan
In the very first question of the forum, candidates were asked to explain which proposed policies among Tampa Mayoral candidates they thought were the worst, and which they thought were the best. Of the ten candidates, most of them lamented statements Straz made claiming he would cut the city's budget 10 percent.
"Two thirds of our budget is for public safety," Viera said. "What is that going to do to our first responders?"
The city is facing a budget shortfall as old bills are now becoming due. Tampa's budget is just shy of $1 billion, which means a 10 percent cut would mean $100 million in reductions. Few think such a cut is feasible without massively cutting city services.
Maniscalco, Pepe, Lowry and Lytle agreed.
"I would want to take a look at spending," Lowry said. "But anything across the board is not a good idea."
Straz wasn't the only mayoral candidate to take a hit. Topher Morrison got dings from Carlson over his idea to place a Hyperloop state at a new Ybor City baseball stadium to fund it and another from Lytle over his transportation plan that involves urban aerial gondolas.
Meanwhile, Harry Cohen, a current City Council member, earned praised from Maniscalco over his ideas for affordable housing using tiny homes and container housing.
None of the City Council candidates mentioned names, but the implications were clear.
Stephen Lytle might have made his first campaign flap
At the very end of the forum, candidates were asked to share stories from the campaign trail they found inspiring. Most of the stories were endearing while also illustrating various city needs – an elderly couple who couldn't go for walks because they didn't have sidewalks and parents who shared similar concerns for their kids.
But Lytle's answer got lost in what he said first.
"I've been blessed with the opportunity to walk doors everyday because I'm on paternity leave," Lytle said proudly.
Instead of being met with the usual oohs and ahhs that come from announcing you have a new baby at home, Lytle's comment was met with gasps, laughs and a few sideways looks.
His comment seemed to imply that instead of using his paid parental leave, something not all fathers are fortunate enough to have, to win a campaign rather than bond with his new daughter.
The statement will most likely fade into campaign minutia, but in the moment, it wasn't well-received.
All of the candidates want to preserve historic properties, but some have caveats
The question was simple: Will you vote to protect historic properties even if owners don't want it?
All 10 candidates said "yes." Some said "yes, but."
Those who showed the deepest commitment to historic preservation were Dingfelder, Glover, Carlson, Maniscalco, Viera and Robinson.
Shevade, Lowry and Pepe had conditions and expressed concerns about violating property rights.
"We can't control what people do with their property," Shevade said.
Instead she said the city should incentivize historic preservations to ensure people wanted to retain the history of their property.
"We need to do everything we can but we do need to do it proactively," Lowry said.
Her solution included identifying historic properties early so City Council can create ordinances for how to repair or redevelop.
Pepe suggested working with other city agencies and creating potential tax breaks to make repairs and preservation more affordable.
Everyone is super proud of Tampa International Airport
Asked how to capitalize on the airport's expansion in recent years to make Tampa an international destination to match, each candidate had a different idea, but they all gushed over the airport itself.
"How many places can you go grab breakfast and be up before you have to pay for parking," Maniscalco said referring to the 30-minute free parking in TIA's short term parking lot.
The airport is welcoming people from all over the world including recent additions from Cuba and Iceland, among others. But those travelers aren't necessarily staying in Tampa.
Several candidates lamented it's just a hold over city for tourists to hop on a cruise or head to Disney World.
Shevade said the city should boost its culture, noting that Gasparilla is one of the only annual events that celebrates the city's culture.
Viera touted Tampa's Cuban culture, suggesting the city better capitalize on that.
Almost all of the candidates said the city needs to improve its transportation network.
No one seemed like an underdog
Of the four Districts represented during Friday's forum, two include incumbents and aren't likely to be all that competitive. Maniscalco might have a race on his hands against Pepe, but the odds still seem pretty solidly in his favor.
Viera wouldn't admit it, as no candidate ever should, but he's probably not too worried.
Even still, neither of their challengers missed a beat. Pepe and Robinson both showed passion for the city and knowledge of current events and issues.
The District 3 and 4 races are for open seats and they should be competitive. Despite a recent poll showing Dingfelder with a solid lead over his opponents, the forum showed all of the candidates in that race well-informed and articulate on issues.
Glover is a polished candidate who knows how to win over a crowd. Lytle exuded confidence and Shevade stood out as one of the few women running.
If you were at Tiger Bay and hadn't seen the polls, you might not be able to identify a clear frontrunner.
The same was true between Carlson and Lowry. Both were up to speed on the issues and both presented themselves in a smart way.
Now, whether or not any of that will matter remains to be seen.