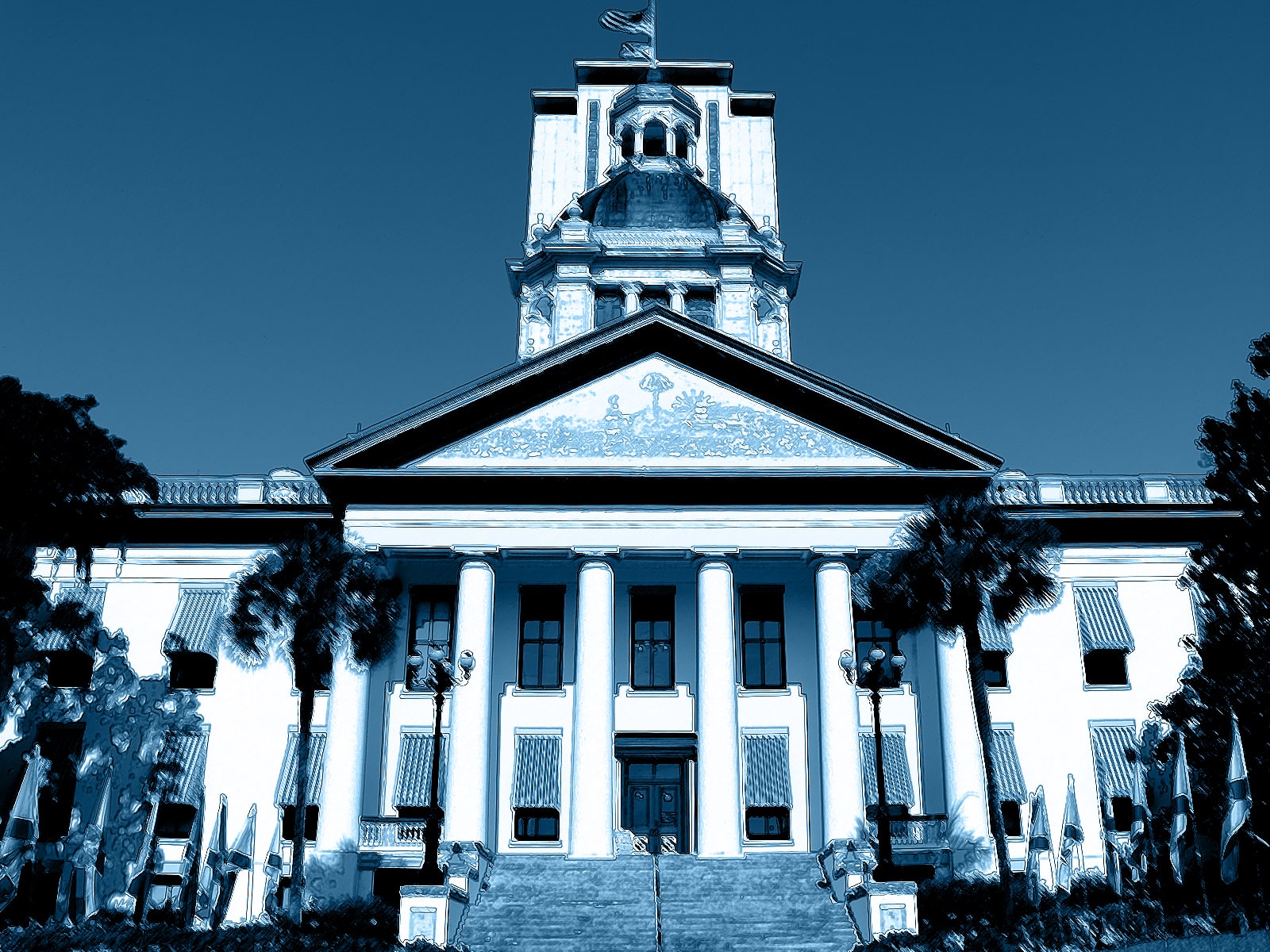 This week: New faces at the FAPL.
A group that offers best-practice guidance in the lobbying world is welcoming fresh faces to leadership.
Former Lt. Gov. Jeff Kottkamp is now chair of the Florida Association of Professional Lobbyists (FAPL).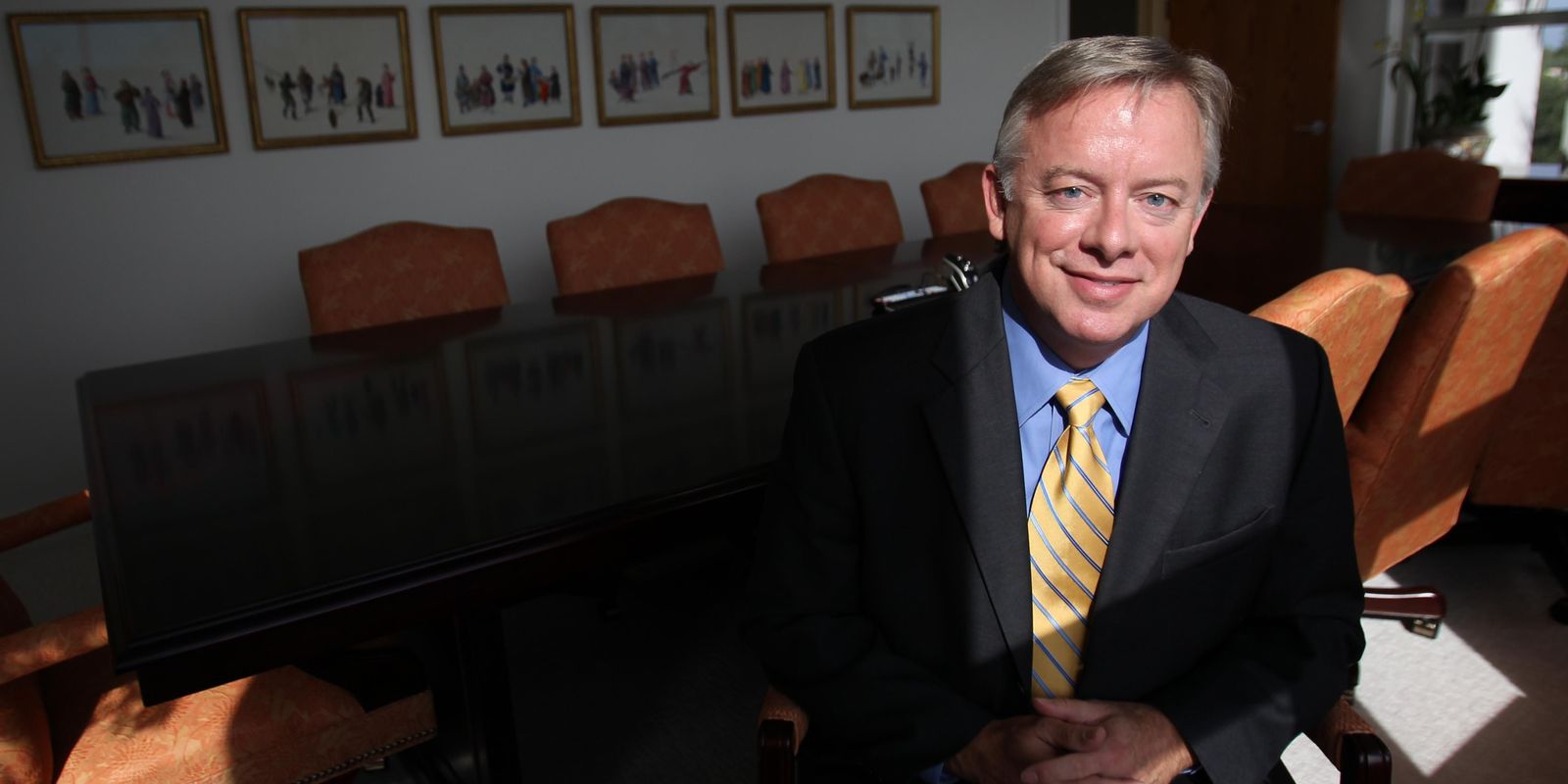 Kottkamp, also a Republican former state Representative, is president of Jeff Kottkamp, P.A., and is an adjunct professor of ethics and professional responsibility at the Florida State University College of Law.
Joining Kottkamp as FAPL's vice chair is Candice Ericks. She is a seasoned governmental relations professional with experience in the process dating back to 1998. Ericks recently began working with TSE Consulting, the lobbying leg of the Tripp Scott Law Firm.
Jennifer Green, president and owner of Liberty Partners of Tallahassee, is FAPL's new secretary-treasurer.
The association, established in 2002, is focused on adding and maintaining high ethical standards for the folks on the fourth floor of the Capitol and beyond.
"We're deeply committed to making sure that the professional lobbyists who come to the Capitol conduct themselves using the highest ethical standards and professional standards," Kottkamp told us.
Kottkamp, who served as LG under former Gov. Charlie Crist, said that FAPL hopes to have a "partnership" with members of the Legislature when it comes to writing anything that impacts the profession.
But the new head of the lobbyist association sees bill involvement as only a tangential concern.
In Kottkamp's own words: FAPL "tries to not get submersed in the process when it comes to bills."
Coming up, the usual assortment of tidbits, leftovers and not-ready-for-prime-time moments by Danny McAuliffe, Drew Wilson, Jim Rosica and Peter Schorsch.
But first, the "Takeaway 5" — the Top 5 stories from the week that was:
Take 5
DeSantis wants new ed bonus program — Gov. Ron DeSantis this week highlighted a proposal to direct almost $423 million toward teacher and principal bonuses. He also is seeking to end the practice of awarding teacher bonuses based on their SAT and ACT scores. DeSantis' office estimates his proposal would provide about 45,000 bonuses worth more than $9,000 each. Principals would be eligible for an untold number of $6,500 bonuses. The plan also dedicates money — $10 million per year over the next five years — toward a loan and tuition forgiveness program for new teachers who dedicate five years to educating in the Sunshine State. "This renewed investment will reward highly effective teachers and principals across our state who are making a positive impact in our student's lives," DeSantis said. "We are also proposing a new recruitment program to bolster the educational ranks of our schools and ensure our students are receiving the best education possible."
Arming teachers emerges in Senate — The Senate Education Committee this week proposed legislation that would arm with guns willing Florida educators. Specifically, the legislation amends the Coach Aaron Feis Guardian Program spawned after last year's tragic Parkland shooting that left 17 students and staff dead at Marjory Stoneman Douglas High School. The Guardian Program would, under the new law, allow teachers to participate. The provision is in line with a recommendation forwarded by the Marjory Stoneman Douglas High School Public Safety Commission, a fact-finding panel tasked with making suggestions to lawmakers to prevent future school safety breaches.
Pot overhaul meets resistance — State Sen. Jeff Brandes' push to allow patients prescribed medical marijuana the ability to smoke the drug met pushback during a contested Senate hearing this week. The Senate Health Policy Committee ultimately cleared the bill, but not before fundamentally amending the legislation. An amendment tacked onto the measure provides for the requirement of a second doctor's opinion agreeing with the patient's primary physician that smoking is the best method of delivery for them. Brandes said the amendment is overly restrictive and that it would "put us right back in court." The St. Petersburg Republican said he would not allow the bill as it stands to get to the Senate floor. Gov. DeSantis is giving lawmakers until March 15 to allow patients to smoke the medicine. If they do not meet the deadline, DeSantis said he would drop a state-backed appeal to a court's ruling that the ban on smoking is unconstitutional.
Fried hires Cannabis Director — Agriculture Commissioner Nikki Fried this week announced her pick for the newly created Cannabis Director position. Holly Bell, a Nashville consultant, fills the role. An online bio of Bell said she "created a turnkey package for banking the cannabis and hemp industries for financial institutions." Fried cited this accomplishment as a cause for hiring Bell. Some medical-marijuana advocates have voiced concerns that Bell is not connected to Florida. In comments delivered to media this week, Bell said she would focus on implementing Fried's vision for the office.
Beach law not a priority — A controversial beach access measure passed last year paved the way for a clash between beachgoers and law enforcement in Walton County, as the former discovered they were now trespassing on what they thought to be public space. The issue caused a stir last summer and became a campaign talking point. But the law's author, state Sen. Kathleen Passidomo, and Senate President Bill Galvano have said they do not intend to revisit the law this Session. "People need to understand that most of the beaches in Florida are public, open to the public and they will never be closed," Passidomo told The News Service of Florida.
Female Highwaymen artist honored
For the remainder of Black History Month, the Governor's Mansion will feature the work of an influential and female black artist: Mary Ann Carroll of the revered Highwaymen.
"Mary Ann is a self-taught artist who overcame tremendous challenges throughout her career," First Lady Casey DeSantis said. "Today, her priceless work is showcased in collections throughout the country, and her extraordinary talent has been widely recognized with her induction into the Florida Artists Hall of Fame."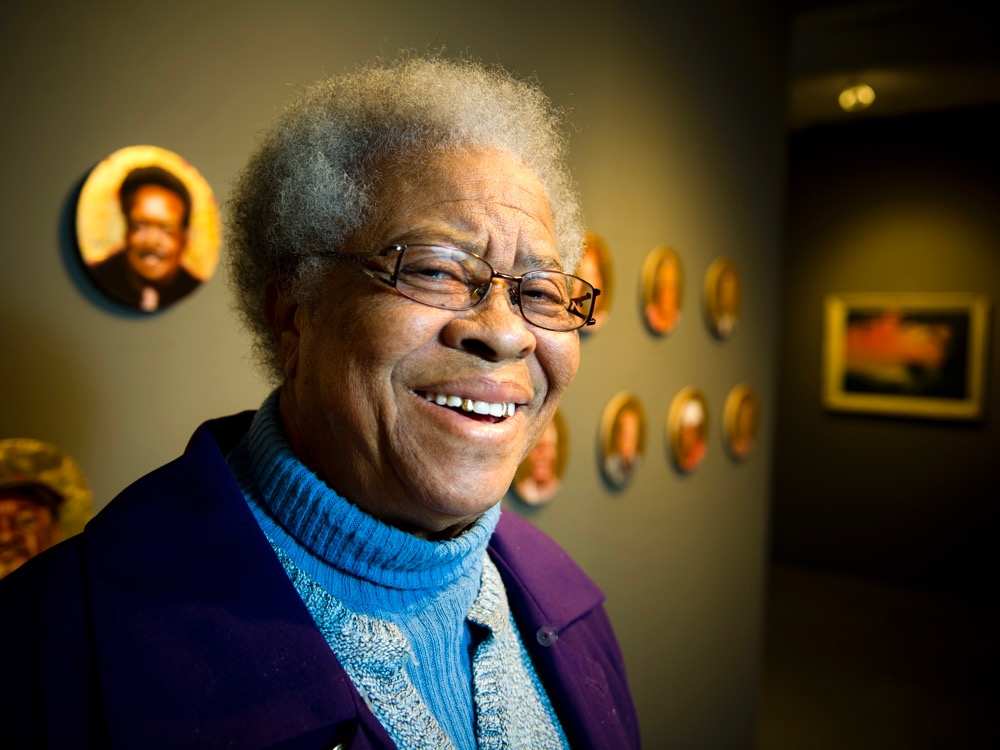 The Florida Highwaymen were a group of self-taught, black artists who depicted Sunshine State landscapes during the Jim Crow era.
Carroll is the lone original female member of the group, named for the traveling artists who sold their artwork across the state because galleries at the time banned black pieces.
Carroll, who is semiretired, has only one wish: "To see all children follow their dreams, even if those dreams don't include painting," according to a bio provided by the Governor's press team.
Both Ron and Casey DeSantis will meet with members of the Carroll family sometime this month.
Patronis boosts Florida Israel investment
Florida is tripling down on its relationship with Israel, with Chief Financial Officer Jimmy Patronis announcing plans to expand the state's investments in the country's bonds by $10 million.
Patronis traveled to Boca Raton to underscore what his office called Florida's "steadfast relationship" with Israel.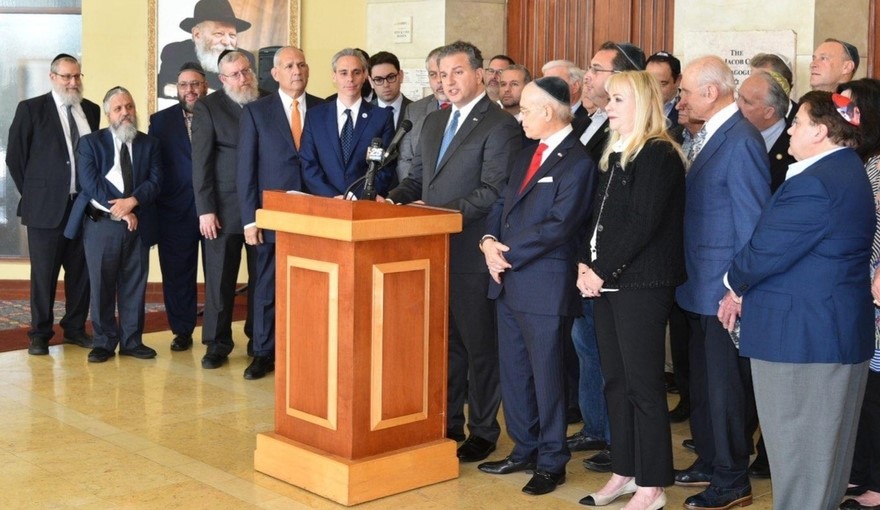 Earlier, Patronis was behind a Cabinet proposal to recognize Jerusalem as the "eternal and undivided capital of Israel."
Additionally, Gov. DeSantis and the Cabinet voted to withdraw any state investments in Airbnb over the company's refusal to list homes within Israeli settlements within the disputed West Bank.
"Florida is taking yet another firm step to reinforce our strong relationship with our ally, Israel," Patronis said of his latest move. It will "demonstrate our broad and deep support for our economic partner while making a prudent financial investment for our state," he said.
Instagram of the Week
Senate eyes FSU name change
The Florida Senate is uncertain about how it will address the renaming of Florida State University's law school building.
The school currently is named after the late Florida Supreme Court Chief Justice B.K. Roberts.
But FSU President John Thrasher is seeking to change that following a university panel's finding that Roberts wrote a pro-segregation opinion during his tenure. The change requires legislative approval, as lawmakers originally designated the school name.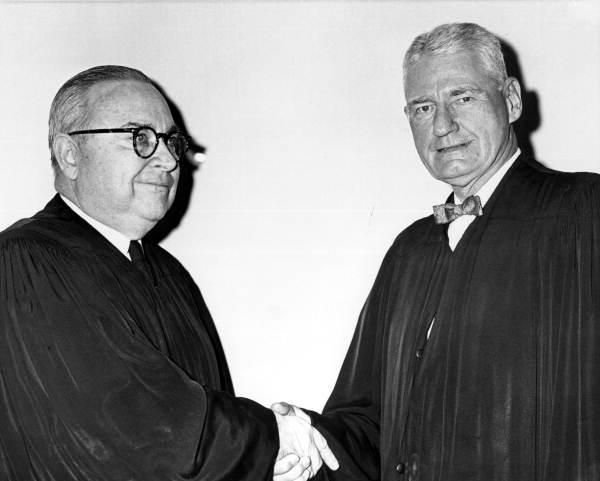 Senate President Bill Galvano, a Bradenton Republican, has said that he would prefer legislation that would create "a framework for universities to do their naming and having flexibility, instead of having the Legislature micromanage that issue."
But at this point, we're hearing that Senate staff is still exploring whether or not a single piece of legislation can authorize broad authority to change statutorily named university facilities.
It's possible that a bill addressing the process for naming new facilities moving forward may have to be filed, which could also include the FSU law school.
Florida First Step gets SOTU shoutout
President Donald Trump's State of the Union remarks indirectly referenced the Florida First Step Act, a criminal justice overhaul package readied for legislative debate this Session.
The Florida First Step Act is modeled after the federal version of the bill, signed into law by Trump in December.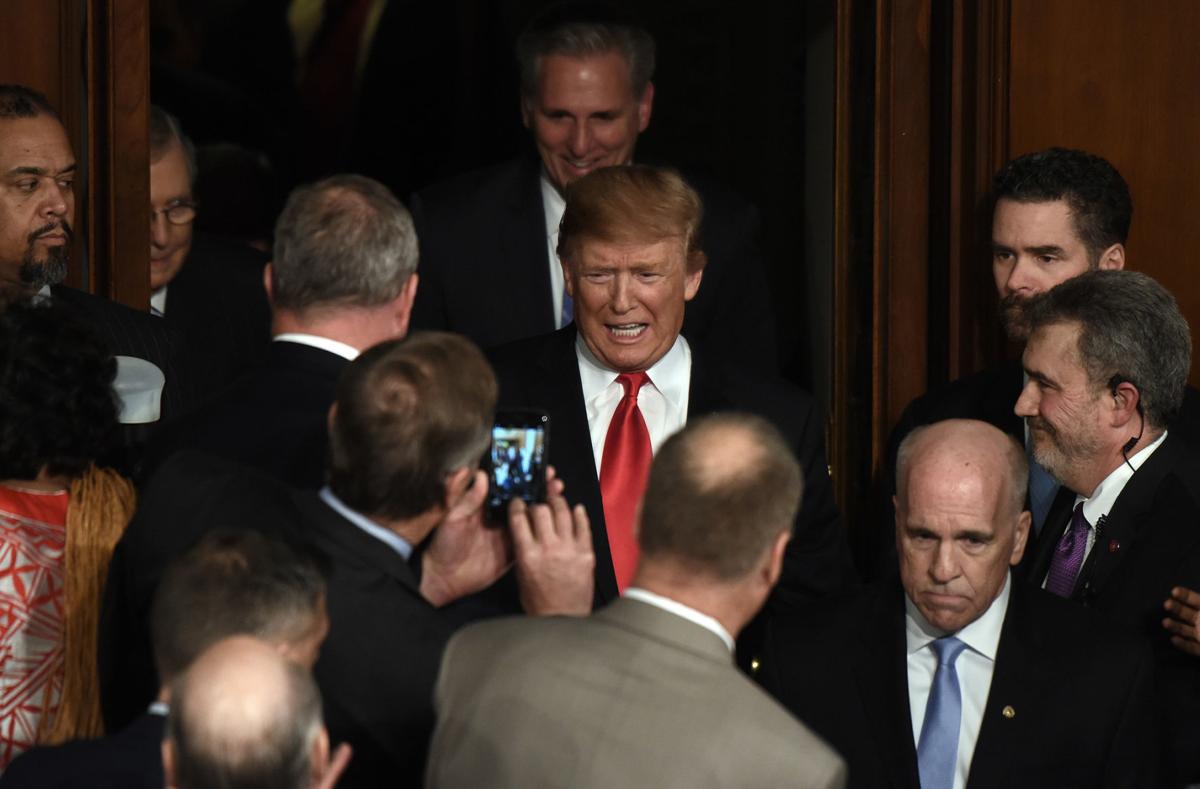 "Now, states across the country are following our lead," Trump noted in his SOTU address. "America is a nation that believes in redemption."
The Florida First Step Act, if passed and signed into law, would in part offer judges discretion in sentencing nonviolent drug traffickers who otherwise face mandatory minimum sentences.
As the Legislature considers Florida version this year, perhaps they'll keep the Trump's comments in mind.
House majority fills out leadership
The Republican-controlled Florida House recently named four members to serve as deputy whips through 2020.
Colleen Burton, a Lakeland Republican, will remain serving as chief deputy whip. Meanwhile, state Reps. Mel Ponder, Bobby Payne, and Stan McClain will serve as deputy whips. Ponder is from Destin, Payne from Palatka and McClain from Ocala.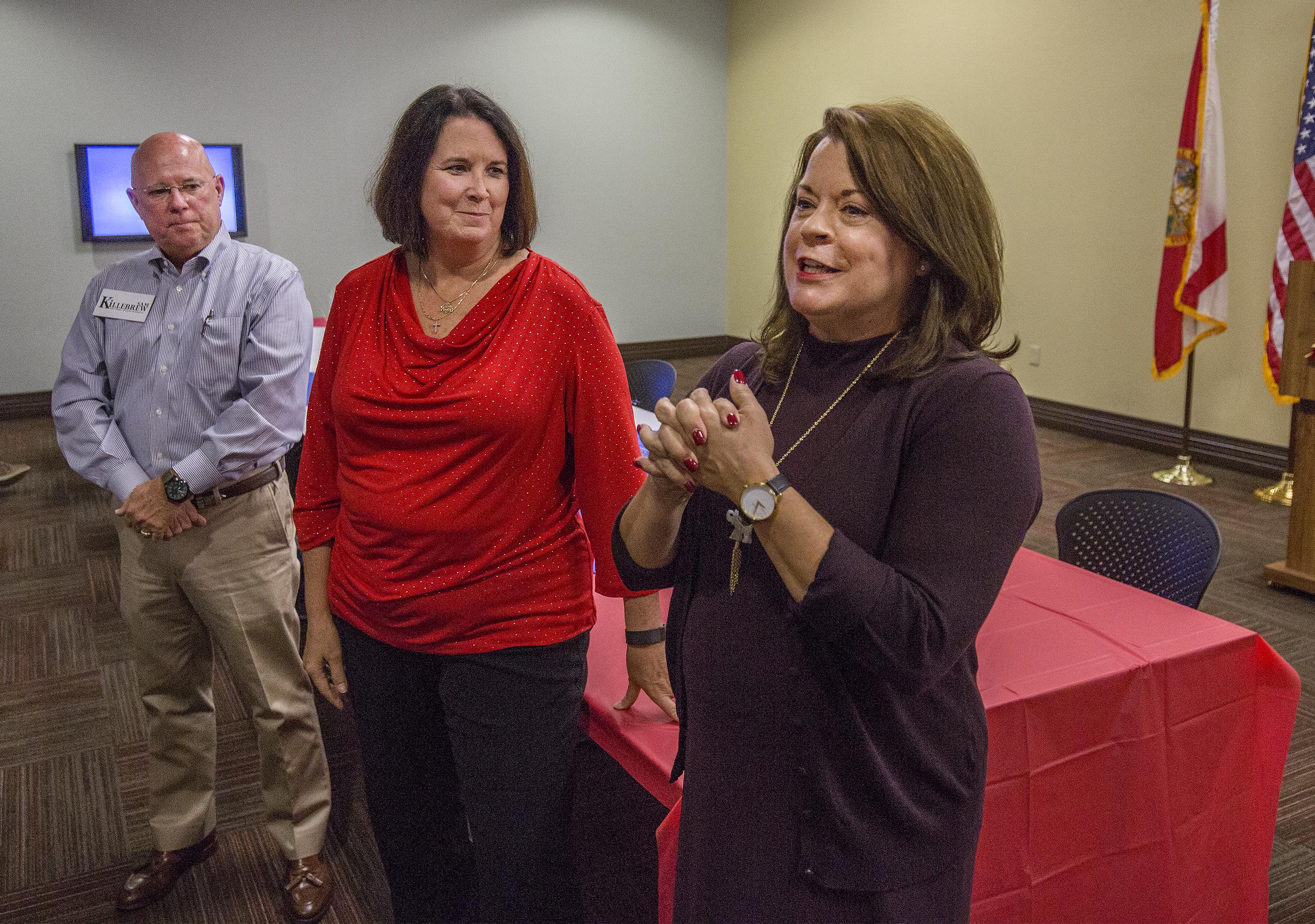 Majority Whip Michael Grant, of Port Charlotte, made the appointments with Cape Coral Majority Leader Dane Eagle's support.
"Each of these members brings knowledge and relationships that will be invaluable in ensuring we continue our legislative success in the House," Grant said. "Leader Eagle and I are happy to have them join the team."
Kionne McGhee calls for future leadership
Democratic members of the Florida House will have the task of designating future leaders who preside over the chamber if the party reaches a majority.
Democratic Leader Kionne McGhee has scheduled three caucus meetings to determine a speaker and speaker pro tempore for the 2020-22, 2022-24 and 2024-26 terms. The designations will respectively take place at caucus meetings March 12, April 8 and April 22.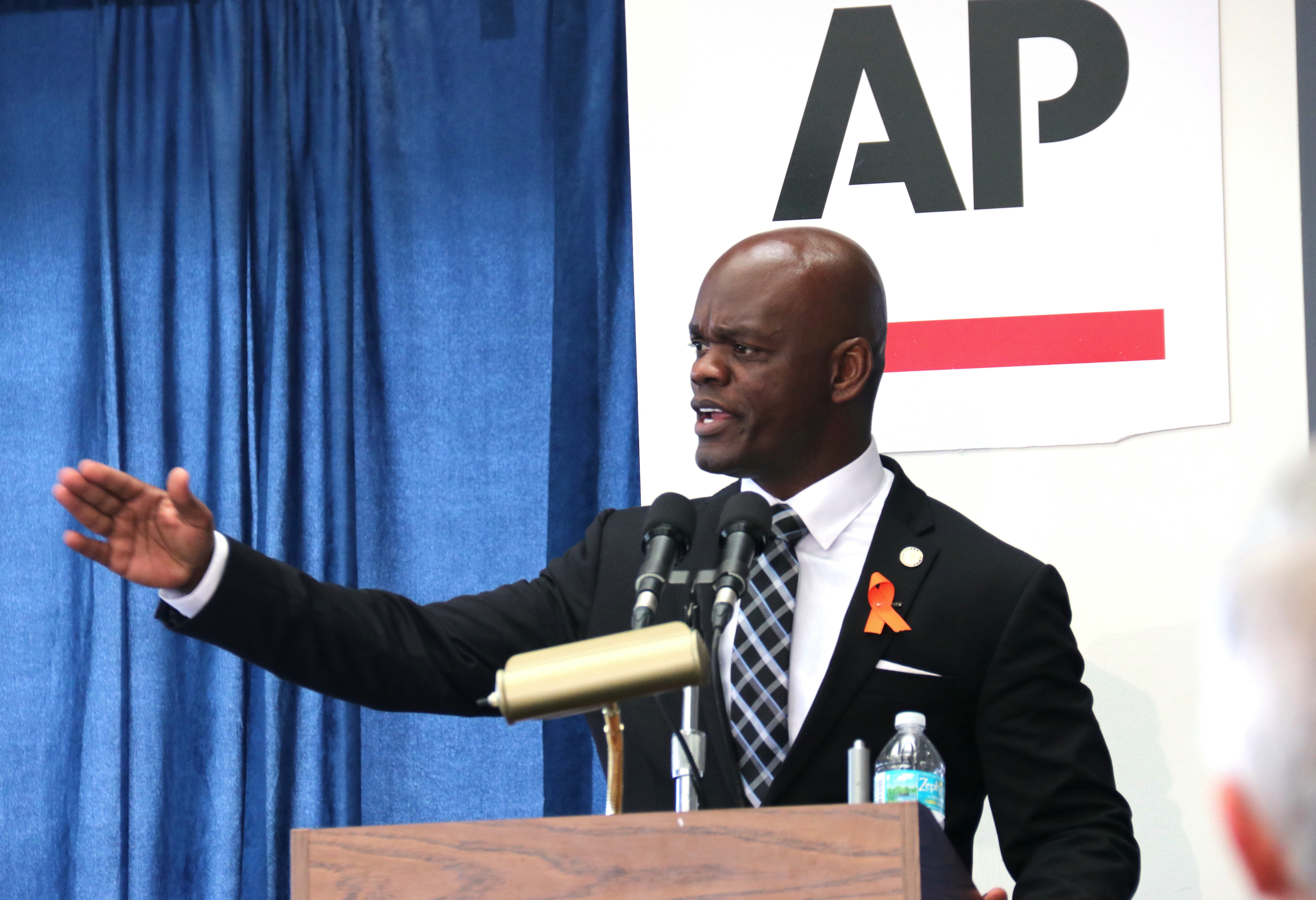 Leadership candidates may run as a team, according to caucus rules. Candidates for leadership must file with the Clerk of the Florida House of Representatives.
Currently, Republican House Speaker José Oliva presides over the chamber. State Reps. Chris Sprowls and Paul Renner are next in line, in that order.
No subpar honor
The Vinoy Golf Club in St. Petersburg is the featured course through February on the Florida Historic Golf Trail.
Newly named Secretary of State Laurel Lee, of Tampa, noted the rich history of the course and nearby hotel. (That's right, we're not just highlighting this news because it pertains to our publisher's home turf.)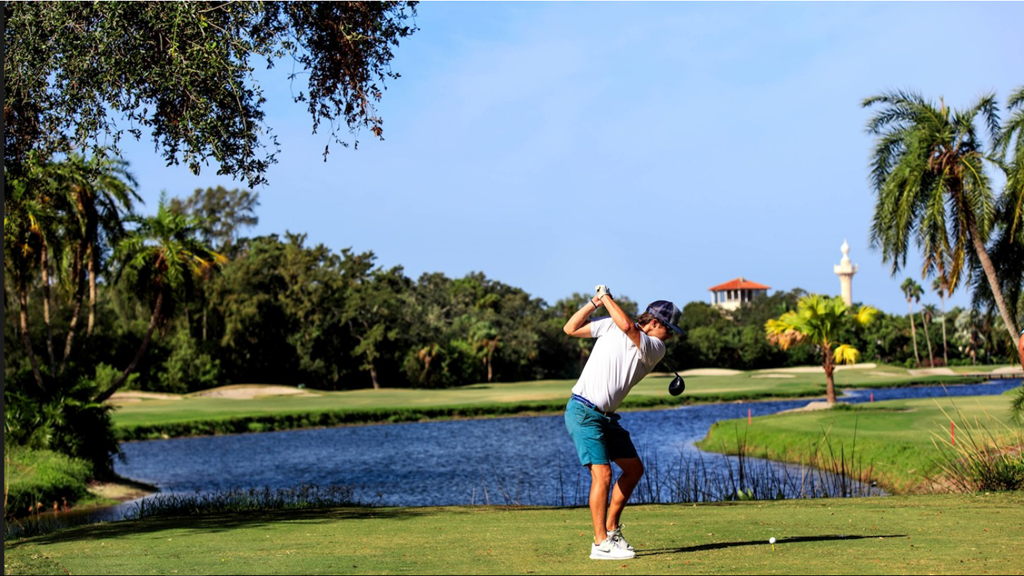 "The historic hotel and golf course have been an integral part of St. Petersburg's scenic beauty and historical landmarks for more than 90 years," Lee said.
Currently, the Vinoy Golf Club is an 18-hole, par-71 course featuring six varying sets of tees.
That means the greens and fairways have come a long way since 1920 when developer C. Perry Snell opened the Coffee Pot Golf Club, a 9-hole predecessor to the current course that patrons used to play on for the steep price of 60 cents per round.
Scratch-off supplier wins top prize
Whether it's Monopoly, Wheel of Fortune or good ol' Bingo, there's nothing like snagging a winning scratch-off ticket.
Scientific Games, the company that's been the Florida Lottery's scratch-off manufacturer since Day One, can relate.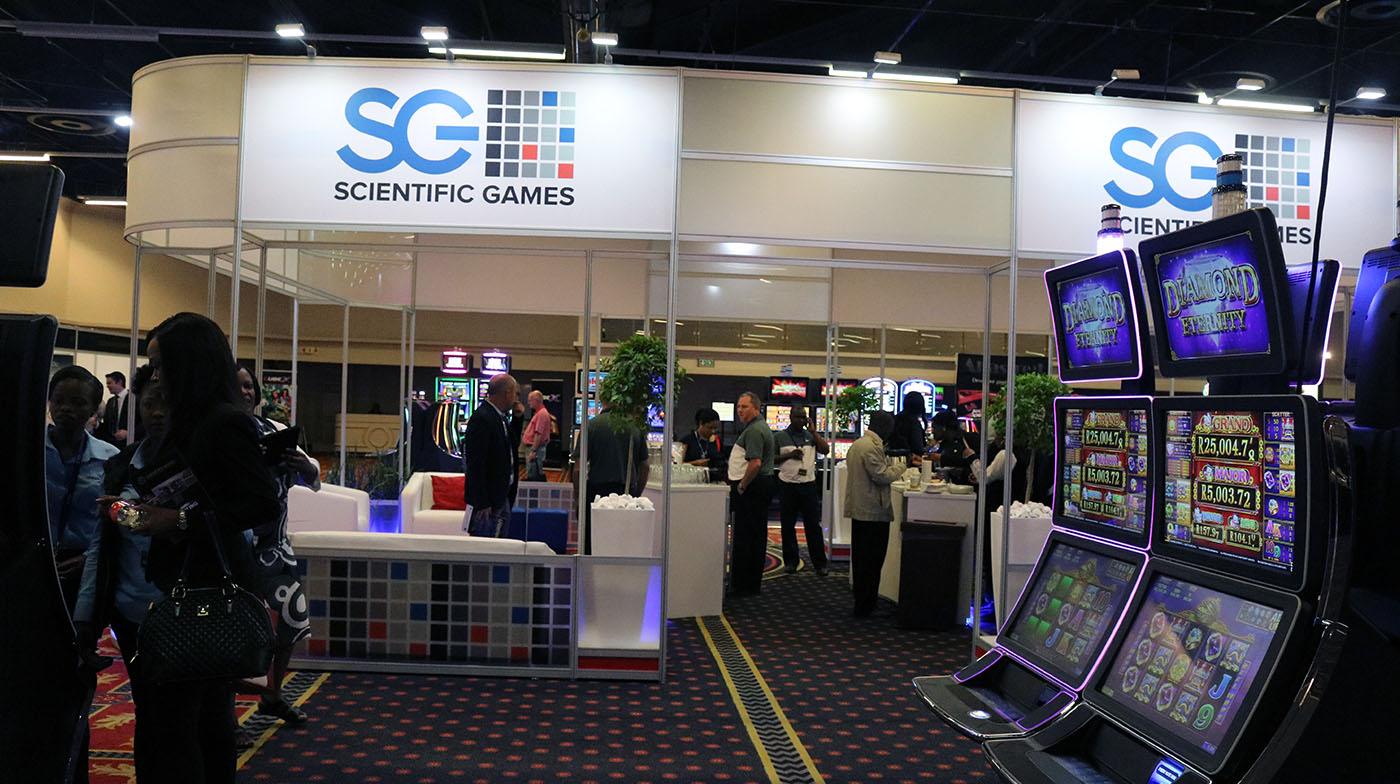 The Las Vegas-based company earned the "Lottery Supplier of the Year Award" at the ICE 2019 Totally Gaming show in London this week. To top it off, three Scientific Games execs were named to the Gaming Intelligence "HOT 50" list.
The company has made plenty of winners in Florida, the biggest being the state's Educational Enhancement Trust Fund.
When the Florida Lotto started in 1988, scratch-offs accounted for $533 million of first-year sales. Flash forward 30 years, and Floridians are snapping up $4.65 billion in scratchers a year — nearly 70 percent of all lottery sales.
Last fiscal year, the Florida Lottery contributed a record $1.7 billion to the Educational Enhancement Trust Fund. More than $900 million of that cash came in via instant game sales.
Tesla's ready to go
The Public Service Commission has given Tesla LLC the green light to offer solar equipment leases in Florida.
The commission concluded the leases do not constitute sales of electricity, and therefore would not qualify Tesla as a public utility under Florida law. Nor will the company or its lessees fall under PSC jurisdiction.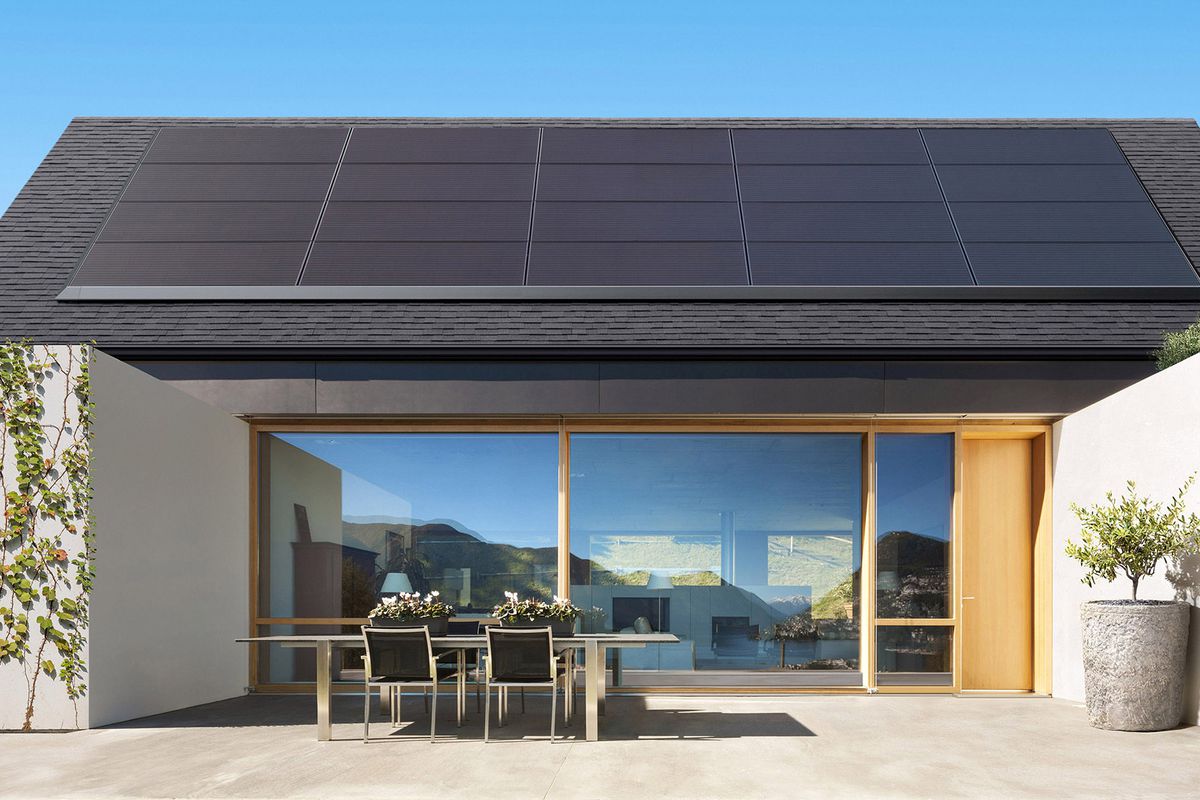 Within the past year, the commission issued similar declarations for Sunrun Inc. and Vivint Solar Developer Inc.
PSC rules allow leasing of renewable energy equipment as long as it doesn't involve selling electricity to customers, although they can benefit from net metering with their utilities.
PSC announces another tax giveback
Florida Public Utilities Co. customers are the latest to win a share of the GOP's big tax cut for corporations and high earners.
A Public Service Commission vote means that nearly $1.6 million in capital improvements will come out of the company's tax cut, instead of from ratepayers.
Because its rates return less than the commission allows, the company will retain nearly $1.7 million in tax cuts, while affiliates in Indiantown will keep almost $8,000 and Fort Meade roughly $6,400.
Parent company Chesapeake Utilities Corp. will retain $880,179.
The commission has approved or is considering similar givebacks for other investor-owned electric and natural gas utilities, and plans similar measures for water and wastewater utilities by the end of this year.
North Florida is growing, too
Over the next decade, Florida's going to welcome 5 million new residents, and the economy will need to add 1.7 million new jobs to support them.
Those figures, part of the Florida Chamber's Florida 2030 research, project have been floating around for several months. But the Chamber this week detailed what 2030 would look like for the cluster of counties surrounding Gainesville and Ocala.
Over the next decade, Marion County's population will grow by 20 percent and Alachua's population will see a 15-point spike. Clay County, meanwhile, will increase by a whopping 33 percent.
Those three counties alone will need to drum up another 60,000 jobs by 2030, and 23,000 of them need to arrive by next year. That's nearly double the number of unemployed workers in the region.
Bradford, Columbia, Dixie, Gilchrist, Hamilton, Lafayette, Levy, Madison, Putnam, Suwannee, Taylor and Union may be less populated than the big three, but they aren't shrinking anytime soon. Most of them will see double-digit population growth according to the Chamber's estimates.
FSU apps are up — again
A record-breaking number of students are seeking admittance to Florida State University this year.
It's the second consecutive year in which FSU has received its highest number of applications.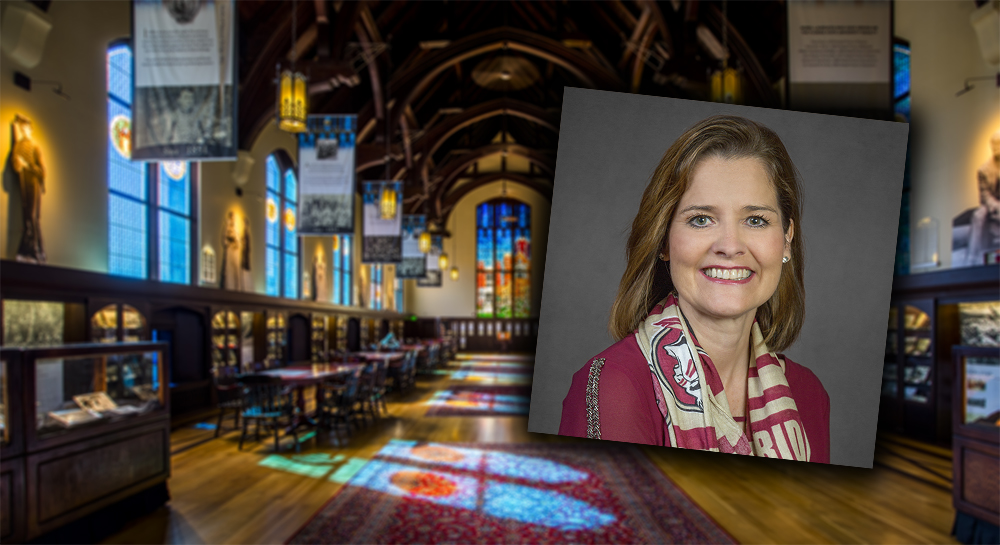 "We were humbled by the large number of applications we received from interested students this year," said Hege Ferguson, director of admissions. "More importantly, the talent, depth and diversity of this applicant pool was incredible, which again made the selection process very challenging."
As of early this week, nearly 57,000 'Nole hopefuls applied to spend their first year of college at FSU. That's an approximately 12 percent increase over last year.
The middle 50 percent of accepted students so far carry a 4.1-4.5 GPA, with an SAT range of 1270-1390 and 28-32 ACT composite score. FSU has already accepted nearly 20,000 students.
More admits for 2019 summer and fall semesters will be announced March 28.
Capitol construction update
Workers are completing final landscaping, 'hardscaping' (such as pavement and low walls) and sidewalk work on the south side, or Senate side, of the Capitol Complex with an anticipated completion date next month. That's according to McKinley P. Lewis, spokesman for the Department of Management Services.
The upper level above the Senate garage was opened to the public at the beginning of the year, and the garage was reopened for use in August, he added.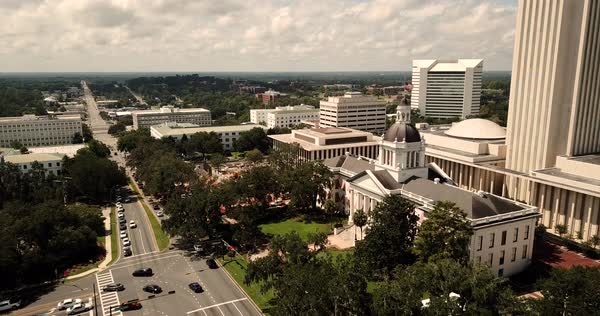 Work on the north side (or House side) of the Capitol Complex began this past autumn, with that project expected to last about two years. Crews have removed soil above the House parking garage and have been removing old waterproofing material over the garage. Inside, crews are working on lighting and sprinkler system replacement.
The Senate garage, in continuous use since 1978, was shut down in 2016 after its primary support girder showed signs of stress. The original waterproofing, which contains outdated coal tar pitch, had degraded over the years and was letting in water. Structural engineers then saw "an accelerated deterioration" of parts of the garage because of intruding water.
Capitol Directions