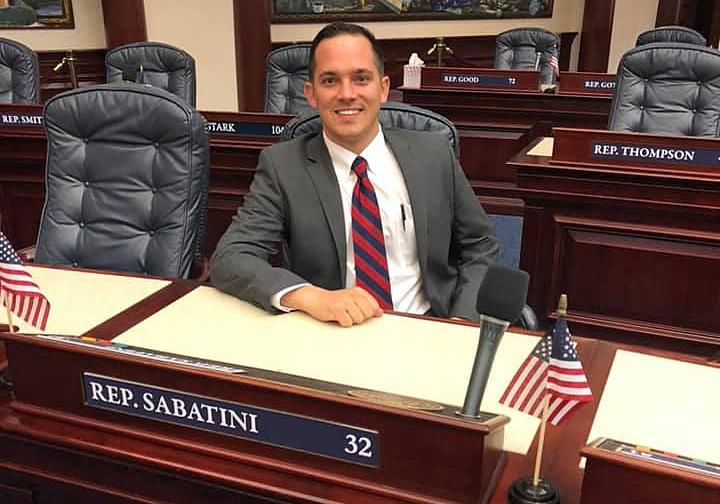 The Republican lawmaker is carrying the House ethics reform bill this year.
State Rep. Anthony Sabatini ushered an ethics bill through a workshop with little debate Tuesday. But as he presented legislation, Florida Democrats called out Republicans for making the blackface-plagued lawmaker the face of clean government.
"Session hasn't even begun, and Speaker Joe Oliva has already disgraced the House by putting Anthony Sabatini in charge of ethics reform," said FDP spokesperson Kevin Donohoe, misspelling Speaker Jose Oliva's first name.
Democrats called out Sabatini over a picture that surfaced from high school of the future pol dressed as a black friend and donning darkened skin. The photograph, first published by Florida Politics in October, prompted previous calls from state Democrats for Sabatini's resignation.
Sabatini has not yet returned calls on the matter.
Today, he carried the House ethics reform package (HB 1) through a workshop with the Public Integrity and Ethics Committee.
The bill itself does several things, including forbidding candidates for office from seeking employment at the agencies they could oversee. It also limits how much officeholders can use their position to promote themselves with official resources.
"Let's say a Clerk of Court took out a billboard to describe a change in the court system," he said. "That's fine, but if he appears on it and he's running and has on his badge, and the real reason, let's be honest is to increase name ID, then he can't do it."
The legislation arrived identical to a bill passed unanimously by the House last year. It ultimately could not muster enough support in the Senate. But Sabatini's House colleague offered no significant write-ups today.
But almost as soon as Sabatini took to the podium, Democrats sent out a news release taking issue not with the bill but with its sponsor.
The release noted "unhinged Twitter fights" and linked to Sabatini's online posts made about Florida Politics and other outlets. It also noted a recent editorial in the Daily Commercial, the Howey-in-the-Hills Republican's hometown paper, saying Sabatini needed to "grow up."
The Democrats labeled Oliva as Sabatini's "one powerful supporter," and labeled Sabatini as "uniquely unqualified" to carry the reform bill.
"By elevating Sabatini, Speaker Oliva is turning the chamber into a cesspool of far-right extremism and demagoguery," Donohoe said.
Democrats also called on Gov. Ron DeSantis to condemn Sabatini's behavior.
Some Republicans have at least cautioned introspection on Sabatini's part.
Joe Gruters, chairman of the Republican Party of Florida, said Sabatini might try quieting down.
"My advice for Anthony Sabatini is that now is the time for less talking and more self-reflection."
And House Majority Leader Dane Eagle said Sabatini needed to rethink his approach.
"He's proving to be someone who could be a promising legislator, but at times he needs to look internally and think what he could be doing to advance," Eagle said.
"This extracurricular stuff can sometimes derail these things."