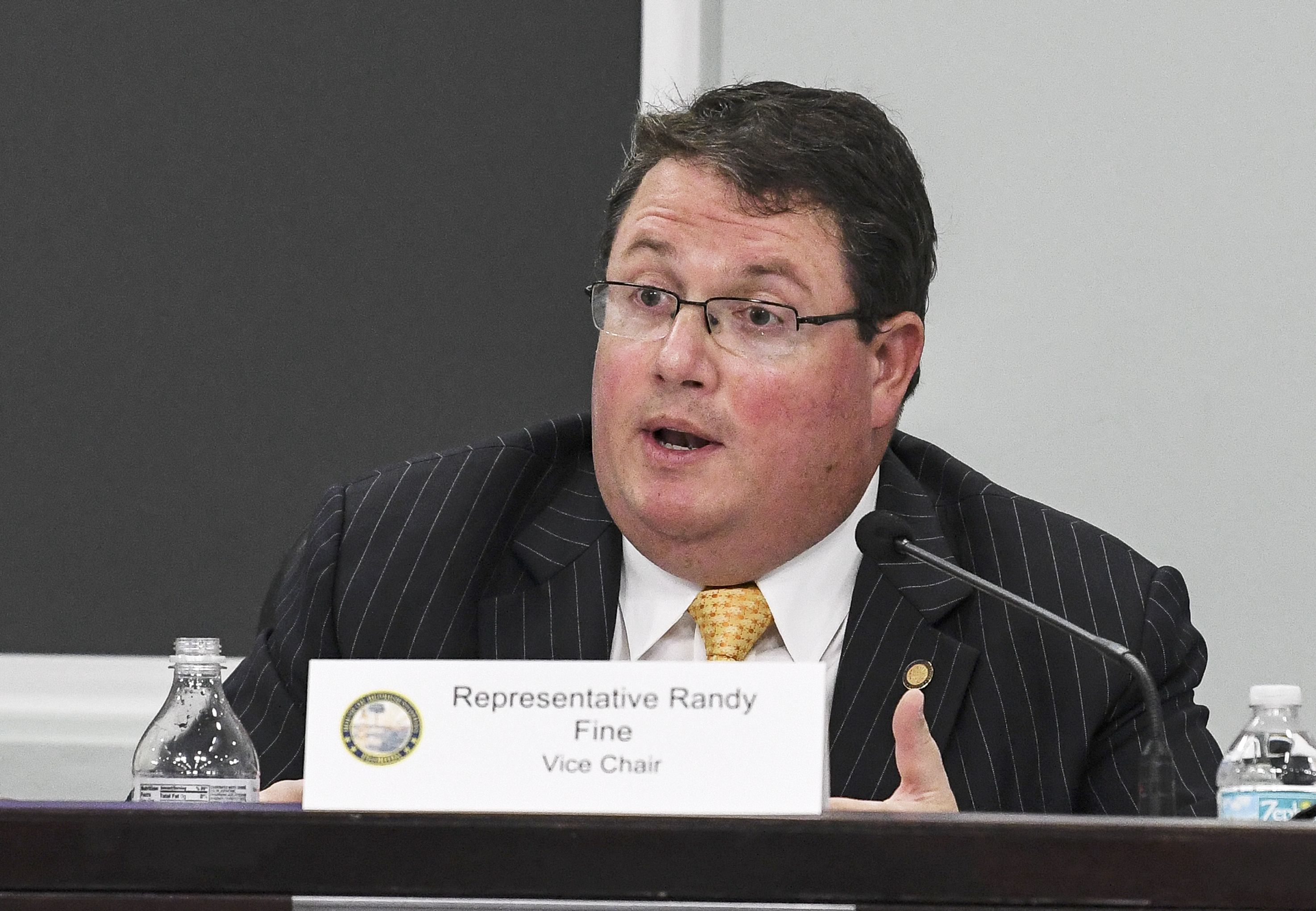 Randy Fine has been vocal about spending issues at the school.
State Rep. Randy Fine is suggesting the lack of oversight is so stunning at the University of Central Florida that the 68,000-student school — one of the largest in the nation — deserves to be shuttered.
"If this was a private business I owned, I'd shut it down," Fine said. In fact, he said he's "working on a five- or ten-year shutdown of the university," he added, because of its dearth of "corporate governance."
Fine spoke Wednesday at a hearing of the House Higher Education Appropriations Subcommittee, which he chairs. He began a promised deep dive into university capital spending.
But House Speaker Jose Oliva said in a statement that he does not support closing UCF.
"The misuse of taxpayer dollars by a few members of the UCF administration does not diminish the achievements of the faculty and students of the university, nor does it reflect negatively on the positive impact UCF has to both Central Florida and the entire state," said Oliva, a Miami Lakes Republican.
Democratic state Rep. Carlos Guillermo Smith, who has UCF's main campus in his House District 49, went further. He called Fine's statement "reckless."
"Stepped outta committee for a few mins only to discover Chair @VoteRandyFine opined about a 5-10 yr @UCF shutdown. I hope this is a joke," Smith tweeted. "The 69K students, 13K employees, 112K addl jobs + $8B economic impact depend on UCF. Reckless rhetoric w/many lives on the line isn't funny."
A misuse of state funds surfaced in September and focused on $38 million in operating money that was used to construct UCF's Trevor Colbourn Hall.
Under state policy, the funds were supposed to be used for activities such as instruction, research, libraries, student services or maintenance.
A subsequent investigation by an Atlanta law firm led to a report that outlined a total of $84.7 million in state operating funds that either were used or slated to be used by UCF for construction projects, in direct violation of state policy.
Robert Garvy, chairman of UCF's Board of Trustees, released a statement reading in part, "UCF is an admired and appreciated institution that has transformed more than 280,000 lives and an entire region of the state over the past 50 years.
"To shut it down would cause irreparable harm to Florida's future and to the tens of thousands of organizations, businesses, and institutions that depend on its talent, ideas, and innovation. "
But Fine, a Palm Bay Republican has been vocal about issues at the university, namely on the roughly $85 million in "misdirected spending," including the capital costs on Trevor Colbourn Hall.
UCF used $38 million of operating money to build a new classroom building, spent another $14 million on other construction projects, and programmed another $33 million to do likewise, though it was never spent.
And Fine's not stopping there.
"We're going to bring before this committee every (item) on the PECO (Public Education Capital Outlay) list today … and make sure they are still things we want and ought to be doing," he vowed.
There are $733.1 million in outstanding projects, some dating back to 2006.
And a cash shortfall of $743 million in the next three years, according to projections rolled out by Eliza Hawkins, deputy staff director of the House Appropriations Committee.
In response to Fine, Hawkins noted that the Legislature has the right to remove a project from the PECO list.
"That would be your call. A simple process of reverting funds," Hawkins said.
Misty Shepherd, UCF's Interim VP for Finance & Administration, took the brunt of criticism from Fine.
"It is my opinion … that the conduct [regarding] that building was inexcusable," Fine said, doubting that there is "an adequate sense of the severity of the situation."
Fine is not the only prominent Republican with qualms, though he's the only one to float such a draconian solution. Education Commissioner Richard Corcoran said earlier in February that "changes need to be made" at UCF.
"If people are going to misspend, and cheat, in essence, to the tune of 50-plus million dollars, they have to be held accountable. Changes have to be made," Corcoran said.
"And I think the Speaker, the Governor, the Senate President, all of them have been very, very clear. They are investigating. There will be transparency. And there will be accountability."
UCF has already made some changes.
Its president of 26 years, John Hitt, retired in June before allegations of misspending came to light.
His right-hand-man for financial matters, Senior Vice President Bill Merck, retired in August after the allegations surfaced and investigations began.
Four others beneath them were fired.
Bonuses were canceled for Merck and new President Dale Whittaker, who had been provost under Hitt. Marcos Marchena gave up his chairmanship on the Board of Trustees.
Further changes may await the school this Legislative Session, which begins March 5.
The UCF scandal and Fine's comments are bringing a vast array of responses.
Democratic state Rep. Anna Eskamani, who has several degrees from UCF and teaches there, and represents an Orange County district that is just a few miles away, tweeted: "Accountability is one thing— unnecessary and extreme punishment is something else. @UCF contributes a LOT to our state economy and fosters much needed talent for industries across FL. Let's be wise in how we handle this."
Garvy's statement in full read:
"UCF is an admired and appreciated institution that has transformed more than 280,000 lives and an entire region of the state over the past 50 years. To shut it down would cause irreparable harm to Florida's future and to the tens of thousands of organizations, businesses, and institutions that depend on its talent, ideas, and innovation.
"UCF and its leadership are working tirelessly to address and correct the problems of the past. We're committed to working with the Board of Governors and the Legislature to ensure we are vigorous stewards of the public trust and the tax dollars entrusted to us.
"UCF has been recognized nationally and internationally for the quality of its graduates, research, and collaborations by an impressive array of both public and private organizations.
"We're committed to getting this right and ensuring UCF's bright future continues."
Fine's comments followed other moves by the House to crack down on UCF officials in the wake of the financial scandal. Last week, the House Public Integrity & Ethics Committee voted to summon 14 university officials, including UCF President Dale Whittaker, to testify before the committee.
"A proper investigation is in the best interest of the university and important to its integrity," Oliva said in his statement.
___
Jacksonville correspondent A.G. Gancarski and Orlando correspondent Scott Powers contributed to this post, with additional material from The News Service of Florida, republished with permission.