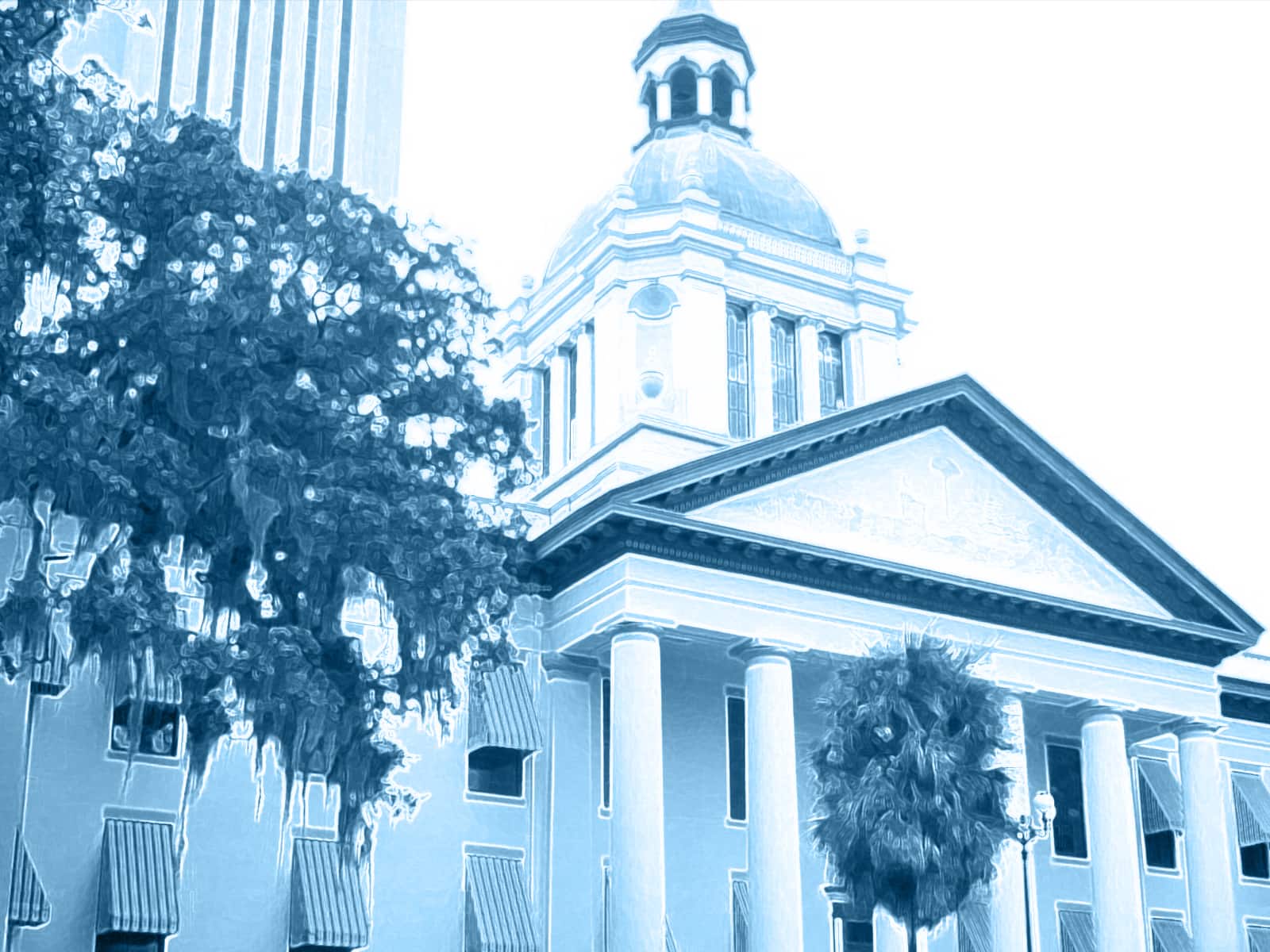 Hemp is what's happening.
Whole lotta hemp
Federal progress, pilot projects, new legislation, and recent key state hires clarify that hemp is what's happening.
Complementing this culmination: The newly launched Florida Hemp Industries Association.
The new association will focus on connecting individuals and companies to the Sunshine State's burgeoning hemp industry. It's spearheaded by Jeff Sharkey and Taylor Biehl, two lobbyists who've made their dent in the state's pot landscape — primarily through their Medical Marijuana Business Association.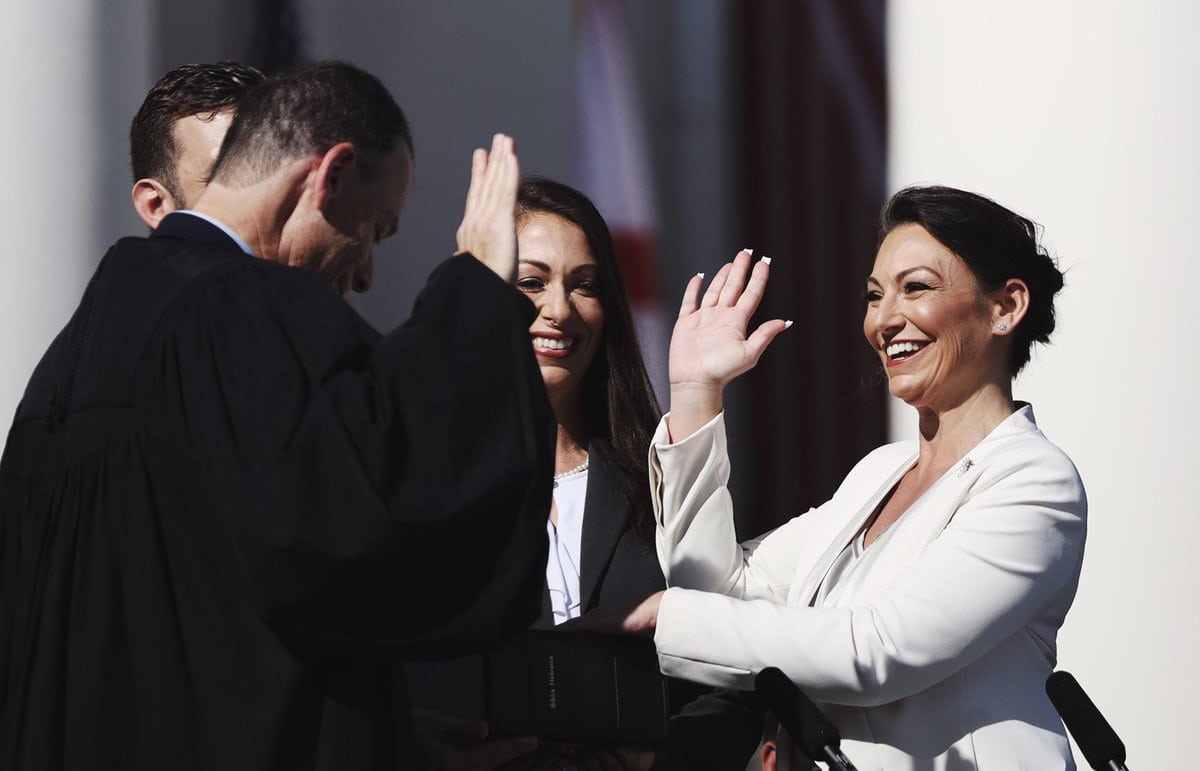 Because other positive developments fill the backdrop of the hemp landscape in Florida and beyond, the launch likely couldn't come at a better time.
Industrial hemp can be modified to produce a negligible amount (less than 1 percent) of THC, the compound known for producing psychotropic effects. Legislation in 2017 allowed universities to research the plant and its viability in Florida. Florida A&M University already has identified seven hemp projects for study.
President Donald Trump in November signed a farm bill that officially removed hemp from the feds' list of controlled substances, paving the way for broader research programs.
And just this week, Senate Agriculture Chair Ben Albritton, a Wauchula Republican, filed a bill that would create a state hemp program overseen by the Florida Department of Agriculture and Consumer Services.
Democratic Agriculture Commissioner Nikki Fried, meanwhile, has made it crystal clear she's a friend to the industry. Her newly hired cannabis director Holly Bell also appears eager to direct resources to hemp.
Coming up, the usual assortment of tidbits, leftovers and not-ready-for-prime-time moments by Danny McAuliffe, Drew Wilson, Jim Rosica, Michael Moline, and Peter Schorsch.
But first, the "Takeaway 5" — the Top 5 stories from the week that was:
Take 5
DeSantis acts on school safety — Gov. Ron DeSantis is calling on the state Supreme Court to impanel a grand jury to investigate school districts throughout the state regarding their school safety practices. "The best tool that we have to bring accountability but also move forward in a better way is a petition that I filed today with the Florida Supreme Court for a statewide grand jury," DeSantis said this week. He hopes the grand jury will have more powerful subpoena power than that held by the Marjory Stoneman Douglas High School Public Safety Commission.
DeSantis wants school choice scholarship — DeSantis recently called on the Legislature to create an "Equal Opportunity Scholarship." The money would help students wishing to attend private and charter schools. DeSantis envisions the scholarship would cover 14,000 students, at about $6,500 apiece. He suggested possibly funding the program through tax credits and tax revenue, though he ultimately is leaving it up to the Legislature to decide. "For me, if the taxpayer is paying for the education, it's public education," DeSantis said. "It doesn't matter if you're going to the district school that you're zoned for, or if you're going to a public magnet or a public charter, if you take the Tax Credit Scholarship to go to a private school, or if you use an ESA for home-school, to me that is all a public commitment to make sure that our kids have the best education."
Fried hires concealed carry chief — Fried this week tapped Stephen Hurm to oversee the state's concealed-carry permitting process. Hurm is the husband of former U.S. Rep. Gwen Graham, who competed in the Democratic primary for Governor last year. He will serve as the director of the Division of Licensing at the Florida Department of Agriculture and Consumer Services. The division, among other things, screens for and doles out concealed-carry permits. "[Hurm's] experience implementing successful risk management strategies makes him the careful, competent, and qualified leader the Division needs as we move forward to remedy the past failures," Fried said. A lawyer, Hurm boasts more than 30 years of experience working with or advising law enforcement, including stints at the Okaloosa County Sheriff's Office and the Florida Department of Law Enforcement. Hurm most recently worked as director and researcher at the Florida State University Institute for Law Enforcement Research and Policy.
House moves pot bill — Following last week's contested Senate panel hearing of legislation that would permit smokable marijuana for patients, the House this week discussed its own version of a bill that seeks to accomplish the same. The House Health & Human Services Committee forwarded the bill, which would require smokable marijuana to be sold as a pre-made, filtered cigarette in Florida. The Senate's current version of the legislation requires a patient to get a second opinion before he or she could get medicinal cannabis for smoking. DeSantis has given the Legislature a March 15 deadline to pass legislation allowing patients to smoke the medicine.
Arming teachers gets momentum — The Senate Education Committee in a party-line vote forwarded a bill that in part would allow public teachers to carry firearms. The legislation (SPB 7030) was approved 5-3 by the panel. The bill was modeled off recommendations from the Marjory Stoneman Douglas High School Public Safety Commission, a fact-finding panel created to study best security practices following the attack last year. The measure picked up support from Republicans, while Democrats voted against it.
Instagram of the Week
Moody highlights progress on rape kit backlog
Attorney General Ashley Moody thinks there's an end in sight for the state's backlog of untested sexual assault kits.
Pointing to a report from the Florida Department of Law Enforcement that showed 7,137 were tested by the end of 2018, Moody called the progress "encouraging news."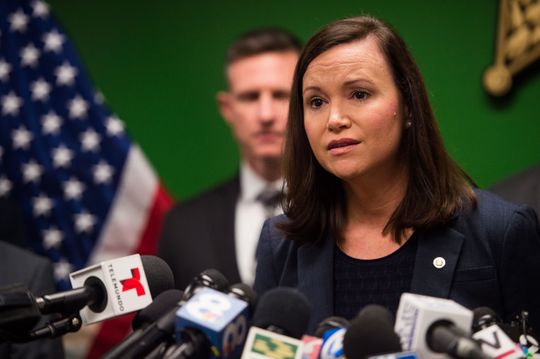 "I want to thank the Florida Department of Law Enforcement for their hard work and great progress to eliminate the backlog of previously unprocessed sexual assault kits," Moody said, while also giving kudos to her predecessor Pam Bondi.
During the 2016 Legislative Session, Bondi worked alongside the Legislature to secure $2.3 million for testing, along with other related expenditures.
Israel hearing update
Lawyers for DeSantis and suspended Broward County Sheriff Scott Israel will convene in Tallahassee this week for a case management conference ahead of Israel's Senate hearing.
According to public notice, that means Senate Special Master Dudley Goodlette will discuss with counsel "scheduling of the prehearing conference, hearing, and any matters arising during the case management conference that require scheduling."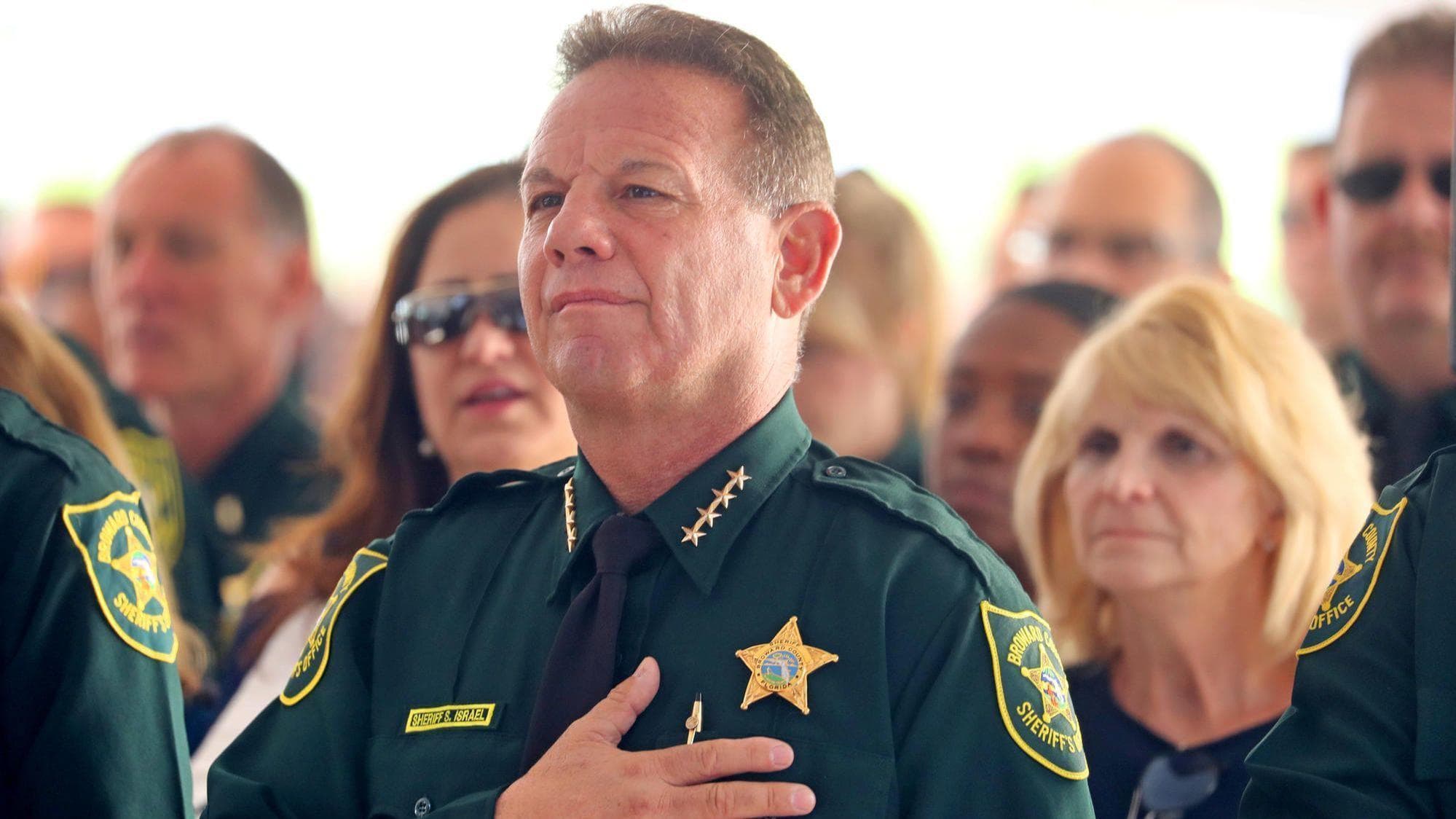 The meeting is set for 1 p.m. on Tuesday in Room 401 of the Senate Office Building.
DeSantis suspended Israel shortly after taking office last month. The Republican Governor replaced Israel with former Coral Springs Police Sgt. Greg Tony.
Israel has requested a hearing from the Senate.
Guardian follow-up
Lawmakers are expected to address some significant changes to the school guardian program put forth by the state last year.
Sponsoring one under-the-radar change is state Sen. Darryl Rouson, a St. Petersburg Democrat. The bill (SB 136) would include school guardians in the state's false personation statute.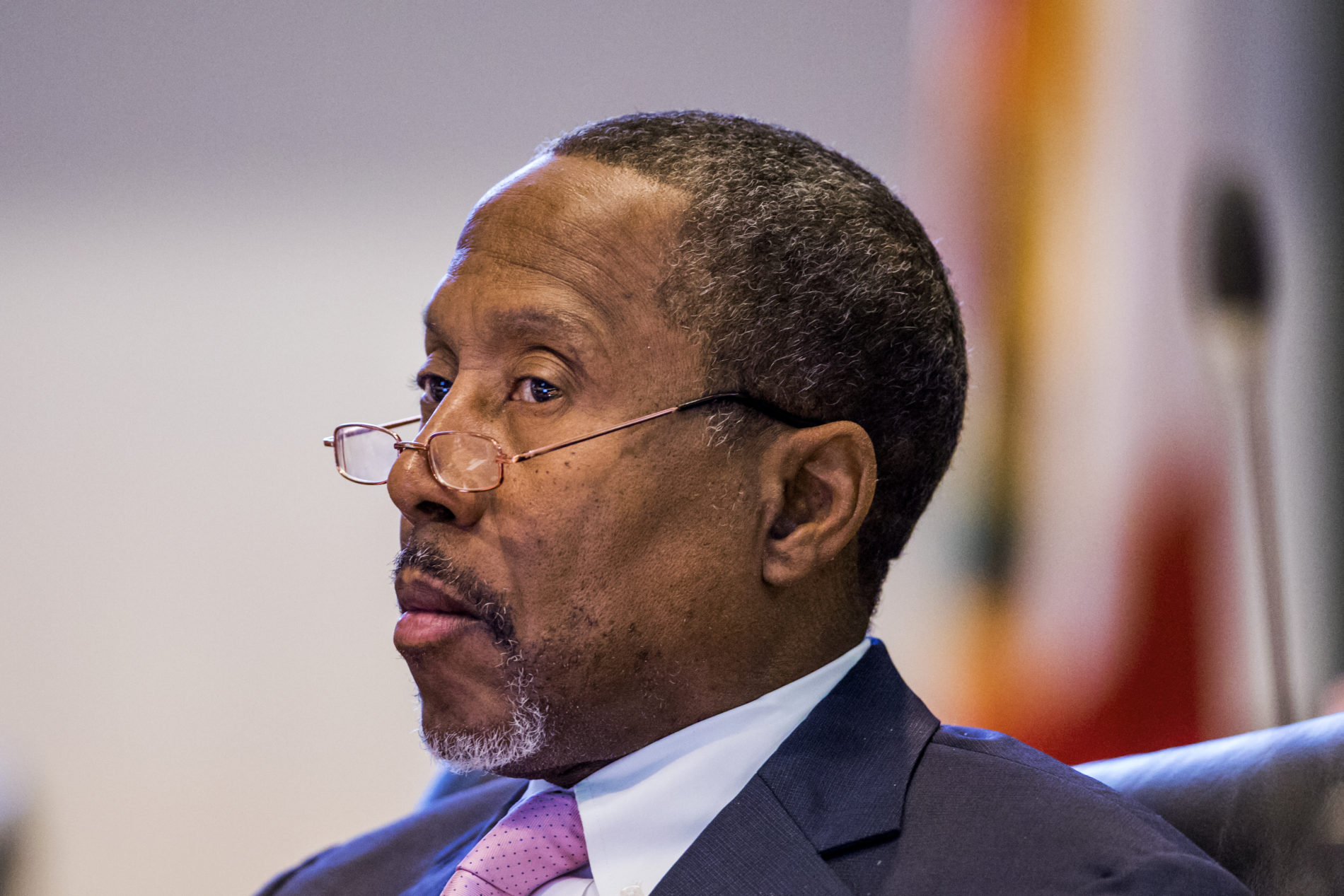 If signed into law, it would make impersonating a school guardian a third-degree felony.
The measure picked up swift and unanimous support in the Senate Criminal Justice Committee earlier this week.
AFP-Florida awards Ocala lawmaker
Members of Americans for Prosperity-Florida this week paid a visit to state Rep. Stan McClain to thank him for his free-market policymaking.
The reason: He's the latest recipient of the organization's Champion of Economic Freedom Award.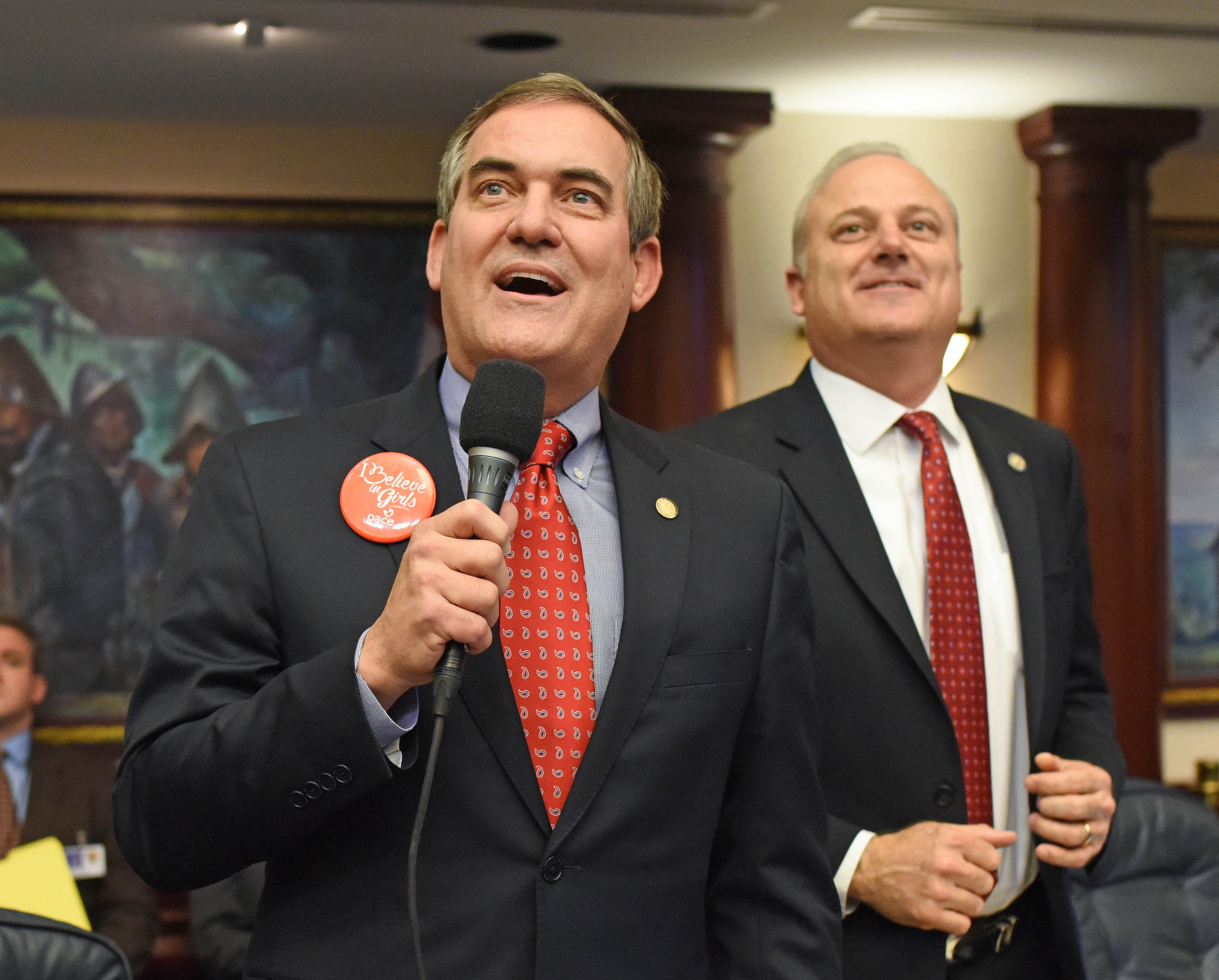 McClain, an Ocala Republican, earned top marks (A+) on last AFP-Florida's 2018 scorecard. The organization, a liberty-minded think tank, grades lawmakers each year.
"I appreciate this recognition and the good work AFP-Florida does," said McClain. "There's no question that prosperity and economic opportunity could quickly be short-circuited with the wrong policies in place.
"It's an honor for me to support legislation that keeps government in check and allows the free market to flourish, and I look forward to continuing to work with AFP-Florida and other like-minded folks as we head into the 2019 Session."
McClain recently was selected to serve as a deputy majority whip in the Florida House.
FDOT's Daytona 500 message
Heading to Daytona Beach this weekend? The Florida Department of Transportation wants you to take advantage and notice the extra messaging made available for one of the city's premier events, the Daytona 500.
"Extra signage will be in place along various roadsides to help with wayfinding," said a news release from the state agency. "In addition, real-time traffic information will appear on overhead dynamic message signs and be communicated on FL511, as well as other traffic apps, including Waze."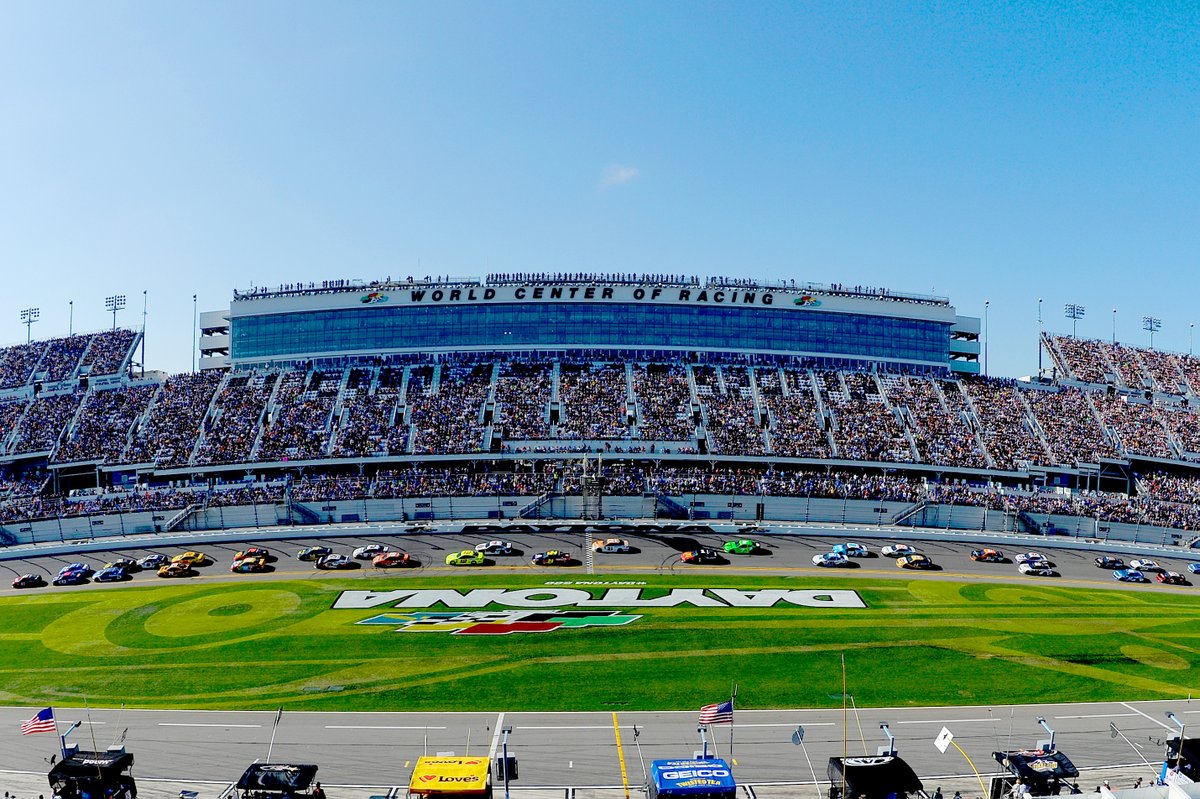 The agency is working with event staff, law enforcement and local officials to manage traffic before, during and after the NASCAR event.
"Drivers are urged to watch for pedestrians and allow plenty of time for travel," continued the release. "Safety doesn't happen by accident."
The race begins at 2:30 p.m. on Sunday.
DEO extends application deadline for Irma relief
Floridians facing housing issues resulting from Hurricane Irma will have more time to apply for federal assistance this year.
The Florida Department of Economic Opportunity said this week that it is extending the deadline to Mar. 29 to register for Rebuild Florida, a long-term recovery pool backed by $350 million in federal funding.
Rebuild Florida "helps repair, rebuild or replace damaged homes," said a news release from DEO. Communities eligible for funding are highlighted here.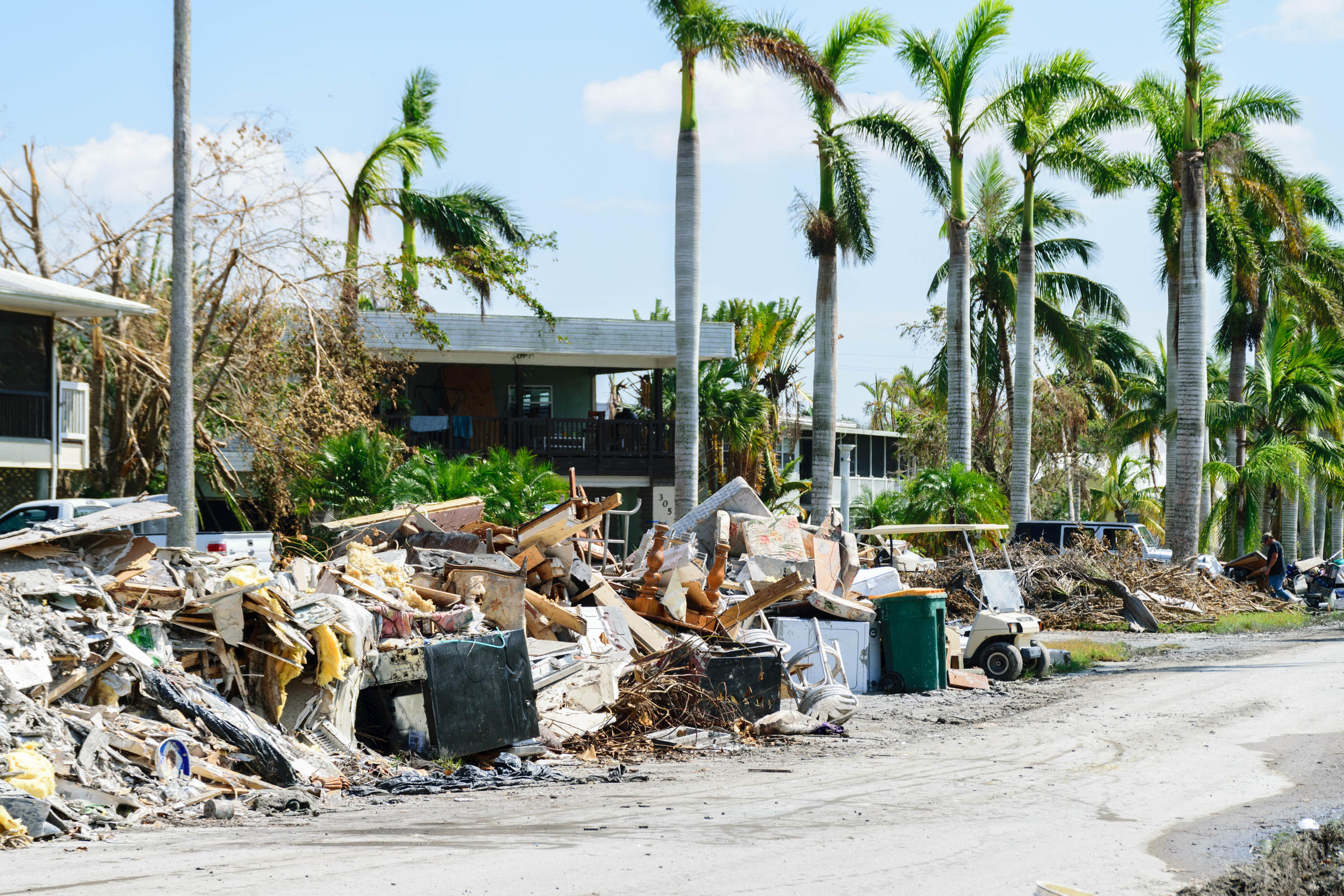 Priority is given to "those low-income residents who are elderly, disabled, families with children under the age of 18 or persons displaced from Puerto Rico or the U.S. Virgin Islands who are permanently resettling in Florida as a result of Hurricane Irma or Maria," the release added.
"We have extended the Rebuild Florida registration deadline to allow as many homeowners as possible to register for assistance, and I encourage anyone who still has damage from Hurricane Irma to visit RebuildFlorida.gov to get help," said Ken Lawson, executive director of DEO.
Florida Housing to help first-time homebuyers
The private-public Florida Housing Finance Corporation is again launching a federal program that helps finance down payments and other closing costs for first-time homebuyers.
The Florida Hardest-Hit Fund Down Payment Assistance Program will start on March 4.
Floridians in Clay, Duval, Hillsborough, Osceola and Pasco counties will be eligible to receive assistance. The program provides up to $15,000 in aid for first-time homebuyers. It's forgivable over five years.
The program initially launched in 2010, in the aftermath of the housing bubble burst.
"Statistics show that foreclosures have drastically decreased in Florida and that our state has recovered from the housing crisis," said Trey Price, executive director of Florida Housing. "This funding will further assist with the continued stabilization of recovering, distressed neighborhoods."
Enterprise Florida chief attends AT&T ribbon-cutting
Enterprise Florida CEO Jamal Sowell recently participated in the unveiling of the newly renovated AT&T call center in Sunrise.
And as the head of the state's job agency, Sowell had good reason to be there. It used to house just 40 call center employees. But now nearly 475 call center agents and managers work in the 104,000 square-foot building.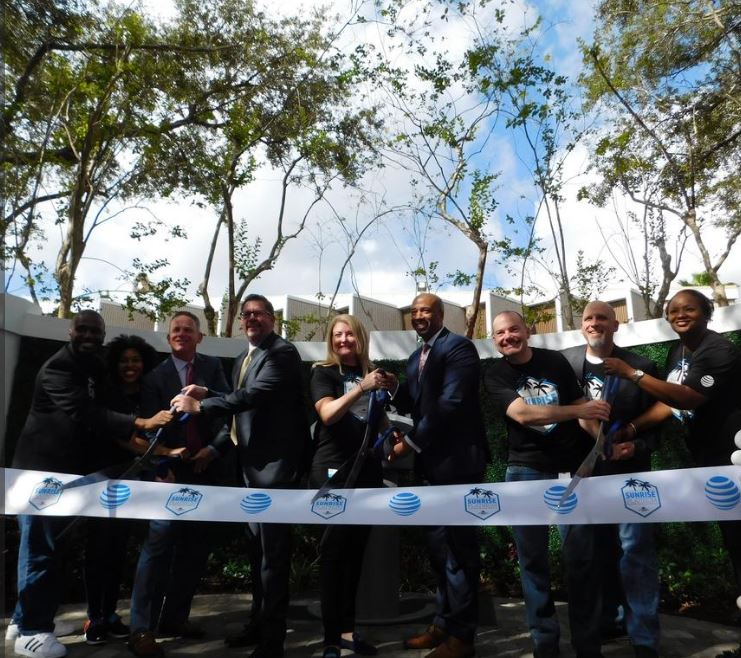 AT&T expects to add another 200 jobs in the building by the end of this year after another phase of the project is completed.
"Any city in any state would welcome the opportunity to create more than 600 jobs in their community and welcome a state-of-the-art call center," Sowell said. "This call center is a direct result of Florida's elected leaders passing good public policies that encourage investment in our state."
AT&T Florida President Joe York and Sunrise Mayor Mike Ryan joined Sowell at the ribbon-cutting ceremony.
Audubon highlights Gulf restoration projects
A 90-page report from Audubon Florida identifies some projects and programs that would help restore the Gulf of Mexico.
Included in the report: a recommended investment of more than $1.7 billion for such efforts.
"The challenges are huge, but we have an enormous opportunity to save much of the Gulf Coast for both birds and people," said David Yarnold, president and CEO of National Audubon Society. "We can't afford to blow this."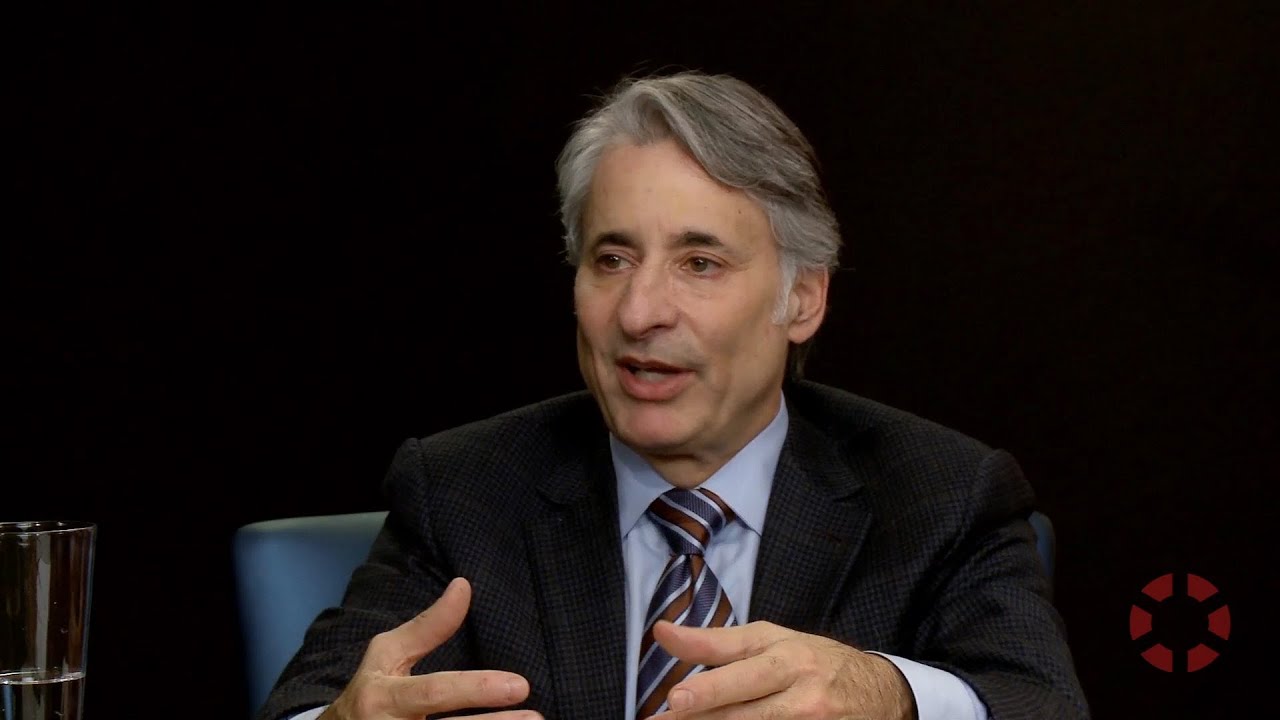 Audubon Florida, the state branch of the organization, "identified critical priorities in the Sunshine State to confront challenges including a changing climate, sea level rise, and harmful algal blooms," said a news release.
"Restoring and acquiring the places in this plan will provide refuge to rare and imperiled bird species while mitigating for the impacts of a changing climate," said Julie Wraithmell, executive director of Audubon Florida.
The report, "Audubon's Vision: Restoring the Gulf of Mexico for Birds and People," can be viewed online here.
Justice reformers to screen 'The Sentence'
The Project on Accountable Justice and FAMM will host a movie screening of HBO's "The Sentence" at 5:30 p.m. on Tuesday at the Challenger Learning Center in Tallahassee.
An IMDB summary describes the 2018 documentary as an "intimate portrait of mandatory minimum drug sentencing's devastating consequences."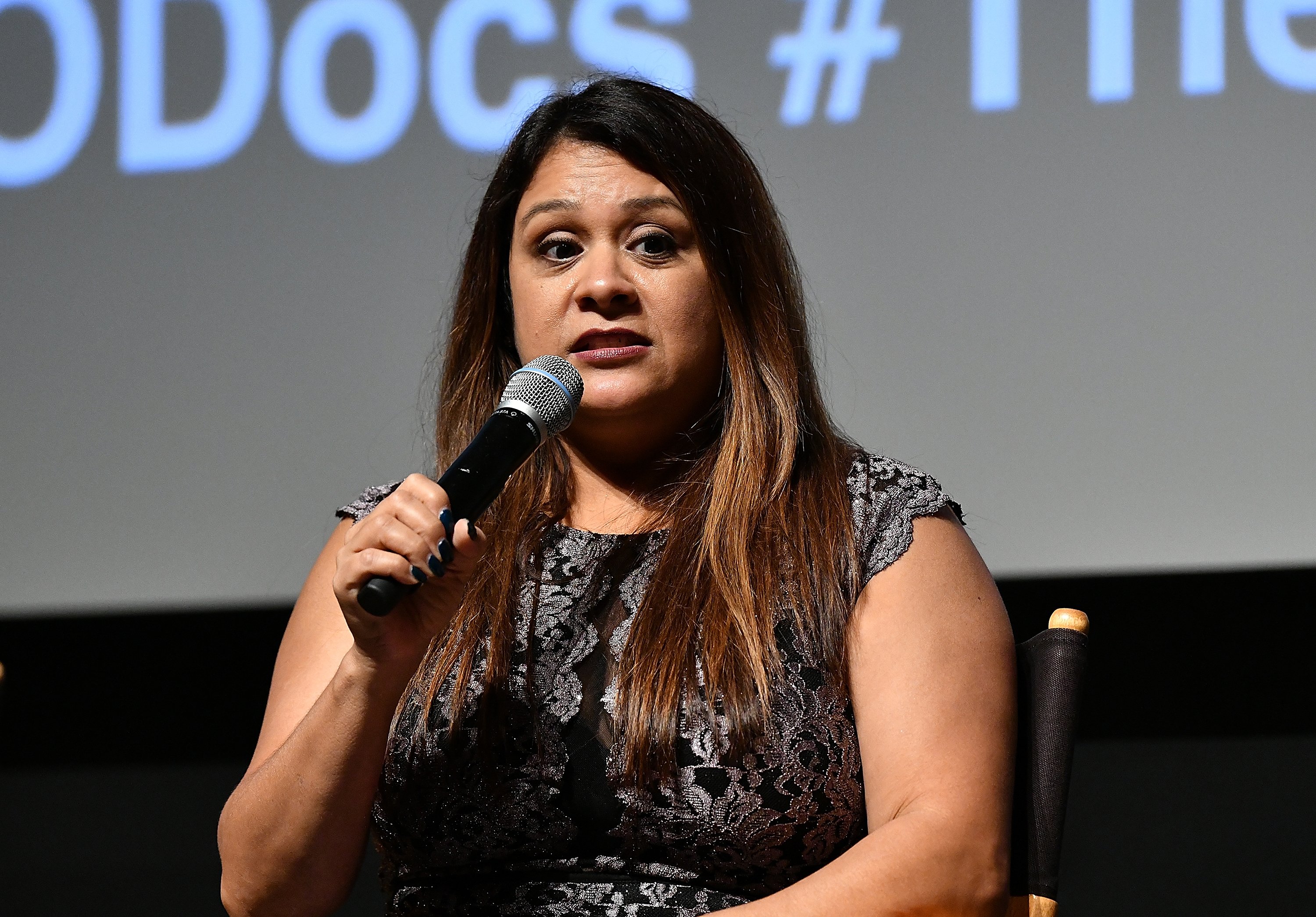 All interested media are welcome to attend.
Afterward, a panel of leading experts will discuss criminal justice reform. They include State Sen. Jeff Brandes, FSU visiting law professor Carla Laroche, Butterfly Life Journeys Founder Patricia B. McCray, Freedom Partners chairman Mark Holden, and FAMM fellow Matthew Charles.
Some lawmakers, including Brandes, are hoping to pass significant sentencing reform this year through the Florida First Step Act.
Stay together for the kids?
New research from Florida State University suggests family shake-ups might not have a long-term influence on child behavior.
A study led by criminology professor Kevin Beaver found that family changes — namely divorce — can impact a child's criminal behavior immediately, but such an effect will fade.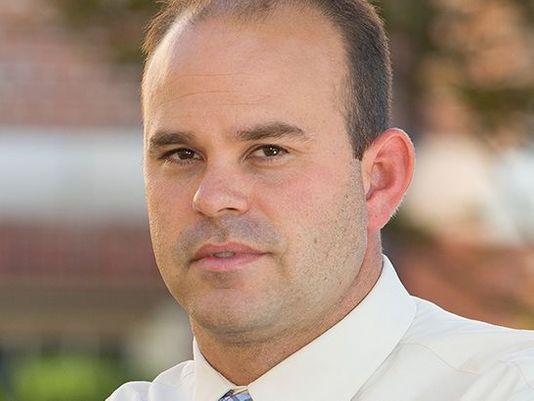 "Essentially what we found is divorce, broken families or blended families might be detrimental for the child in the here and now, but that impact may erode over time," Beaver said. "It might not have this long-term effect."
By reviewing data from another study, researchers discovered that divorce and moving in with a stepfamily did not have a significant impact on a child's delinquency over time.
Divorce did have a significant, but temporary impact on delinquency, although "we didn't find substantial changes in criminal behavior in late adolescence or adulthood," Beaver noted.
The findings were published in Youth Violence and Juvenile Justice.
Desloge named to FEMA panel
Leon County Commissioner Bryan Desloge was recently selected to serve a three-year term on the Federal Emergency Management Agency National Advisory Council.
The 35-member panel advises FEMA "on all aspects of emergency management to ensure input from and coordination with state, local, tribal and territorial governments, as well as the private sector," said a news release from the county.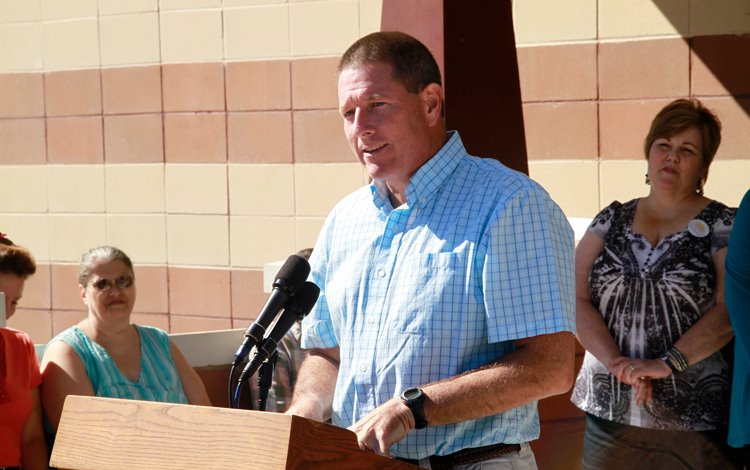 "There is no higher priority than protecting our citizens before, during, and after disaster, and this FEMA committee will have a direct role in shaping policies and practices to keep everyone safe and resilient," Desloge said.
Desloge will focus on closing the "all-hazards insurance gap for renter policies" and bettering code enforcement as a member of the Federal Insurance and Mitigation Subcommittee. His term lasts until May 2021.
If you're not at the table …
Andrew "Andy" Reiss is updating the lunch menu at Andrew's restaurant.
Folks in The Process frequent the downtown Tallahassee locale. Some are fortunate enough to have menu items named after them.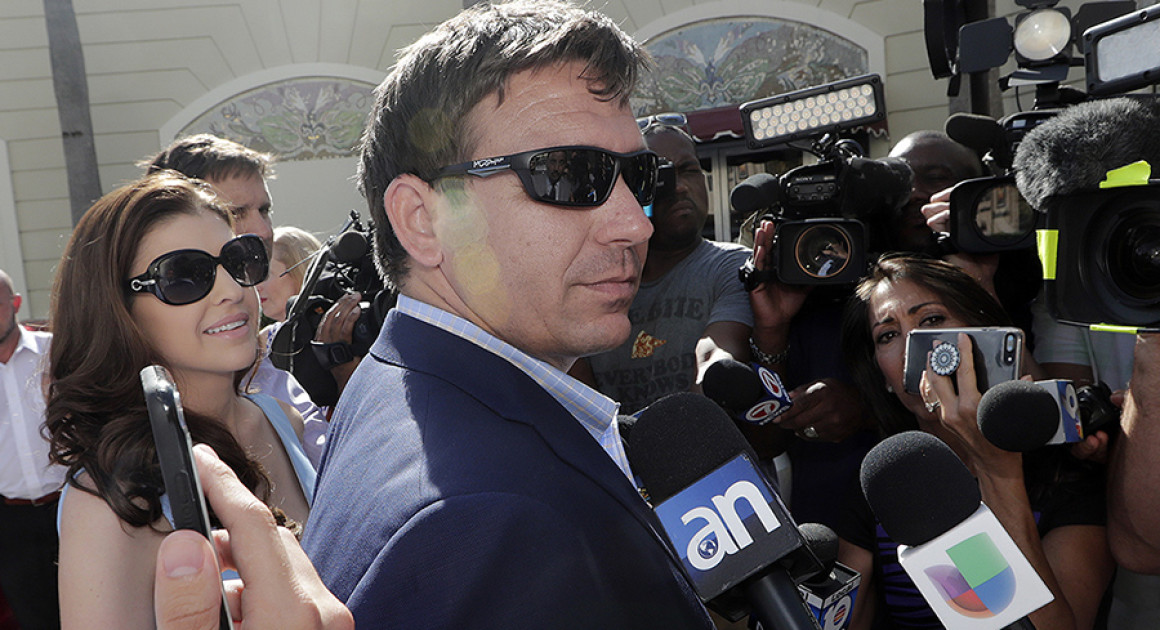 Coming soon: Dishes taking the namesake of Gov. DeSantis and Tallahassee Mayor John Dailey, among potential other changes.
"This year's edition includes new names or titles, including Gov. Ron DeSantis' DeLicious Salad Bar Buffet and Mayor Dailey's Caprese Burger," said a news release.
Cabinet members, legislators, and other city and state officials are expected to join Reiss to unveil the menu at 11 a.m. on Tuesday.
Capitol Directions