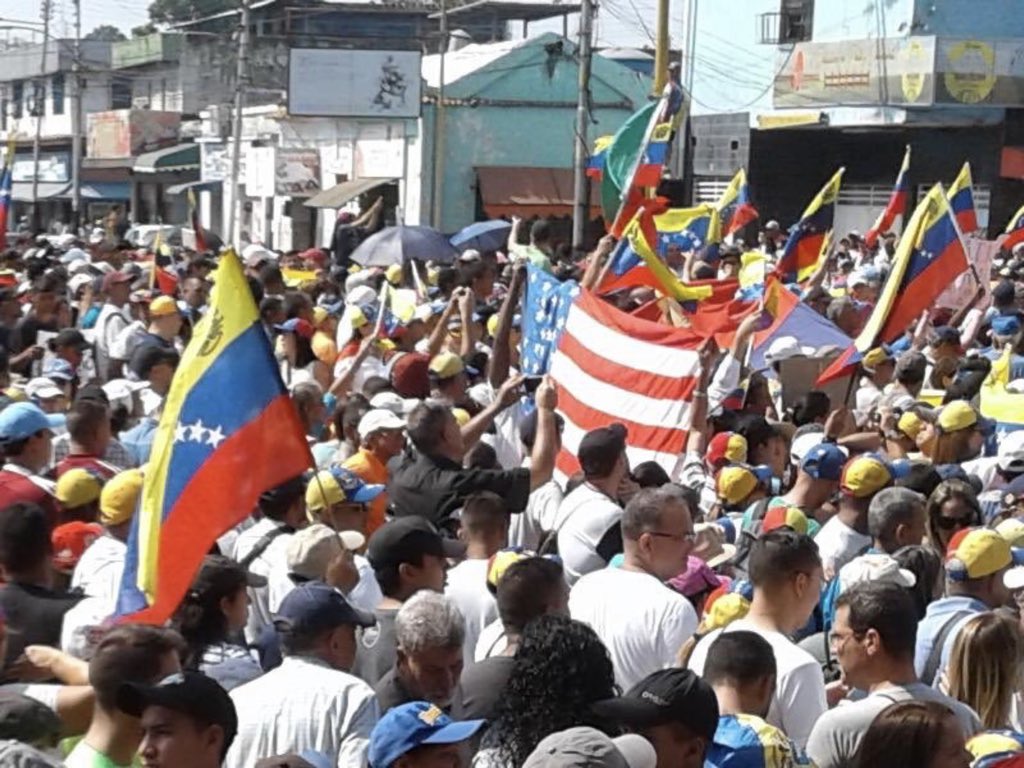 Lawmakers say up to 150,000 Venezuelans would qualify for temporary protection.
As President Donald Trump heads to Miami Monday to speak on the power struggle in Venezuela, Florida's Democratic congressional delegation is calling on Trump to extend Temporary Protected Status (TPS) to Venezuelans currently inside the U.S.
TPS allows immigrants from countries experiencing crises to live in the U.S. legally while the strife is ongoing. The protections have been offered in the past to Haitians after the devastating earthquake in 2010, for example.
Now, Democratic legislators want the same protection extended to Venezuelans as that country deals with economic struggles and a battle for the presidency.
"We need to continue doing everything that we can to support the Venezuelan people so that they can swiftly hold free and fair elections, restore stability, and restore their democracy," said U.S. Rep. Debbie Mucarsel-Powell on a Monday morning conference call with the media.
The U.S. has already declared Venezuelan opposition leader Juan Guaidó the country's rightful president. President Trump has also directed humanitarian aid be flown into Venezuela to assist its residents.
Democrats noted the Department of Homeland Security has the authority to add countries to the list of TPS recipients, and called on the Trump administration to do just that.
"If they are being honest and truthful that they care about the Venezuelan people, this is the one issue that they have control over," Mucarsel-Powell said.
U.S. Rep. Donna Shalala said Monday's visit to Miami shouldn't happen without a promise by the President on TPS: "I have challenged the President not to come to South Florida without announcing the extension of TPS.
"While we've supported many of the moves of this administration for political and economic sanctions, it's very important that we protect the Venezuelans that are here, that are living in our community."
Shalala says that up to 150,000 Venezuelans currently inside the U.S. are at risk for deportation and would qualify for temporary protection.
President Trump has sought to curtail TPS protections in the past, announcing an end to TPS for immigrants from Haiti and Central America. That decision has been challenged in the courts.
The Democratic legislators say that should the Trump administration fail to act, they're prepared to push forward a bipartisan bill extending TPS protections to Venezuelans. That measure is being spearheaded in part by GOP U.S. Rep. Mario Diaz-Balart and GOP U.S. Sen. Marco Rubio.
"We call upon [President Trump] to either show support for the TPS bill that we have or, more quickly, simply just grant TPS status," said U.S. Rep. Darren Soto.
"The idea that we would send these hardworking people back to a country in crisis is outrageous and it's inhumane," added U.S. Rep. Ted Deutch.
"We need a strong response to this corrupt regime. But while the administration is talking tough about Maduro, it doesn't seem to want to give Venezuelans a chance at safety and freedom in our country."