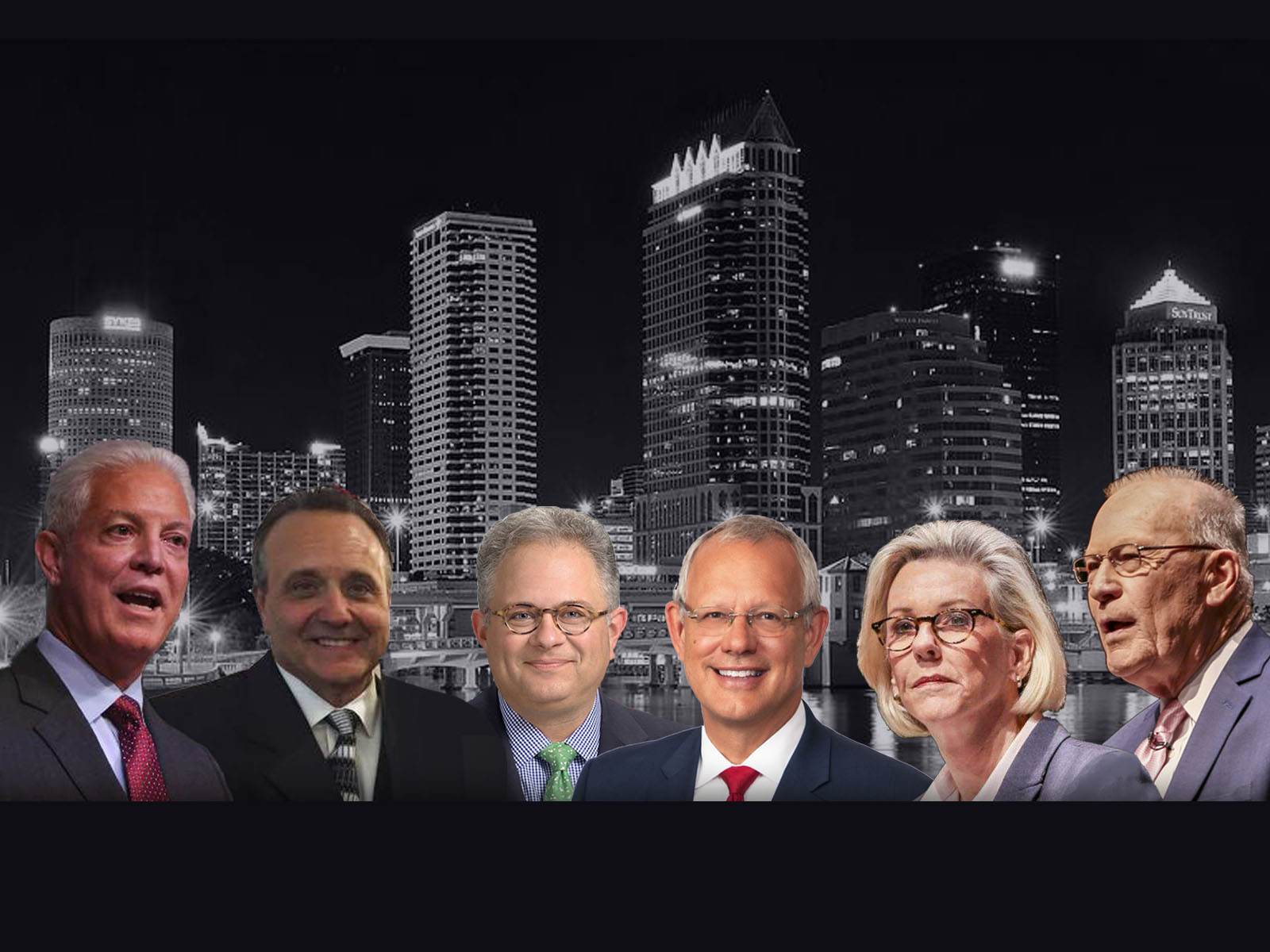 From container homes to West Tampa love, Monday was another final push before Election Day.
Know what Tampa's mayoral candidates were not celebrating on President's Day? The President. That's because Election Day is in two weeks and early voting starts next week. Candidates have a lot of undecided voters to reach between now and then.
To get through the final push, Dick Greco Jr., is planning a last minute fundraiser Tuesday night with what some might think are unlikely hosts. Mike Suarez is making a hometown pitch on the airwaves, and Harry Cohen is doubling down on creative affordable housing strategies.
The Hillsborough County Supervisor of Elections hasn't updated its vote by mail totals since before Valentine's Day, but according to those numbers, only about 7,000 out of more than 57,000 who received ballots in the mail had returned them.
Here's how candidates are grabbing those remaining votes.
"Harry Cohen takes a peek at an actual container house" via Florida Politics — In between knocking on doors this weekend, Cohen took a break from his mayoral campaigning to check out a container home going up in East Tampa.
The nearly done home shows three shipping containers, two side-by-side with another on top of them, with wood paneling and wide windows. While portions of the home still look like a shipping container, all-in-all the home more resembles modern architecture.
"I have included homes built using repurposed shipping containers in my affordable housing plan because they can be built at a lower price point, are storm resilient and they look great," Cohen wrote on Facebook.
Cohen said he and other City Council members heard from SUNDog Structures at an October workshop in which the Tampa-based company said they could build a small container home for about $83,000.
According to some estimates, container homes can cost about half the price of comparable traditional construction.
"
Cohen affordable housing plan leverages transit improvements
" via Florida Politics — As Mayor, Cohen would create a long-range plan for affordable housing that leverages his 
transportation plan
 to increase affordable housing opportunities near transit stops in corridors where residents have access to nearby jobs, retail, entertainment and other quality of life amenities. His plan would preserve historic neighborhoods while also targeting innovative housing solutions like container housing and tiny homes. It would leverage all types of housing including apartments, condominiums, single-family homes, co-ops, and in-law suites. But his plan would also be cautious not to increase gentrification.
"Our next Mayor needs to take proactive steps to increase Tampa's supply of affordable housing for all income levels in a way that protects the character of residential neighborhoods and reduces the impact of issues like parking and traffic. I have a plan to do that," Cohen said.
"Mike Suarez releases pro-West Tampa TV ad" via Florida Politics — The ad opens with Suarez sitting at a table with friends.
"In West Tampa, lifelong friends gather over café con leche and Cuban toast," Suarez says, punctuating the city's morning beverage staple with perfect Cuban pitch.
The ad is jovial and elicits a sense of community and history.
The spot will run through this week on 26 different stations including CNN, ESPN, HGTV, The History Channel, MSNBC, USA and Bay News 9. The local firm Parsons Wilson produced the spot.
Suarez's political committee, City Wise Florida, paid about $20,000 for the spot. According to consultants, it will run more than 800 times.
The advertisement plays on a common theme in Suarez's campaign, which is focusing on growing, preserving and improving all of Tampa's neighborhoods.
"Republican lawmakers to turnout for Greco fundraiser" — Shawn Harrison, who previously represented north Tampa in House District 63, and his wife, Susan, are hosting the fundraiser at Hunter's Green Tuesday from 5:30-7pm. Jackie Toledo, the Republican representing South Tampa's House District 60, is also hosting.
Tampa's mayoral race is nonpartisan, but Tampa is a city that favors Democrats. None of the seven candidates in the race to replace Bob Buckhorn are registered Republicans. All of the current City Council seats are held by Democrats.
As a retired judge, Greco has mostly tried to leave partisanship out of his campaign so far — vowing to work for all Tampa residents. His campaign platform calls for building strong relationships with all elected officials in the region as well as neighborhood leaders and activists. Such unity would likely hinge on a willingness to step across the aisle.
Coming up
The SOHO Business Alliance will host a Tampa City Council candidate forum at 2 p.m. Tuesday at the Epicurean Hotel at 1207 South Howard Ave. District 4 candidates Bill Carlson, Sal Guagliardo Jr. and Lee Lowry will field questions along with District 6 candidates Guido Maniscalco and Wendy Pepe.
The alliance sent notifications to its 35 active businesses located in the SOHO and Hyde Park areas and 150 in adjoining areas.
The group with discuss issues unique to the district including on-street and residential neighborhood parking and traffic configurations.
Retired WTSP investigative reporter Mike Deeson and Florida Politics Tampa Bay politics reporter Janelle Irwin will panel the discussion.
Get social:
Fantastic turnout at the @JuniorLeague of Tampa Candidate Meet & Greer! We'll be here until 7:30p, come say "hi"! pic.twitter.com/tLxunDGhFF

— Jane Castor for Mayor (@JaneforTampa) February 18, 2019
Great turnout at today's fundraiser at Wrights Gourmet House! #StrazMayor2019 #JustImagine #TampaMayor2019 @CityofTampa pic.twitter.com/QhEzNCRur2

— David Straz for Mayor (@StrazForMayor) February 18, 2019
Make my birthday wish come true and vote Greco March 5th!! #Tampa pic.twitter.com/UgY5vZ6Wtf

— Greco for Mayor (@DickGreco2019) February 18, 2019