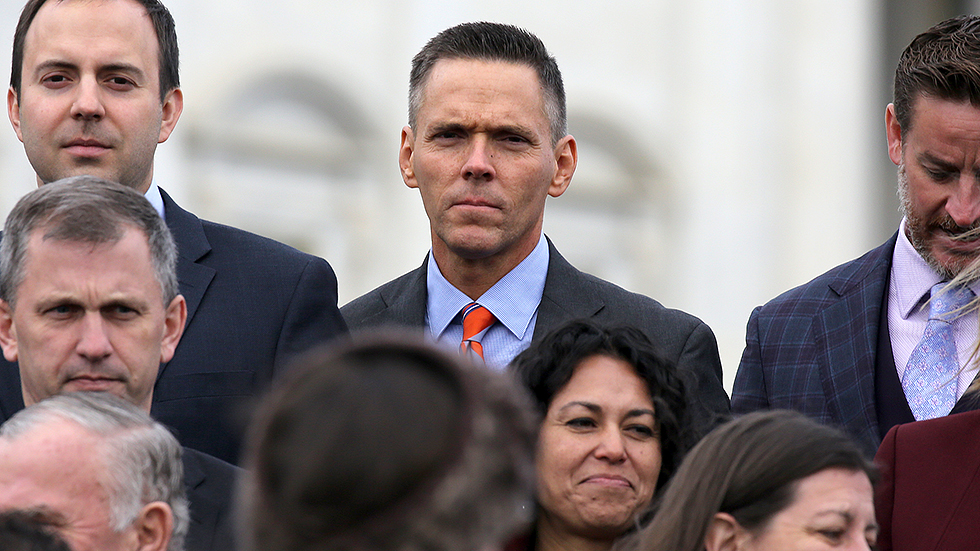 Neither has signaled they play to leave on their own.
Will U.S. Rep. Ross Spano retire after one term in Congress? The Democratic Congressional Campaign Committee would like to make that happen.
The DCCC unveiled its "2020 Republican Retirement Watch List" on Tuesday. The Dover Republican made the list, as did U.S. Rep. Vern Buchanan.
"It's tough to be a Republican in Washington right now," said Jared Smith, DCCC communications director, in nudging comments.
Spano and Buchanan sit on a list of 19 GOP congressman that Democrats think may head to the exits instead of facing re-election. One, Rob Woodall of Georgia, has already announced his retirement.
Spano's office dismissed the move.
"Representative Spano is focused on serving the constituency of Florida's 15th Congressional District and working for them, " said Daniel Bucheli, a Spano Congressional office spokesman. "He does not plan to retire at this."
Campaign spokeswoman Sandi Poreda noted Spano already filed for re-election.
Buchanan's team scoffed at the list.
"Wishful thinking on their part," said Anthony Cruz, Buchanan spokesman.
"Vern has already filed for re-election with the FEC and has a big agenda for the folks in our district, like protecting Social Security and Medicare, stopping red tide, protecting veterans benefits and keeping the economy strong."
Still, neither name will likely surprise Florida political observers.
Buchanan, a Sarasota Republican first elected in 2006, made the list in the 2016 cycle. And Spano remains plagued by questions of how he financed his winning campaign in November.
Smith suggests since Democrats took control of the chamber in January, many Republicans will decide the job offers fewer rewards than expected.
"Most of our offensive targets are experiencing life in the minority for the very first time," Smith said.
That's not true of Buchanan, who came into office in the same election cycle Democrats last won the House. But he has enjoyed growing stature since Republicans retook the chamber in 2010.
Democrats suggest life will harder for those who once enjoyed power. Pressure on all party members may grow with President Donald Trump heading into the 2020 presidential election, Smith said.
"Whether it's waking up each morning to read the President's tweets that they'll be answering for or slowly coming to the realization that they aren't in control any more," Smith said, "we expect to see a steady stream of frustrated Washington Republicans heading for the exits.
"Retirements played a major role as Democrats won back the House last year and, in 2020, we expect Republican retirements to aid our effort to expand the Democratic House Majority."
As for Spano, this year marks his first in Congress, though he served six years in the GOP-controlled Republican House.
But it's his financial woes that cast the most doubt on his political future. Year-end financial reports from the Federal Elections Commission show he has yet to repay some $170,000 in personal loans used to finance his run. The Spano campaign claims the money has been paid back.
Regardless, Spano admitted in December he'd used the loans in violation of federal law. He blamed bad advice from a since-fired campaign treasurer.
In 2016, both Republicans were involved in nationally watched campaigns.
Buchanan ultimately coasted to victory, winning re-election over Democrat David Shapiro in Florida's 16th Congressional District by nearly 10 percentage points. At year's end, Buchanan's campaign after the expensive election had more than $79,000 cash in hand left.
Spano beat Democrat Kristen Carlson by 6 percentage points, a still comfortable margin. Spano as of the end of 2018 had less than $1,700 cash on hand in his campaign account.