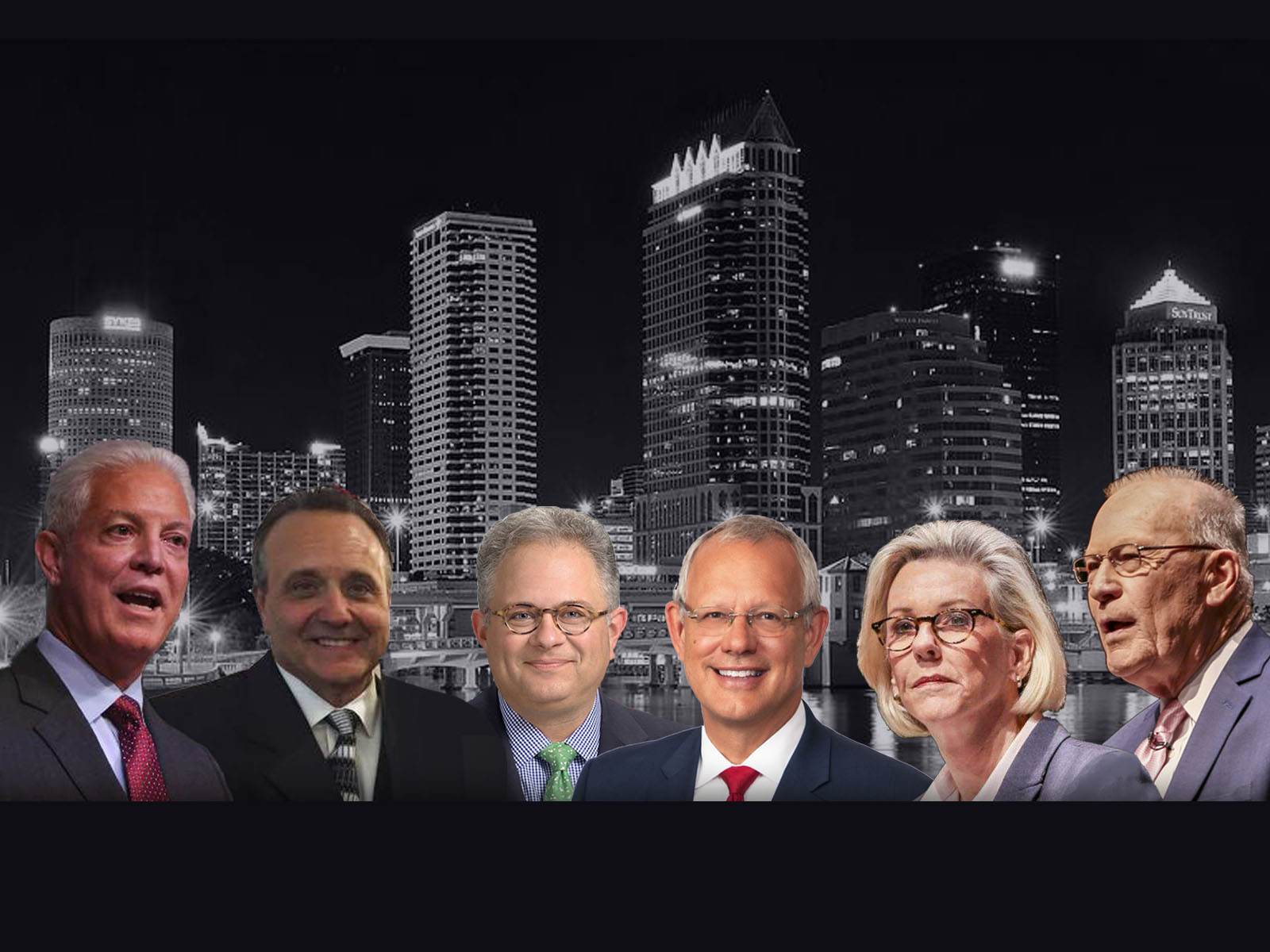 They're an example of how competitive Tampa's mayor's race has become.
Two text messages went to some Tampa voters around the same time Tuesday night, each criticizing Tampa mayoral candidates Harry Cohen and David Straz.
According to some who received the texts, the Cohen text appears to have gone to registered Democrats and the Straz version to registered Republicans.
While the texts are not unlike common negative campaign tactics, they are an example of how competitive Tampa's mayor's race is becoming.
In one text, a sender from a 727 area code claimed Cohen had received more than half of his campaign contributions from a "single group of developers."
"Who do you think he will look out for as Mayor," the text read.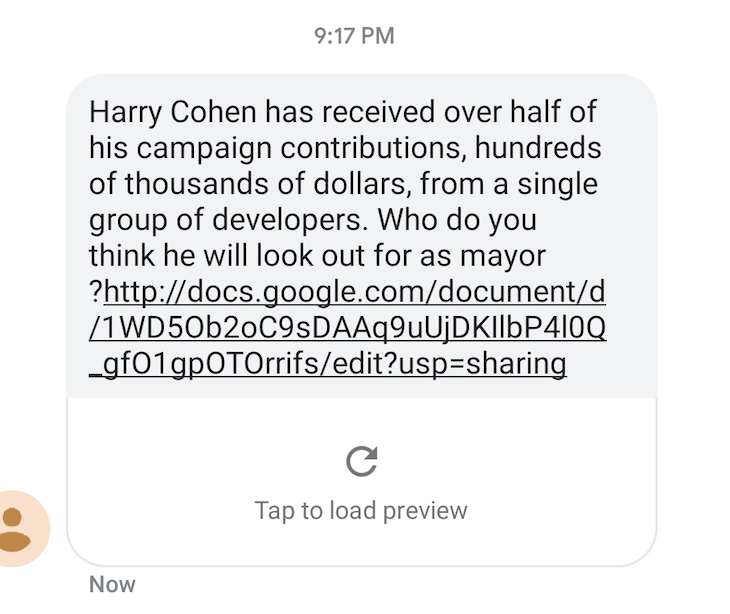 The text linked to a read-only Google Doc with a screenshot of Florida Department of Elections campaign contribution data for Tampa Together, Cohen's political committee.
While the text did not technically contain false information, it is misleading. 
Of the $300,000 in contributions to Cohen's committee, $225,000 came from his father, Gary Cohen. The elder Cohen is a developer, but Cohen said those contributions came from a father supporting his son, not as a developer looking for a rubber stamp.
"The last thing people want at 9 o'clock on a Tuesday night is a misleading, anonymous attack launched under the cloak of anonymity," Cohen said.  
At the same time that Democrats were receiving an anti-Cohen text, Republicans saw another attacking Straz.
"On October 3, 2018, David Straz endorsed Andrew Gillum for Governor and his radical socialist agenda. Not many people realize the extreme leftist position Straz embodies," the text read.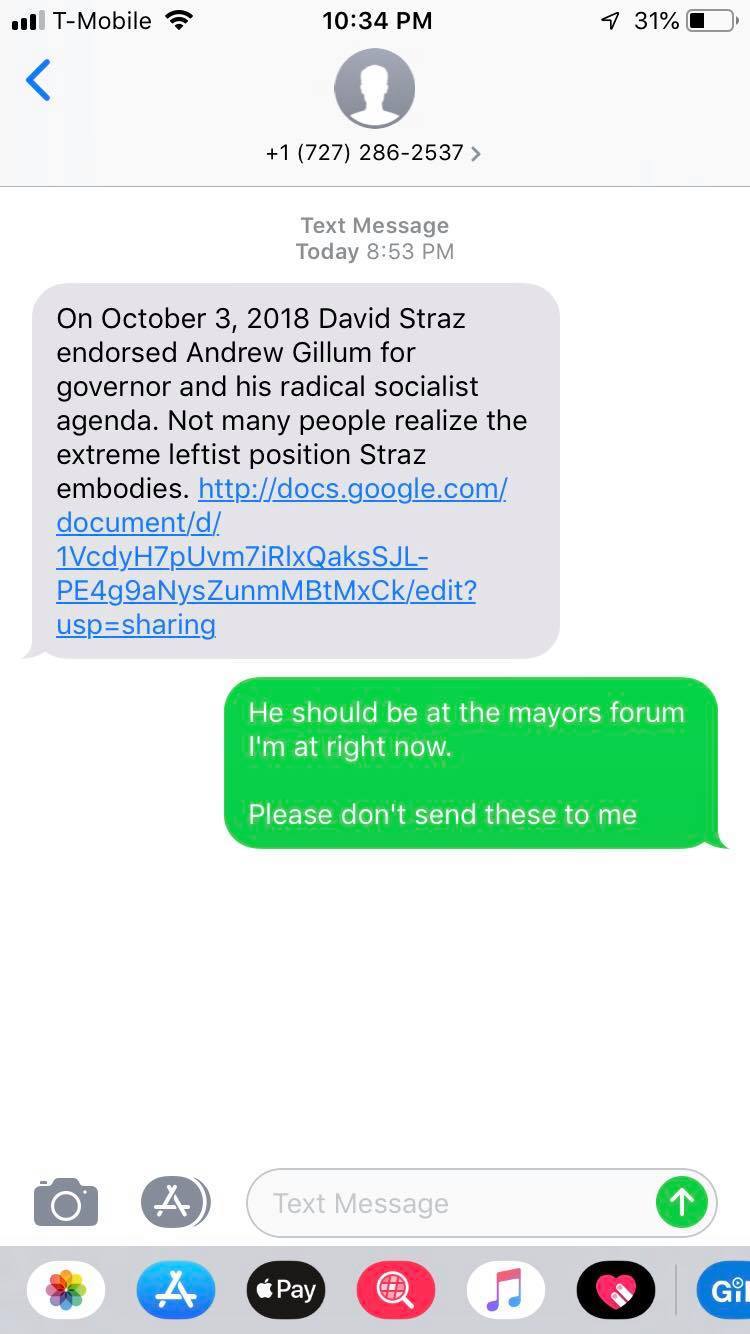 Like the Cohen text, it came from a 727 number and contained a link to a Google Doc. The screenshot in that document was of Straz's early October Facebook post endorsing Gillum.
All of the other mayoral campaigns categorically denied having any involvement in the two text messages.
The texts not only reflect a pattern of dirty campaigning, but they also represent some potentially serious campaign and communications laws.
Neither text contained a disclaimer about who paid for it, which is required for mass campaign text messages containing external links. 
The mass text messages were also unsolicited, meaning recipients did not have an option to opt in or opt out, which is a potential communications violations that could carry hefty fines.
The Telephone Consumer Protection Act of 1991 allows fines up to $1,500 per violation, in this case, that would be for every text sent, in a mass text was sent to people without their consent.  
The phone numbers that appeared for both groups of text messages rang to a disconnected number, and there wasn't a name attached to the Google Doc that could be immediately identified.
With candidates denying involvement, it's impossible to say who would be behind it. But the texts do appear to have come from the same individual or group based on uniformity of style.
Whoever sent them would likely have some reason to believe it was in their preferred candidate's best interest to discourage votes for both Straz and Cohen.
The latest public poll by St. Pete Polls put Jane Castor way out in front in the race with Straz polling in second place followed by Dick Greco Jr. Cohen landed at fourth in that poll ahead of Ed Turanchik, Mike Suarez and Topher Morrison.
Other internal polls show slightly different results. Some put Cohen in third only slightly behind Straz with Greco in fourth. Castor leads in almost every survey of which Florida Politics knows.
"The Castor campaign had absolutely nothing to do with that. It's unfortunate someone thinks they need to tear down others to win and doesn't even have the guts to use his name," Castor's campaign offered in a statement.
Morrison called the texts a tactic that "reeks of desperation."
Turanchik didn't comment other than to say he knew nothing about the texts and Greco said he does not and would not condone that sort of tactic.
Suarez said he didn't do it, didn't know who did and that "these sorts of tactics don't work."
The Straz campaign said it opposes using mass-texts as a campaign tool.
"The Straz campaign is not using unsolicited text messages as part of our communication in any form or fashion. We believe this form of text messaging is through a program called  Hustle which is controversial in the Campaign community because of its use of unsolicited text messages," the campaign wrote in an emailed statement. "We believe such unsolicited text messages are an intrusion on the privacy of people and actually does more harm than good. We do not use Hustle, and we will not use Hustle or any other program that sends unsolicited text messages to unsuspecting voters."