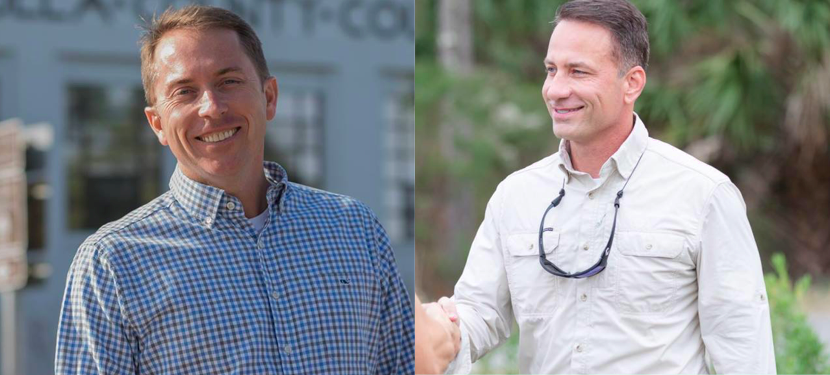 Mike Watkins says Jason Shoaf camp involved in attack ads.
Republican Mike Watkins called on primary opponent Jason Shoaf to fire his campaign team after alleging connection to negative ads.
It's the latest sign of hostility in a North Florida special election dousing airwaves and social media feeds with anger.
"My opponent, Jason Shoaf, has begun to run one of the nastiest and negative campaigns in Panhandle history," Watkins wrote on his Facebook page.
The Shoaf team notes Watkins hasn't exactly kept messaging to family photos. Tossing accusations at Shoaf counts as negative campaigning, they note.
But Watkins's big issue is whether Shoaf owns up to any role in the sudden burst of unpleasant advertisements.
"His team is responsible for the negativity and mudslinging that we all find appalling," Watkins.
The pushback comes as a wave of third-party attack ads seek to tar Watkins as a left-winger while he runs in a Republican primary. Videos can be viewed at LiberalMikeWatkins.com, as can condemnations of Watkins based on political donations in the past.
One video shows Watkins image alongside Republican governor-turned-Democratic U.S. Rep. Charlie Crist, and notes Watkins contributed to him in the past.
"Worse, he personally contributed to Socialist Andrew Gillum," the ad reads.
It's a criticism Watkins addressed before.
After Sopchoppy Councilman Becton James Roddenberry decided to endorse Shoaf over Watkins' donations to Democrats, Watkins talked to Florida Politics about it. Watkins donated to Gillum's mayoral campaign years ago, not his recent gubernatorial run as the Democratic nominee. And no Republicans ran for that seat, Watkins notes.
Regardless, the focus on content isn't Watkins' point now. He's upset about where the ads come from.
Shoaf on social media said he's not connected to the ads. After a voter on the Facebook page for "Liberal Mike Watkins" commented and expressed her hope other candidates weren't involved with the mudslinging, Shoaf chimed in.
"I didn't and it's unfortunate," Shoaf wrote.
But Watkins team suggests that's a lie.
Disclosures at the end of video ads show the spots were paid for by the Local Business Advisory Council, a Tallahassee-based political committee.
Division of Elections records show the committee spent thousands in past campaigns with Election Connections, a company connected to Shoaf's political consultant.
"Jason and his team should be called out for their lies and deceptions and state records prove he's lied," Watkins said on Facebook. "His team is responsible for the negativity and mudslinging that we all find appalling."
But the Shoaf team maintains it has no connection to the Local Business Advisory Council.
"Clearly, this is Mike Watkins deflecting from the fact he contributed to Socialist Andrew Gillum, Gary Farmer and Charlie Crist," said Shoaf campaign spokeswoman Amanda Bevis. "Let the facts speak for themselves."
Shoaf's team said it's own messaging has been positive, but say Watkins continues to hammer at his main opponent.
Last month, Watkins called on Shoaf to resign from a non-profit board, alleging a conflict of interest with political fundraising.
Shoaf and Watkins remain the most high-profile candidates, and are also running against Republicans Lynda Bell and Virginia Fuller in the primary. The winner of the primary will face Democrat Ryan Terrell in the general election.
The candidates are running to succeed former state Rep. Halsey Beshears in Florida House District 7. Beshears was tapped by Gov. Ron DeSantis to run the Department of Business and Professional Regulation.
The Republican primary is scheduled for April 9. The general election is set for June 18.