'I'm just confused as to why Twitter would be silencing me.'
Right-wing blogger and activist Jacob Engels has been blocked by Twitter and says he does not have any notification as to why, surmising it may have been over his last tweet, which implied hypocrisy by supporters of Democratic U.S. Rep. Ilhan Omar.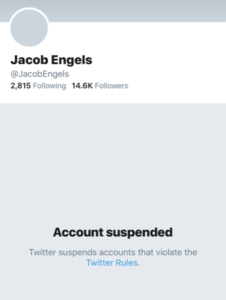 Engels, an Orange County-based associate of right-wing consultant and author Roger Stone, is no stranger to writing controversial things, through social media or his blogs, mainly CentralFlordiaPost.com, or participating in controversial actions to promote right-wing and alt-right positions. But in this case, he maintains he is baffled by Twitter's suspension of his account Monday morning. He said he has contacted Twitter seeking clarification.
But by late Monday morning, he had not received a response.
"I'm just confused as to why Twitter would be silencing me," he said Monday morning.
Engels said his last tweet was Sunday evening, which linked to a tweet that included video of a black Christian preacher being arrested in England.
Engels tweeted: "America's future thanks to @IlhanMN. Roaming rape gangs … cops do nothing. Massive terrorist attacks. Old guy preaching about Jesus Christ is 'breaching the peace' and swiftly arrested. #LauraLoomer warned us. @JacobAWohl/@Ali/Laura are working to stop this in America!"
Omar is a Somali-American refugee and a Muslim who drew bipartisan criticism earlier this month for her tweets, which were deemed by many as anti-Semitic. Omar apologized.
Engels also surmised that his suspension might have something to do with his support for Stone, which has included tweets calling for people to contribute to Stone's legal defense fund.
Stone was arrested earlier this month in the investigation by Special Counsel Robert Mueller on charges of lying to congressional investigators and intimidating a witness, and also has been slapped with a gag order.
Engels, who's been tweeting for nine or ten years and has posted more than 24,000 tweets, has been suspended once before. He said that was several years ago for a couple of days, and he recalls only that it was over his use of profanity.
"If we are all of the sudden regulated out of existence, that doesn't sound American to me. It sounds autocratic, and it sounds fascist." Engels said.