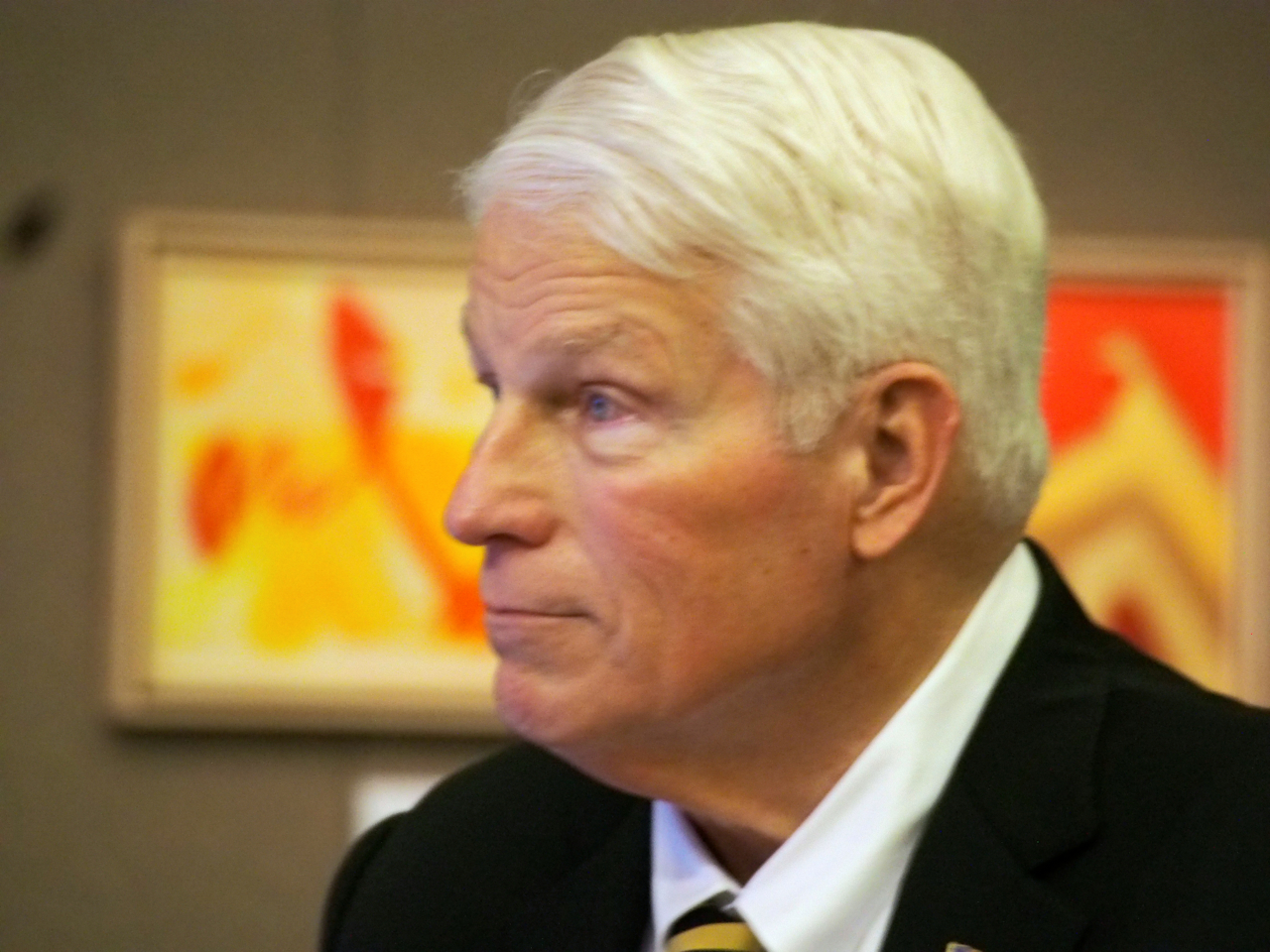 Hitt retired with fanfare appropriate for someone with towering achievements.
As the Florida House Public Integrity and Ethics Committee pursues its investigation of misspent money at the University of Central Florida, that school's legendary, longtime leader, President Emeritus John C. Hitt, has become little more than a shadow.
Hitt, 78, retired as UCF President last June 30 after leading the school for 26 years, building it from a sleepy commuter college to one of the nation's largest and foremost metropolitan research universities.
His legacy now is being undermined somewhat, by investigations into financial decisions made during his last five years in office. In the eyes of state officials, those actions involved illegally moving money around for otherwise unfunded projects, starting with the replacement of an aging, mold-sick Trevor Colbourn Hall on campus.
Hitt has refused to speak directly with House committee investigators, the only major player in the UCF probe to do so.
In an email to House Public Integrity and Ethics Committee Chair Tom Leek, Hitt complained about the weather in Wisconsin, where he retired after leaving UCF last summer, and the potential wear and tear of travel. When the committee's staff responded with an email suggesting a phone interview, Hitt replied with a two sentence email, which only repeated, word-for-word, the conclusion of his previous email. It did not address the prospect of a phone interview:
"I found that at my age this kind of travel is just too much. If you will send me your questions, I will do my best to answer them."
For now, Hitt's role in the UCF controversy is largely being defined by others, not always favorably, and by his own conflicting earlier statements.
Last fall, after UCF launched its own investigation through the law firm of Bryan Cave Leighton Paisner, Hitt consented to an initial interview. But then he declined consent for follow-up interviews. Instead, he sent a six-page letter to the lead investigator that vaguely disavowed his earlier answers as having come from his being unprepared for what he eventually perceived to be an adversarial interview. He wrote that he was led to give some answers that "were not accurate".
His letter then presented his views on why and how UCF wound up spending $38 million in Education & General Fund money to tear down the old Trevor Colbourn Hall and construct a new one. He took responsibility and defended the project.
That project is the centerpiece of the misspending investigation that since has expanded to look at other E&G Fund money and other financial maneuvers at UCF during the time Hitt was President, William Merck was chief financial officer, and, for some of the period, Hitt's successor Dale Whittaker was Provost and Marcos Marchena was Chairman of the board. Merck was forced to resign in September. Whittaker succeeded Hitt as President in July, but resigned in February. Marchena resigned from the UCF Board of Trustees in February.
Hitt's Dec. 10, 2018, letter to investigator Joseph Burby at Bryan Cave, Hitt's last response on the topic, has itself inspired controversy.
Marchena, in his deposition with the House committee, questioned whether Hitt actually wrote the letter. Marchena observed that the letter did not read like something Hitt would write. He noted the letter even misspelled Whittaker's name [several times], something Marchena surmised that Hitt would not do.
"I didn't find the letter very credible," Marchena stated in his deposition. "It didn't sound like Dr. Hitt."
Stymied by the potential of a legal quagmire and the logistical challenges of trying to force an unwilling witness in another state to testify by subpoena, the House committee is reviewing its options regarding Hitt. It has not sent him written questions. The committee might just move on without his testimony.
Without any direct access to Hitt, the House committee's investigation appears to have focused in mainly on what was known or done by Merck, Whittaker, Marchena and a handful of other current and former UCF officials, including General Counsel and Vice President Scott Cole.
"I don't see much point in dragging Dr. Hitt back into this," said state Rep. David Smith, a Republican from Winter Springs who sits on the House Public Integrity and Ethics Committee and has a Seminole County district that abuts UCF.
When Hitt retired on June 30 he did so with glorious fanfare appropriate for someone who had been a towering presence and owned towering achievements. Hitt's name is synonymous with the steep and steady rise of UCF into a huge university gaining broad respect for academics, research, athletics, and economic impact in Central Florida. It is the Hitt era.
During Hitt's tenure, under his avowed philosophy of making the school accessible to as many deserving students as possible, UCF more than tripled its enrollment, becoming the nation's second-largest university, with 66,000 students, even as its student admissions scores rose significantly.
With Hitt's declared passion for diversity, minority students increased from 15 percent of the student body to 46 percent.
Under his plan to create a national model for "metropolitan research universities," a relatively new classification in academia which Hitt helped define, UCF opened a medical college affiliated with multiple hospitals and gained international leadership for research in several fields symbiotic with Orlando's economy, including lasers and optics, simulation and modeling, space, and entertainment technologies.
As part of his promotion of UCF as a partnership university, Hitt opened a health-sciences campus at Orlando's Medical City community at Lake Nona and developed a business technology campus that will open next fall in downtown Orlando.
And, of course, the UCF Knights football team rose into national prominence, even proclaiming an unofficial national championship during his last season in office. Hitt was a college football player himself and is a big fan, and he had directed robust support toward the athletic department.
"In the annals of higher education, few university presidencies rival that of our friend and colleague John Hitt," University of Florida President Kent Fuchs and University of South Florida President Judy Genshaft wrote in a tribute they published last June in several Florida newspapers. "His impact has been far-reaching."
Two months later Hitt began teetering on a possible fall from grace, as scandal emerged over the financial shufflings.
Florida House leadership expressed outrage and launched its investigation. The university identified a total of $85 million in misdirected E&G money. House investigators eventually began inquiring about other financial matters, such as internal loans and commingling of funds in investments. The Florida Board of Governors and Education Commissioner Richard Corcoran made statements of no confidence. The Board of Governors launched its own probe.
The university's independent investigation held Hitt at least partly responsible for illegal spending on the project at the center of the probe, Trevor Colbourn Hall.
"On balance, we think it is likely that Hitt, like Whittaker, received some information about the source of funds for the project but that this information was unclear and inconsistent, and further that he did not have a full understanding of the significance of the decision to use E&G funds or the potential adverse consequences to the University," the Bryan Cave investigative report stated. "Nevertheless, it does appear that Hitt was advised of the possibility that the funding for TCH might lead to adverse an [sic] audit finding and that he directed Merck to go forward with the project anyway."
In his letter to Joseph Burby, Bryan Cave's chief investigator, Hitt took even more responsibility, yet defended the decisions as necessary, appropriate, and, as far as they knew at the time, legal. He wrote that he and his team "always acted with the best interests of UCF being their objective and no one — no one — intentionally did anything wrong or engaged in actions that were designed for their personal benefit.
"Colbourn Hall presented a real emergency… the action we took was, as far as we knew, legal and within the scope of my authority as President of UCF," he wrote to Burby. "We did not conceal any facts… ."
Nonetheless, following the conclusions of the Bryan Cave investigation, the university's official position became that the misspending scandal was born largely by Merck, plus some underlings, with Hitt's oversight and approval.
Some of Hitt's former team members have turned on him.
One theme that emerged from depositions given to the House committee and from comments made at recent UCF board meetings: Hitt had his ways of getting things done without advising or seeking consent from the board, ways he stubbornly held onto from the time before Florida's universities answered to boards of trustees. And Merck, who'd been with him for 22 of his 26 years at UCF, was a part of that.
Marchena said in his deposition that shortly after he joined the board in 2011 he pushed for an audit and reform of how UCF constructed buildings, and that Hitt offered what Marchena called "passive resistance".
"You know, that relationship [between Hitt and the UCF Board of Trustees] was still developing, and here comes along this guy who says, what do you mean you can approve, you know, all of these contracts without board review and approval; wait a minute, we need to change that," Marchena said.
Marchena said he sought to get the board more involved.
"I had a breakfast meeting with Dr. Hitt at one time where we discussed it head on. And his comment to me was, Marcos, you are taking my legs out from under me with that delegation," he told House investigators. "I said, I don't know, that's just good policy, we need to have clarity between what the board will review and approve and what the president will have authority to do on his or her own."
That was before the Trevor Colbourn Hall matter came up.
In his deposition with the House committee, Cole also talked about Hitt having an uneasy relationship with the UCF Board of Trustees.
"When the board of trustees came into power, John Hitt and Bill Merck had been at the institution close to a decade. And John Hitt was very resentful of the board of trustees," Cole said. "They were impinging upon his authority, and so I don't believe that he or Bill ever understood or accepted the fact that they were the governing board. And they felt that this was their decision to make and not the board's.
 Of course, the flaw in that was, one, it
 wasn't. And two, they brought it to the board. So when you bring it to the board, by God, you've got to give them full information, and that's where the real failure was here."
Whittaker said almost nothing about Hitt in his deposition or in a lengthy oral statement he gave at a Jan. 24 UCF Board of Trustees meeting, except to imply regret in his trust of Hitt regarding the university's finances involved in the Trevor Colbourn Hall deal.
"In that context, I trusted President Hitt; I didn't have any reason not to. I trusted Bill Merck; again, I had no reason not to. And fundamentally I trusted the confidence that John Hitt had over those years in Bill Merck," Whittaker told the UCF board.
At the Feb. 21 UCF Board of Trustees, when the board was deciding to accept Whittaker's resignation, his wife, Mary, and others took harsher, though indirect shots at Hitt.
"Dale was not the executive that created this problem. Dale is the executive that owned and fixed it," she told the board. "There should no more questions. President Whittaker inherited the misallocation of funds of the TCH building and a culture of an administration that lasted more than a quarter of a century at UCF."
Merck, in his deposition, largely stood by Hitt. One theme of his deposition was that Whittaker, Marchena, and the board knew more than they let on, and that they were scapegoating those who already had left.
When Merck was asked about allegations that the culture in the UCF administration had people afraid of challenging Hitt, Merck strongly disputed it.
"No, no, no. It was a very collegial culture and we had no problems speaking with each other about things we agreed with or disagreed with," he said.
Then he was asked if Marchena favored replacing Hitt with Whittaker because "he might have a little more control over Dale than he had over Dr. Hitt?", Merck replied, "That would be speculation on my part, but it would be speculation that I would endorse."
"He was, I think," Merck offered about Hitt, "perfect for the role of president."