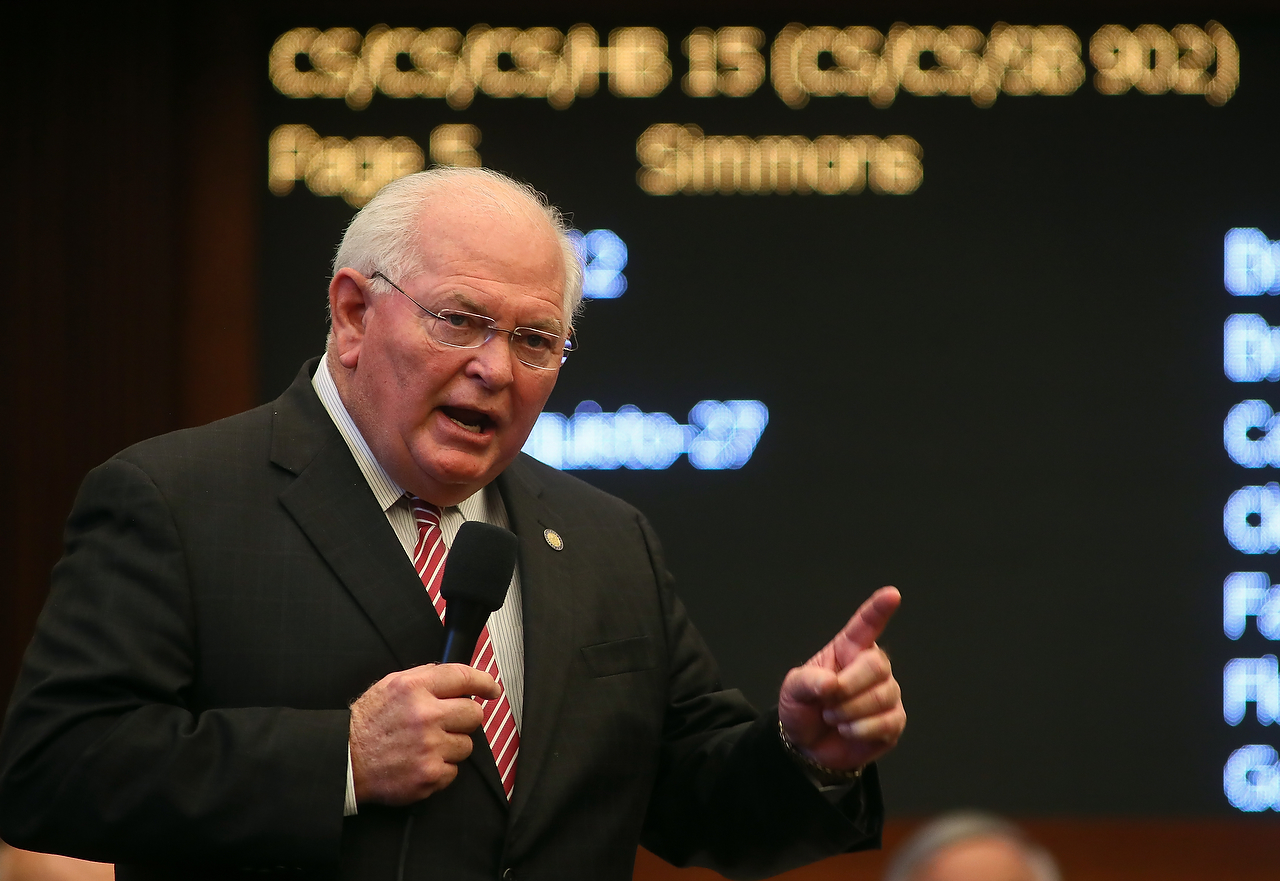 A look at what's on the mind of politicians in Michael's path.
There already was room for improvement before Hurricane Michael swept through a chunk of Northwest Florida on Oct. 10.
Lawmakers from the area now will have to balance between providing adequate hurricane relief and championing other priorities this Legislative Session.
"If you look at North Florida in any regular year, we have a lot of challenges," State Sen. Bill Montford said. "If you put the hurricane on top of that, it makes it even more demanding."
The Tallahassee Democrat's sprawling district nearly brushes up against Mexico Beach, where the powerful category 4 storm made landfall last year.
Many of the counties Montford and neighboring lawmakers represent have lost jobs since the Great Recession, while counties elsewhere made strides. According to a report last year from the Florida Chamber, all counties west of Leon lost jobs between 2006 and 2016.
"We were hurting anyway," Montford said.
But the foremost challenge for Montford and other legislators this year won't be workforce diversification or job creation. Instead, it's finding dollars to keep basic local governments up and running.
The counties Michael hit have small populations, meaning they already had minimal tax revenue, Montford said. With property destroyed, it's even less.  
"That hurts the local government, that hurts city government and it hurts the school districts," Montford said.
Debris cleanup so far already has busted the budget. Although counties are expecting federal reimbursement, there is a need for money in the meantime.
State Rep. Jay Trumbull, a Panama City Republican whose district covers Mexico Beach, said that nearly every school in Bay County suffered damage from the storm.
"I think the answer to that is the state comes in and helps a little bit with maybe plugging some of these holes but also allowing opportunities for bridge loans so that the school district is able to handle that," Trumbull said.
The financial challenge has prompted some creativity.
Trumbull, for example, has filed legislation (HB 1101) that would essentially take the surplus in sales tax collections stemming from hurricane recovery work and put the money back into the counties, instead of the state's General Revenue Fund.
Outside of the Legislature, Triumph Gulf Coast — a nonprofit overseeing the redistribution of BP oil spill settlement money — will provide some help to governments in Wakulla, Gulf, Franklin and Bay counties. By late April, the panel could provide up to $15 million in ad valorem property tax relief to the counties.
Still, cash availability isn't the only concern for the storm-battered area. And there's no one-size-fits-all fix. 
"The issues are vast and they're expensive," Trumbull said.
The impacted areas face a timber crisis. The state Department of Agriculture and Consumer Services has pegged damage to the forestry crop at $1.3 billion.
The fallen trees present part of a daunting debris problem. And state forest officials have repeatedly told lawmakers the foliage puts the area at a higher risk for wildfire.
"Not only did they lose an asset, now they have a liability," Montford said of timber farmers.
And dealing with debris, Trumbull said, will lead to more expenses. "We've got massive debris removal trucks driving down roads that were not designed for that."

The silver lining this Session? It might be found in legislative leadership and camaraderie.
Montford said "he couldn't ask for more cooperation and concern" from Senate Budget Chair Rob Bradley, a Northeast Florida Republican, and Senate President Bill Galvano, a Bradenton Republican.
State Rep. Jayer Williamson, a Pace Republican whose district was largely spared by the storm, is carrying some Michael-related appropriations requests that would benefit constituents in Trumbull's district.
"We always work together, especially when one of our brothers is hurting," Williamson said.
As the Session churns on, lawmakers in Northwest Florida will also pursue priorities that are unrelated to the storm — objectives that seek to boost tourism and better the economy along Florida's Forgotten and Emerald coasts.
Williamson, for example, will be pushing a $2.5 million request to help build a water reclamation facility in Santa Rosa that would add jobs, boost tourism and aid the mission of nearby NAS Whiting Field. He called it "a silver bullet project."
Montford, a former educator and superintendent, is pushing a bill (SB 382) this year that would provide scholarships to college students intending to teach.
"It's a way to encourage people to go into education and to remain in education," Montford said. He said he will also attempt to raise teacher and state employee pay.
Trumbull, who said pictures following Hurricane Michael don't do damage along the coastline "justice," has filed a number of beach renourishment, recovery and repair projects in addition to seeking basic relief.
"We want to be sure to give these communities a leg of their stool back as the economy is coming back online," he said.