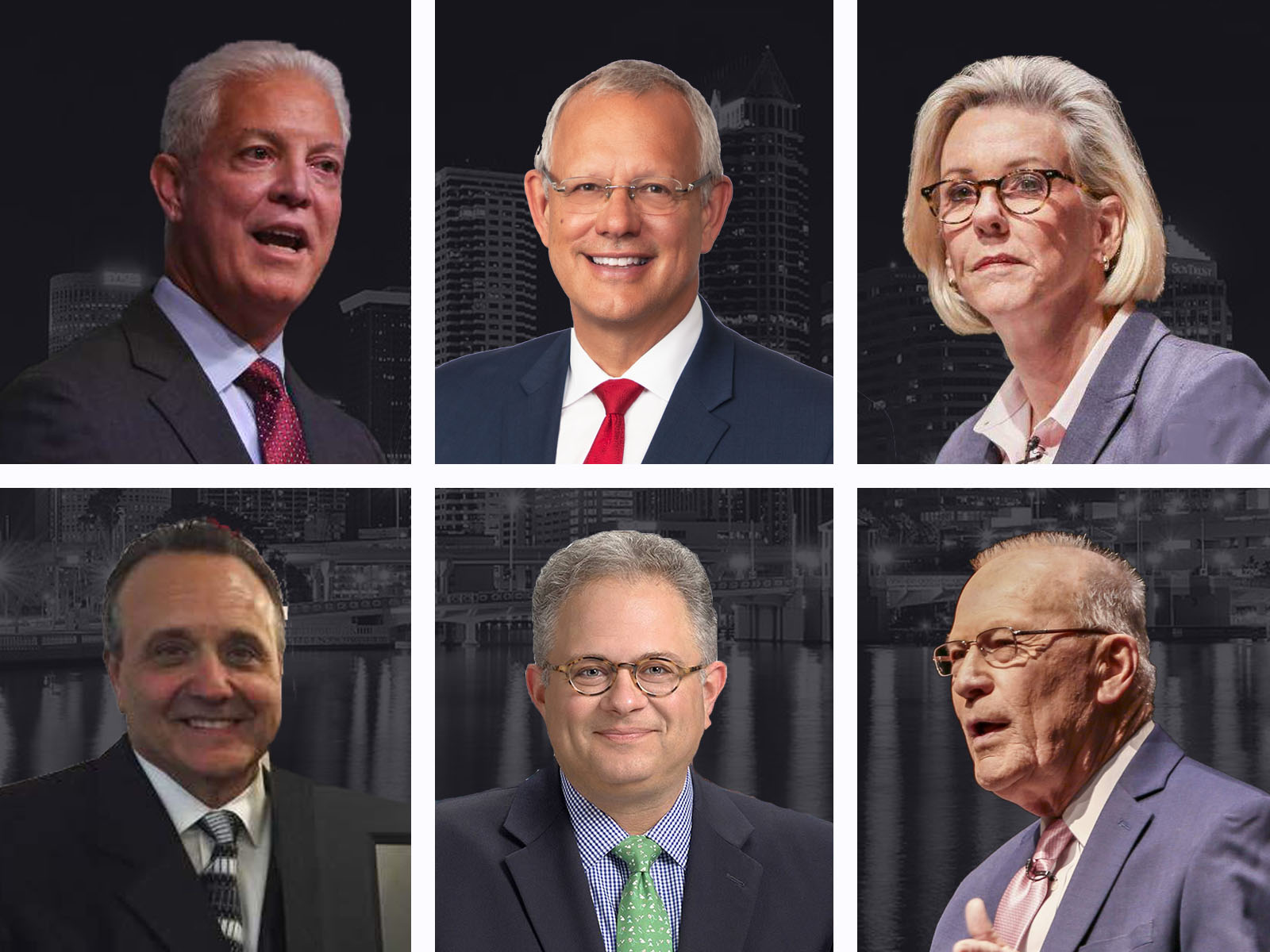 David Straz took a beating of optics from the Tampa Police Benevolent Association.
In what might be more harm than good, the Tampa Tea Party decided to announce its recommended candidates for the city's municipal races, including mayor. Democrats, which far outnumber Republicans in Tampa, might see it as a huge check against their picks.
Meanwhile, David Straz took a beating of optics from the Tampa Police Benevolent Association over an attack ad they thought in bad taste.
The news all rolls in as more voters are expected to flock to the polls to cast their votes this weekend during the final two days of early voting ahead of Election Day Tuesday.
As of Friday evening, voter turnout from early voting and returned mail ballots had reached 9 percent.
"Tampa Tea Party recommends Ed Turanchik" via Florida Politics — It's not a huge endorsement. The group has just 380 followers on its Facebook page and Republicans are a minority in Tampa. But it signals Turanchik's appeal to conservatives and not just Democrats in a race fueled by left-leaning policies. The group's recommendation comes after a text message went out to voters last week criticizing David Straz, who voted for President Donald Trump, for endorsing Andrew Gillum for governor over Trump acolyte Ron DeSantis. The Tea Party backing also comes despite former Tampa Police Chief Jane Castor's previous affiliation with the Republican Party. Some local far-right conservatives including GOP local radio host and commentator Chris Ingram criticized Castor for swapping parties. She's now a Democrat. It also bucks retired judge Dick Greco Jr.'s recent attempts to appeal to conservative voters.
"Widow of fallen officer speaks out against Straz for 'insensitive' ads" via Florida Politics — Kelly Curtis-Stout lost her husband, David Curtis, nine years ago after he and his partner Jeffrey Kocab were shot and killed during a routine traffic stop.Castor was the Chief of Police at that time. Straz's Tampa's Bright Future sent out at least one direct mail flier and produced at least one digital ad showing Castor in uniform, including the black and blue band officers wear around their badge after an officer dies to show their mourning and respect. "Those responsible for the ad chose to use the photo of Jane that was taken during the time that she and and all of us in Tampa were mourning the death of our officers," Curtis-Stout said during a press conference Friday afternoon. She then repeated the names of her husband and his partner. "I say their names again because it is clear to me that whomever would use a photo of an officer wearing a mourning badge has no knowledge or memory of who they are and what they meant to their families and to the city." The Straz campaign responded, saying the photo had nothing to do with the tragic killing of two officers. "The campaign's criticism on Jane Castor has been focused on the "biking while black" scandal under her watch, her stance on Red Light Cameras and that is it," the campaign offered in a written statement.
"Greco Jr.'s political committee fueled by one billionaire Tampa developer" via Florida Politics — The founder of DeBartolo Holdings contributed $150,000 to Greco's 4 Tampa committee at the end of January. The committee has just one other contribution, $1,000 from Joseph Williams, president of Kimmins Corp. DeBartolo Holdings has more than 4,000 multi-family units under development or construction nationwide.  While the contribution is the type that leaves a bad taste in some voters mouths – no doubt the modern political mantra about special interests buying influence will be leveled – the Greco family has a long history with the DeBartolos. "Our relationship is so close that the DeBartolo family consider me and my son Dick, "Dickie," as family. Eddie truly wanted to help my son's campaign and made a generous contribution," Dick Greco Sr. said. "Anytime either of us have needed anything over the years, we have always been there for each other.  We are very fortunate to have the DeBartolo family residing in Tampa."
"Straz targets East Tampa black vote" via Florida Politics — Volunteers and campaign workers at the East Tampa early voting site are handing out fliers encouraging voters to support him because he endorsed Gillum for governor. The flyer does not explicitly mention African-American voters, but the intention is clear. "David Straz stood up for us. It's time for us to stand up for him," the flyer reads below side-by-side photos of Straz and Gillum. Earlier this month a mass text went to Tampa voters criticizing Straz for supporting Gillum. The text said Straz had a "radical socialist agenda" and held "extreme leftist" positions. The Straz flier has an odd header at the top. "The good ol' boys from the bad ol' days are back," it reads in bold red letters. A disclaimer at the bottom of the flyer confirms that Straz's campaign paid for the fliers.
Mark your calendar
March 3 — Final day of early voting
March 5 — Election Day. Voters must cast a ballot at their polling place. Polls are open 7-7. Mail ballots can be returned in person until polls close. Find your polling place here.
Early voting info
Early voting locations:
Cyrus Greene Center
2101 E. Dr. Martin Luther King Jr. Blvd.
Fred B. Karl County Center
601 E. Kennedy Blvd.
Jan Kaminis Platt Regional Library
3910 S. Manhattan Ave.
New Tampa Regional Library
10001 Cross Creek Blvd.
North Tampa Branch Library
8916 North Blvd.
Robert L. Gilder Elections Service Center
2514 N. Falkenburg Rd.
West Tampa Branch Library
2312 W. Union St.
Hours: 10 a.m.-6 p.m. February 25-March 3
What to bring
Please bring one or two forms of identification that include your signature and photo. Without proper identification, you may still vote a provisional ballot, which will later be evaluated by a canvassing board for eligibility. Any of the following forms of photo identification are acceptable:
— Florida Driver's License
— Florida ID card issued by the Department of Highway Safety and Motor Vehicles
— U.S. Passport
— Debit or credit card
— Military ID
— Student ID
— Retirement Center ID
— Neighborhood Association ID
— Public Assistance ID
— Veteran Health ID issued by the VA
— Concealed Weapon License
— Government Employee ID
If your photo ID does not include your signature, you will be asked to provide another ID that has your signature.
Bring your sample ballot to the polling place with notes on how you plan to vote. By making your voting decisions before going to the polling place, you help keep the lines down.
Get Social