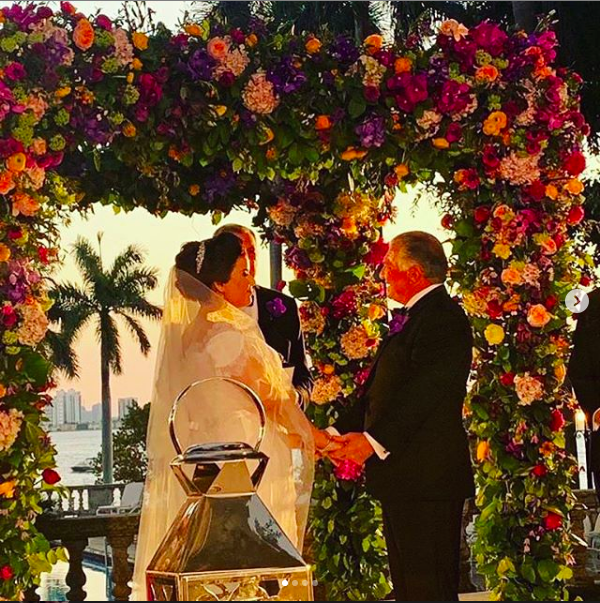 Never Trump. Always Together.
Never Trump. Always Together.
Political commentators Ana Navarro and Al Cardenas wed in Miami Saturday.
Two of the most prominent Florida-based conservative pundits, the pair in recent years won note as heavy critics of President Donald Trump.
But Navarro said there would be no political discourse this weekend.
"We're getting married today! I'm in no-politics zone," she wrote on Twitter.
Joking that word of major news developments would have to come via carrier pigeon, she expressed thoughts on wedding Cardenas.
"Excited. Nervous. Humbled by the love & support and friends who've traveled far & wide to be here. Worried I won't be able to breath in the dress."
Cardenas mirrored those remarks in his own post.
"I echo everything that my sweetheart says & feels," he said, though pictures later revealed he wore a tux.
Navarro on Sunday posted pictures of the wedding on her Instagram account.
She also shared video of her father walking her down the aisle across multiple social media channels.
People En Espanol, which exclusively covered the wedding, shared numerous professional pictures.
Wedding guests included a host of media and political personalities.
Those included: CNN hosts Dana Bash, Wolf Blitzer, and Don Lemon; actress Eva Longoria; singer Gloria Estefan and husband/producer Emilio Estefan; U.S. Sen. Mitt Romney and wife Ann; U.S. Sen. Rob Portman; basketball star Isaiah Thomas;Florida Chief Financial Officer Jimmy Patronis and wife Katie; Florida Senate President Bill Galvano and wife Julie; Independent Colleges and Universities of Florida President Ed Moore; Stephen Shiver and Slater Baylis of Cardenas Partners; Century Homebuilders Group's Sergio Pino; Ambassadors Chuck and Sue Cobb; former U.S. Sen. Mel Martinez, The View host Joy Behar; CNN Worldwide President Jeff Zucker; and former U.S. Rep. Lincoln Diaz-Balart.
Cuban-American musician Willie Chirino performed at the wedding.
Marty Rascón, a friend of Cardenas since law school, acted as best man.
Navarro appears regularly as a political analyst on CNN and as a regular co-host for The View. Cardenas regularly appears on political talk shows such as Meet The Press.
The two more recently have become some of the most vocal conservative critics of Trump. Navarro's Twitter bio says in part "I oppose despots — foreign and domestic."
Both Navarro and Cardenas were born abroad but came to America as their families left homelands amid political turmoil.
Navarro was born in Nicaragua, the daughter of a Contra fighter, she told PBS' Finding Our Roots. Cardenas' family fled Fidel Castro's Cuba when he was just 12, he told NewsMax.
Cardenas has been active in Florida Republican politics for decades. He led the Republican Party of Florida during the 2000 presidential election. Nationally, the Miami Republican served previously as chair of the American Conservative Union.
Navarro has worked as a strategist with a number of Republican presidential campaigns, including for Jeb Bush, John McCain and Jon Huntsman. The Coral Gables Republican served on Bush's gubernatorial transition team in 1998.
One of the most special moments for a daughter, especially a "daddy's girl" like me, is having her dad walk her down the aisle. I'm blessed to have my dad around and was able to experience that last night. Yes, we walked down the aisle to "Guantanamera". #NavarroCardenasAtLast pic.twitter.com/aCUCouRyOI

— Ana Navarro-Cárdenas (@ananavarro) March 3, 2019