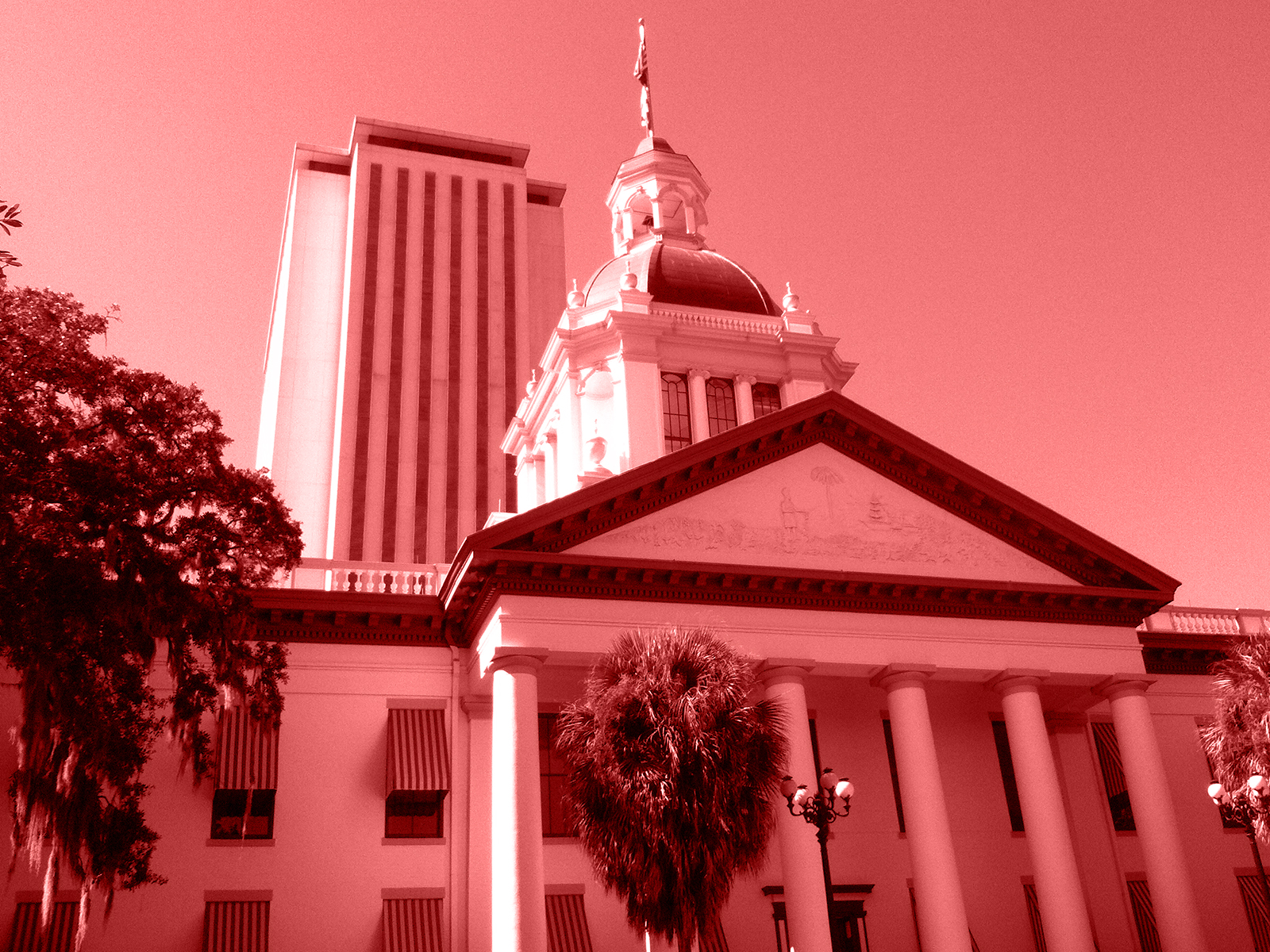 Sixty Days — our daily dispatch from the fourth floor.
Sixty Days — A prime-time look at the 2019 Legislative Session
The Last 24
Good Wednesday evening. Agriculture Commissioner Nikki Fried didn't mince words after lawmakers on Wednesday finally allowed medical cannabis to be smoked in Florida. The South Florida Democrat, elected in part because of her support of hemp and medical cannabis, tweeted after the vote: "It brings four words to the lips of people across our state: It's about damn time. It's long past due that Florida honored the will of the people (and) allowed doctors to determine their patient's course of treatment." And Orlando attorney and medical marijuana advocate John Morgan tweeted in response: "Amen and amen!" Sixty Days never mixes prayer and pot. Here's your nightly rundown.
Light 'em up: Lawmakers to Gov. Ron DeSantis — You wanted smokable medical marijuana? You got it.
No more 'bundling': A bill to end putting unrelated provisions in the same constitutional amendment found bipartisan favor on a House panel.
'Sexually deviant desires': A bill to ban childlike sex dolls is headed to the Senate floor.
Recover this: Rep. Cyndi Stevenson wants to clear the way for more recovery-care centers.
Tax break for training: A bill to offer sales tax refunds to job training organizations was approved.
Tax break for the valiant: A proposed constitutional amendment to extend a homestead property tax discount for disabled veterans was OK'd.
AOB again: Another House panel cleared legislation making it harder for contractors to sue insurers over 'bad faith' in assignment-of-benefits (AOB) disputes.
Budget time: What's going on with allocations? "This will be the biggest 'trade-bait' Session there's been in years," one lobbyist said.
And the CONs keep rollin' in: Speaker José Oliva wants to get rid of "certificates of need." But Florida hospitals keep applying for them.
Confirmed: A Senate panel gives the thumbs up to Jim Poppell as Lottery secretary and Jonathan Satter as Department of Management Services secretary.
Quote of the Day
"I am more comfortable with the thought of a pedophile at home screwing a bag of nuts and bolts than hanging around the schoolyard with a bag of candy." — Richard Siegel, a Florida sex therapist, telling lawmakers that child sex dolls shouldn't be banned.

Your Metz Husband Daughton-sponsored question of the day is:
Apalachicola was home to Dr. John Gorrie, mastermind of what cool invention?
As always, click here to tweet your answer to @MHDFirm. The first person with the correct answer will get a shout-out in tomorrow's 60 Days!
Yesterday, we asked: What is the highest natural point in the state of Florida?
Answer: "Britton Hill, in Walton County, reaches 345 feet above mean sea level — the lowest 'high point' of any state."
Congrats to David Tuthill (@davidtuthill), first to tweet the correct answer!
Bill Day's Latest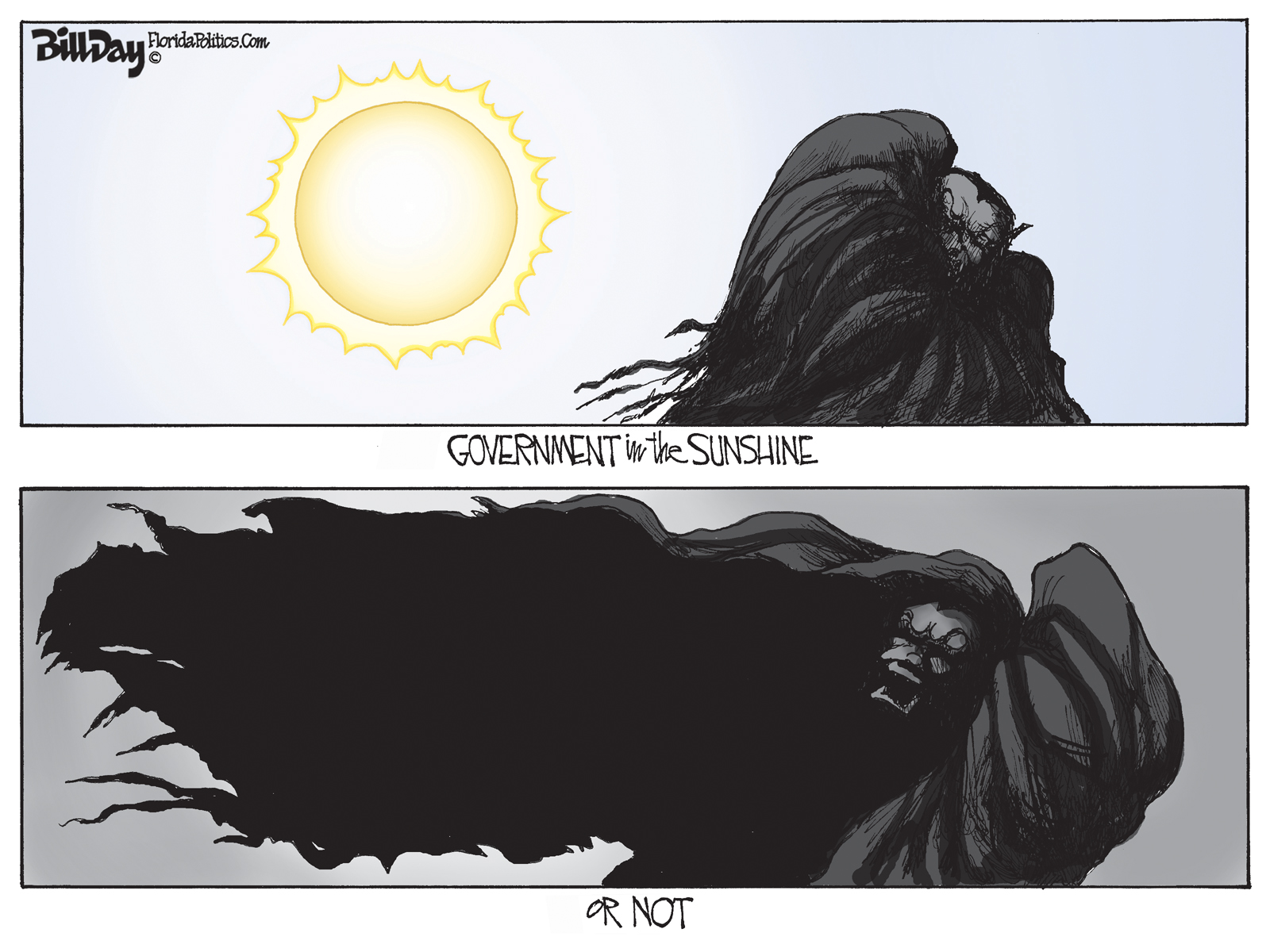 3 Questions
Dr. Micah Kubic is the new executive director of the American Civil Liberties Union of Florida, replacing for the now-retired Howard Simon. Kubic had the same gig in Kansas — but he's not in Kansas anymore. We caught up with him to see how he's handling the job at a time when civil rights issues are fielding plenty of debate. Responses were edited for clarity and brevity.
Florida Politics: How's the new job?
Kubic: I started on Jan. 2, so I've been here a little over two months now. It's busy. There's a lot of exciting work to do, a lot of challenges. But it's great.
FP: What are ACLU-Florida's top priorities this Session?
Kubic: I think Florida is really on the front line of every single civil liberties battle that is raging in the country today. There's not a single issue that the ACLU works on where there is not something happening here in Florida. Our ability to really change the national conversation — to change the national trajectory so that it is one that embraces freedom and equality of justice — starts right here in Tallahassee … and all over the state.
Although all of the issues are live and ones that we're concerned about, I think there are probably three that are really front-of-mind right now. Clearly, criminal justice reform. We're here today for a reason — because the criminal justice system is broken. It's been broken for a long time and it's time to fix it. It's time to stop saying, "Oh, we'll get to it next year, we'll get to it next year, we'll get to it next year." This is the year to do something.
Voting rights are also very important. Not just Amendment 4, and making sure that it's faithfully implemented. But really making sure all over the state that the people's right to vote is defended and that we're actually taking steps to encourage people to participate and making sure that their voices are heard rather than discouraged.
The third issue I would say is probably immigration. There was a tumultuous hearing yesterday afternoon on a particular bill that forces local law enforcement to do routine, front-line immigration enforcement. That's very troubling for constitutional reasons, troubling for reasons of community safety. So that's something that's front-of-mind too.
FP: You most recently served as the Kansas ACLU director. Is there anything you did there that you want to do here?
Kubic: A lot of the same issues that were in Kansas are the same ones that are here. Different context and different scale. But you know we had a four-year-long battle with the Secretary of State in Kansas over voting rights that ultimately succeeded. That's because the ACLU cares about this issue and has expertise in every state.
There, we were doing criminal justice reform as well. We assembled a bipartisan, cross-ideological organization to do that. That's something that is already happening here. So, I think that a lot of the issues that were happening there are happening here. And I'm excited to be able to work with folks to really make sure that we change — not just Florida — but change the nation in defending civil liberties.

Lobby Up
The largest marijuana company in the United States is looking to tap into Florida's growing medical cannabis market.
After signing an $850 million deal to acquire Verano Holdings, Harvest Heath has a presence in 16 states and operates more than 120 dispensaries. That gives them a bigger stake in the pot game than other companies at the top of the totem pole, such as MedMen and Green Thumb.
On Monday, the company inked a deal with Rhett O'Doski, Ryder Rudd and Sean Stafford of McGuireWoods Consulting making for the firm's second major coup in as many weeks — on the second day of the 2019 Legislative Session, McGuireWoods picked up autonomous vehicle giant Waymo.
Among the measures the McGuireWoods team will be following closely is the repeal of the ban on smokable medical marijuana, which is a priority of Gov. DeSantis. The no-smoke repeal has already cleared the full Senate and is awaiting a vote on the House floor.
While that's a monumental change in and of itself, a recent Florida Politics survey found a majority of Florida's top political minds think the 2019 Legislative Session will bring other substantial changes to the state's pot statutes. Whatever those changes are, the $3 billion pot company will certainly be weighing in.
Breakthrough Insights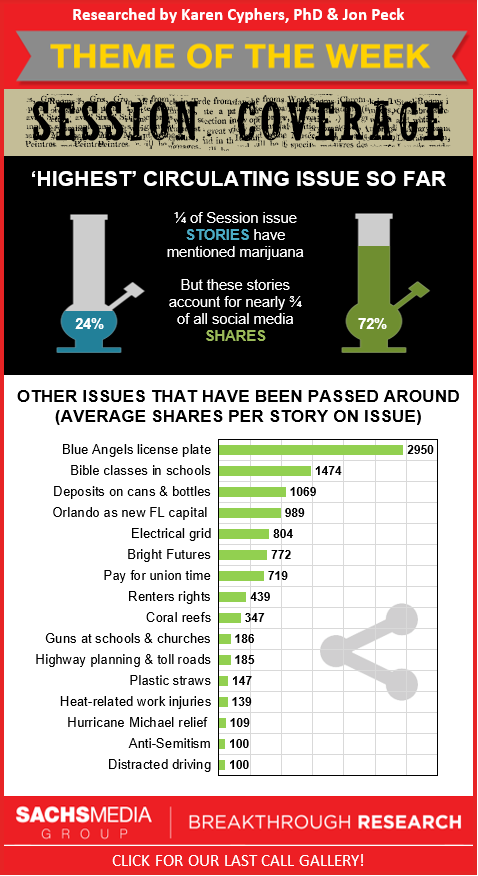 The Next 24
The Revenue Estimating Conference will update projections of general revenue, a key source of funding for schools, health care programs and prisons. Lawmakers will use the updated projections in negotiating a budget during the legislative session. That's at 9 a.m., 117 Knott Building.
The South Florida Water Management District Governing Board is scheduled to meet at 9 a.m., district headquarters, 3301 Gun Club Road, West Palm Beach.
The Senate Appropriations Committee meets at 10 a.m., 412 Knott Building.
The coalition 'No Place for a Child' will hold a rally and news conference to discuss proposals aimed at preventing youths from being prosecuted as adults. That's at 11 a.m., Old Capitol steps.
The Florida Supreme Court is scheduled to release its weekly opinions at 11 a.m. (Releases in recent weeks, however, have been canceled or delayed because of the addition of three new justices to the court.)
The House Commerce Committee meets at noon, 212 Knott Building.
The House Public Integrity & Ethics Committee meets at noon, 404 House Office Building.
The House State Affairs Committee meets at noon, Morris Hall, House Office Building.
The Senate will hold a floor session at 1:30 p.m., Senate chamber.
The House Education Committee meets at 3 p.m., Reed Hall, House Office Building.
The House Health & Human Services Committee meets at 3 p.m., Morris Hall, House Office Building.
The House Judiciary Committee meets at 3 p.m., 404 House Office Building.
The Revenue Estimating Conference will discuss what is known as "outlooks" for the Tobacco Settlement Trust Fund and general revenue. That's at 4 p.m., 117 Knott Building.
The Office of Insurance Regulation will hold a hearing in Miami-Dade County on a proposal by the state-backed Citizens Property Insurance Corp. to raise rates. While the increases would vary depending on the type of policy and other factors, the average increase would be 8.2 percent for homeowners, condominium owners, and renters. That's at 5 p.m., Florida International University, Biscayne Bay Campus, Kovens Conference Center, 3000 N.E. 151st St., North Miami.
The House Rules Committee meets at 5:30 p.m., 404 House Office Building, the Capitol.)
The First Amendment Foundation will hold an event to present its 2018 "Sunshine Awards" to Craig Waters, director of public information at the Florida Supreme Court, and Kathleen McGrory and Neil Bedi, reporters for the Tampa Bay Times who worked on an investigative series about heart surgery at Johns Hopkins All Children's Hospital. That's at 6 p.m., Florida State University College of Law, 425 West Jefferson St., Tallahassee.