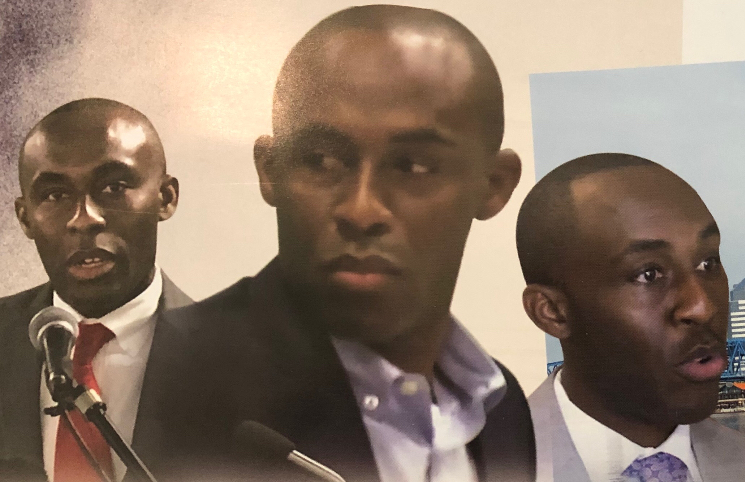 The Mayor and the Councilman are political enemies.
In the race for Jacksonville City Council District 9, the hard money tells one story. But the cash raised at the committee level tells another.
Democrat Garrett Dennis is the leading nemesis of Republican Mayor Lenny Curry on the dais, and if hard money were the sole driver, Dennis would have no problems.
Dennis, as of March 1, had nearly $18,000 on hand. His only opponent, Democrat Marcellus Holmes, had just over $2,000 on hand.
Dennis got money from former Democratic Mayor Jake Godbold, who the Councilman described as "bold and courageous … did not fall victim to [the] bullying and intimidation that others have faced into not supporting my campaign."
Holmes, wracked by health problems, hasn't campaigned since qualifying. Dennis, fully ambulatory, has been active at his usual pace.
However, a political committee may provide the anti-Dennis energy that Holmes cannot.
Turning Jacksonville Blue, a committee set up on the state level, reported $85,000 of incoming funds during three days in early February from a second committee: Florida Shining.
Florida Shining, meanwhile, received checks from two other political committees in February.
Citizens Speaking Out and Florida Taxpayers Defense both contributed, $65,000 and $45,000 respectively.
Those committees have received $250,000 in total from Jacksonville on the Rise, the political committee of Mayor Lenny Curry.
Curry has raised and spent prolifically against undercapitalized opposition, in efforts to stave off a runoff.
Confident that the mayoral race may wrap next week, the strategy seems to be to work in Council races.
Florida Shining's Newberry address is close to the statewide headquarters of Data Targeting, the Republican campaign firm doing a lot of work throughout the state, including in Jacksonville.
And Data Targeting, which has three researchers in Jacksonville, has invoiced the committee for consulting.
While the committee is playing in city races, Turning Jacksonville Blue has been a vehicle targeted specifically at Dennis.
District 9 Democrats report having gotten as many as a dozen mailers. Digital presence is likewise robust.
If Dennis can somehow be defeated, and Holmes is physically able to serve, then the Mayor will have a candidate in place who should have a receptive ear.
Among Holmes' few hard money donors: Tom Petway, the former JEA Board chair who proposed selling the public utility at his last meeting.
We will not know the full extent of these committees' financing until April, but it appears that Curry is looking to settle scores in March.
Dennis has insisted for over a year that Curry and his staff have bullied him.
The Councilman also insists that no matter how big the spend is against him, it's not going to work.
"It shouldn't surprise anyone that Lenny is acting shady. Look, it isn't a secret that I do not support what he and the sycophants in his administration are trying to do to Jacksonville. It has long been Lenny's plan to stack the council with people who will allow him the freedom to essentially give Jacksonville away to his developer cronies and sell JEA ," Dennis said.
"I believe the citizens of Jacksonville see this for what it is, a way for Lenny Curry to keep robbing the taxpayers of their assets for his personal gain," Dennis added.