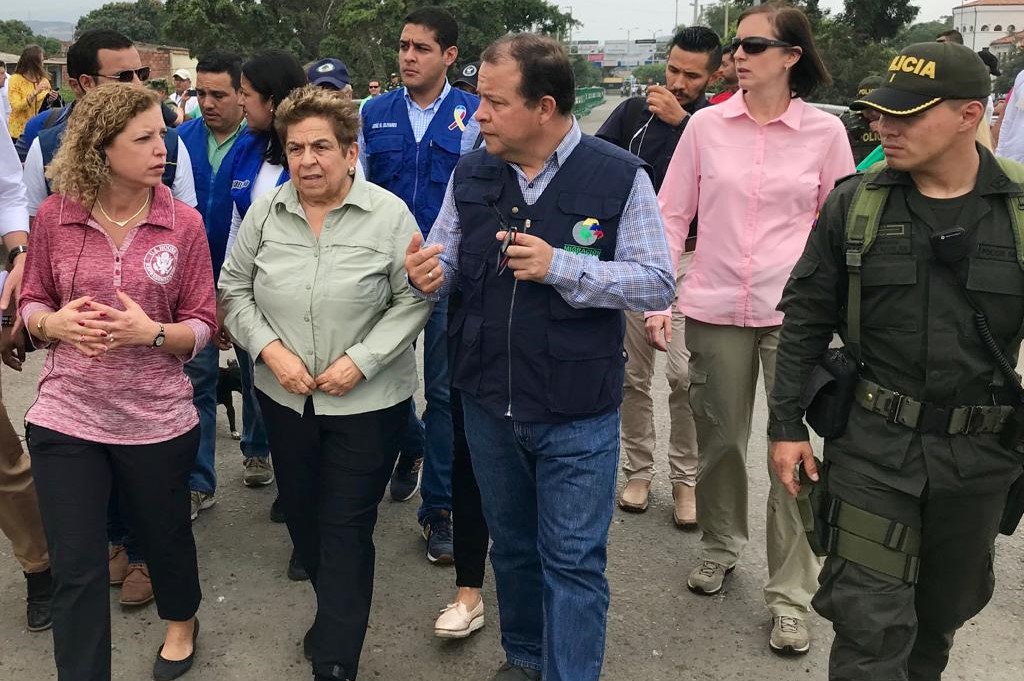 The pair of Democrats have pushed back against the Nicolás Maduro regime.
U.S. Reps. Debbie Wasserman Schultz and Donna Shalala, a pair of South Florida Democrats, say a weekend trip to the Venzuela-Colombia border shored up their support for Venezuelan Opposition Leader Juan Guaidó.
The U.S. has backed Guaidó over a power struggle with the country's elected President Nicolás Maduro.
Guaidó serves as the leader of the Venezuelan National Assembly, but has recently been recognized by the U.S. and several other nations as the country's rightful President.
"As the people of Venezuela continue to face a catastrophic humanitarian crisis caused by the dictatorial Maduro regime, the United States and our allies in Latin America stand united as we work together to help the Venezuelan people receive lifesaving humanitarian assistance," Shalala said.
"While visiting the Venezuela–Colombia border, we heard heartbreaking stories of friends and family members dying of starvation and treatable diseases, all while a brutal dictator does everything possible to prevent aid from being delivered — bridges blockaded, trucks burned, peaceful protesters badly injured or killed."
"Maduro is starving his people," Wasserman Schultz added.
"Venezuelans have been in the dark for days. And children are dying of preventable diseases."
Shalala and Wasserman Schultz met with Colombian President Iván Duque and local officials Saturday. On Sunday they were in Cúcuta with a delegation including included Colombian Ambassador to the United States Francisco Santos. The two plan to give additional details on their trip in remarks scheduled for Monday morning.
The pair of Democrats is representative of the South Florida delegation who, along with Republicans, have sided with President Donald Trump's efforts to push back against the Maduro regime.
Along with questions surrounding the legitimacy of Maduro's most recent elections, the Venezuelan people are also suffering, according to reports. Inflation has hit sky high marks inside Venezuela, and residents face shortages of several basic necessities. Multiple journalists, including Americans, have also been detained by the Maduro government in the face of critical reporting.
Wasserman Schultz made clear the intent of her visit in remarks from the border.
"We are here to make sure the Venezuelan people know that Democrats and Republicans in the United States are united in bringing humanitarian aid into Venezuela, standing behind interim President Juan Guaidó, and pressing for fair and free elections for its people," Wasserman Schultz said.
"We will not stand idly by as more Venezuelans are forced to flee the country they love," Shalala added.
"Our support for the Venezuelan people and their efforts to restore freedom and democracy is stronger than ever."