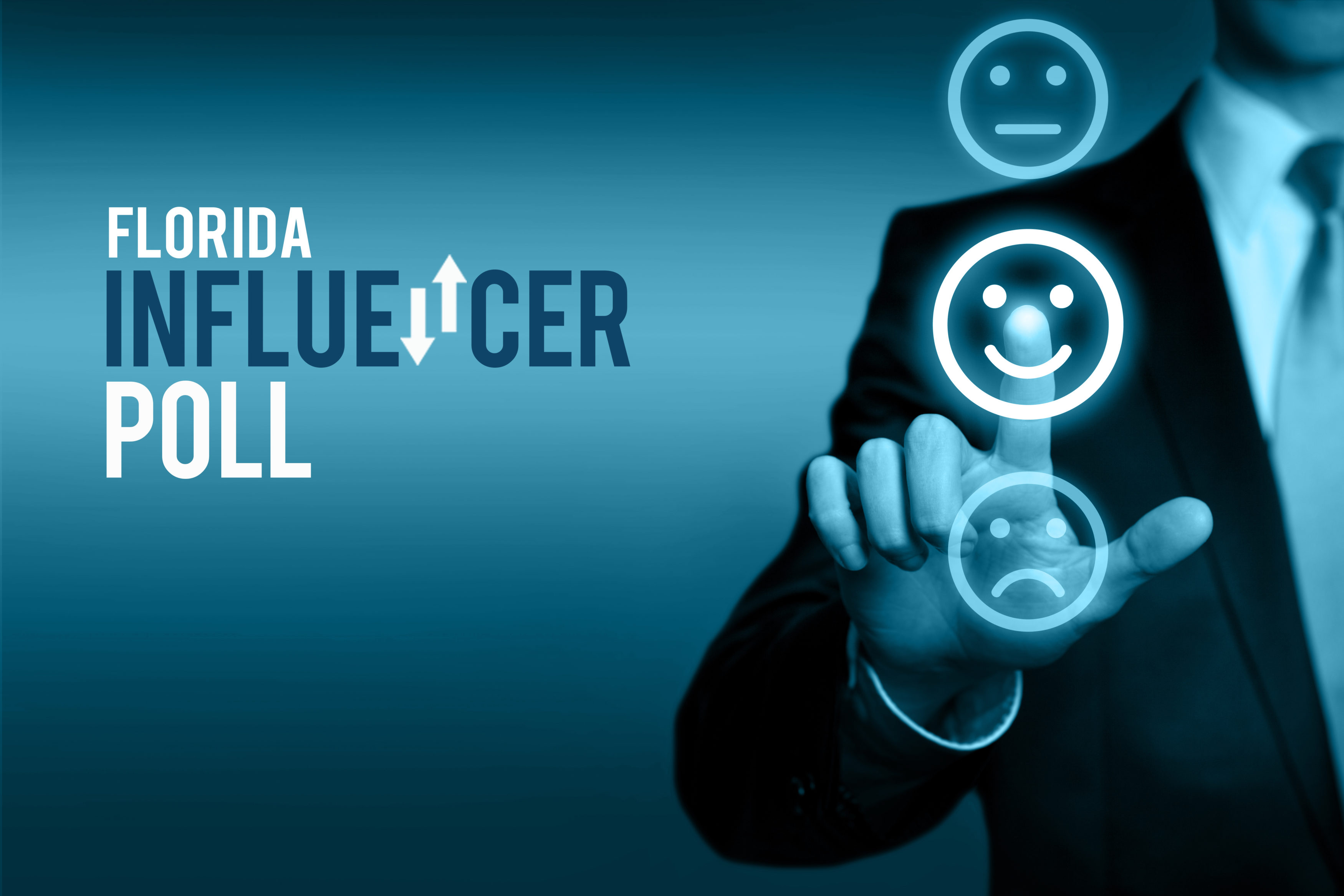 The state's most tuned in political insiders have some firm opinions on two of the top Republicans in national politics.
Florida Politics reached out to more than 100 of the state's top political minds on to get their take President Donald Trump's re-election odds and U.S. Rep. Matt Gaetz standing with his campaign trail bestie, Gov. Ron DeSantis.
Florida is crucial to Trump's 2020 re-election hopes, and a Bendixen & Amandi International poll found the first-term POTUS is "in trouble" in the Sunshine State — the survey found just two-fifths of Florida voters wanted four more years, while 53 percent said they'd rather Trump be a one and done president.
The same poll also showed Trump's approval rating was underwater 52-43 percent and found Vice President Joe Biden leading the ever-expanding field of Democratic challengers.
Influencers shrugged off those numbers, however.

Less than 30 percent of those polled by Florida Politics agreed with the article. Just over 5 percent of Influencers, including a handful of Democrats and a smidgen of Republicans, said they "strongly agreed" with the poll results. Another 23 percent said they "somewhat agreed."
An overwhelming majority — 70 percent — said the assessment was malarkey. Nearly half "somewhat disagreed," while the balance said "are you freaking kidding me?"
It'll be a couple years before the prevailing opinion among Influencers gets tested, but given Barack Obama had a similar re-elect share two-years into his first term and mixing in the crimson results of the 2018 statewides, there's little suggesting they're wrong.
Florida Politics also asked its Influencer panel whether Gaetz sway in the Governor's office has taken a tumble after an inadvisable tweet launched a spate of bad news cycles for the Shalimar Republican.
More than two-fifths of Florida Influencers, including nearly half of Republicans, said the second-term congressman is worse off than he was a couple of weeks ago.
That's understandable, considering he's been panned by everyone from Republican U.S. Sen. Rick Scott to Democratic U.S. Rep. Charlie Crist. Gaetz suffered another blow when the Florida Bar said it was investigating whether his social media faux pas violated professional conduct rules for attorneys.
Still, a slim majority of Florida Influencers say Gaetz hasn't risen or fallen in the new Gov's eyes. The remaining 4 percent say the Panhandle politician now has more pull in the Capitol despite his foible.
The Florida Influencer Poll is conducted monthly and solicits responses on the topics du jour from pool of the top consultants, fundraisers, PR mavens, lobbyists, and top staffers to weigh in on the issues influencing Florida politics.
Those who fancy themselves as "Influencers" and want to take part in future polls can send an email to [email protected].
___
The Influencers who took part in this survey are: Tom Alte, Phil Ammann, Jon Ausman, Roger Austin, Albert Balido, Katie Ballard, Geoffrey Becker, Amanda Bevis, Taylor Patrick Biehl, Ron Bilbao, Katie Bohnett, Lydia Claire Brooks, Mark Bubriski, Reggie Cardozo, Kevin Cate, Brad Coker, Rachel Cone, Jordan Connors, Josh Cooper, Gus Corbella, Husein Cumber, Karen Cyphers, Jim Daughton, Richard DeNapoli, Nelson Diaz, Pablo Diaz, John Dowless, Charles Dudley, Ryan Duffy, Barry Edwards, Eric Eikenberg, Alia Faraj-Johnson, Mike Fasano, Peter Feaman, Mark Ferrulo, Damien Filer, Matt Florell, Towson Fraser, Kelsey Lehtomaa Frouge, Dan Gelber, Steve Geller, Julia Gill Woodward, Larry Gillis, Pamela Goodman, Jennifer Green, Joe Gruters, Marion Hammer, Jeff Hartley, Chris Hartline, Rich Heffley, Jim Horne, Lila Jaber, Nick Janovsky, Aubrey Jewett, David Johnson, Jeff Johnson, Stafford Jones, Todd Josko, Fred Karlinsky, Joshua Karp, Jonathan Kilman, John Konkus, Jeff Kottkamp, Beth Lerner, Alli Liby-Schoonover, John Lockwood, John Lux, Jim Magill, Beth Matuga, Frank Mayernick, Kathy Mears, James Miller, Joe Mobley, John Morgan, Tim Nungesser, Meredith O'Rourke, Edie Ousley, Jenna Paladino, Andy Palmer, Anthony Pedicini, Juan Penalosa, Fred Piccolo, Gretchen Picotte, Ron Pierce, Bob Poe, Ben Pollara, Evan Power, Scott Powers, Noah Pransky, Cissy Proctor, Foyt Ralston, Bert Ralston, Susannah Randolph, Marc Reichelderfer, Darren Richards, Sydney Ridley, Jim Rimes, Franco Ripple, Evan Ross, Scott Ross, Elnatan Rudolph, Ron Sachs, Meagan Salisbury, April Schiff, Jack Seiler, David Shepp, Alex Sink, Patrick Slevin, Tim Stapleton, Brad Swanson, Herbie Thiele, Cory Tilley, Kyle Ulrich, Greg Ungru, Jenn Ungru, Steven Vancore, Ashley Walker, Nancy Watkins, Screven Watson, John Wehrung, Christian Weiss, Doug Wheeler, Susie Wiles, Alan Williams, Rick Wilson, Joe York, Skylar Zander, Christian Ziegler.