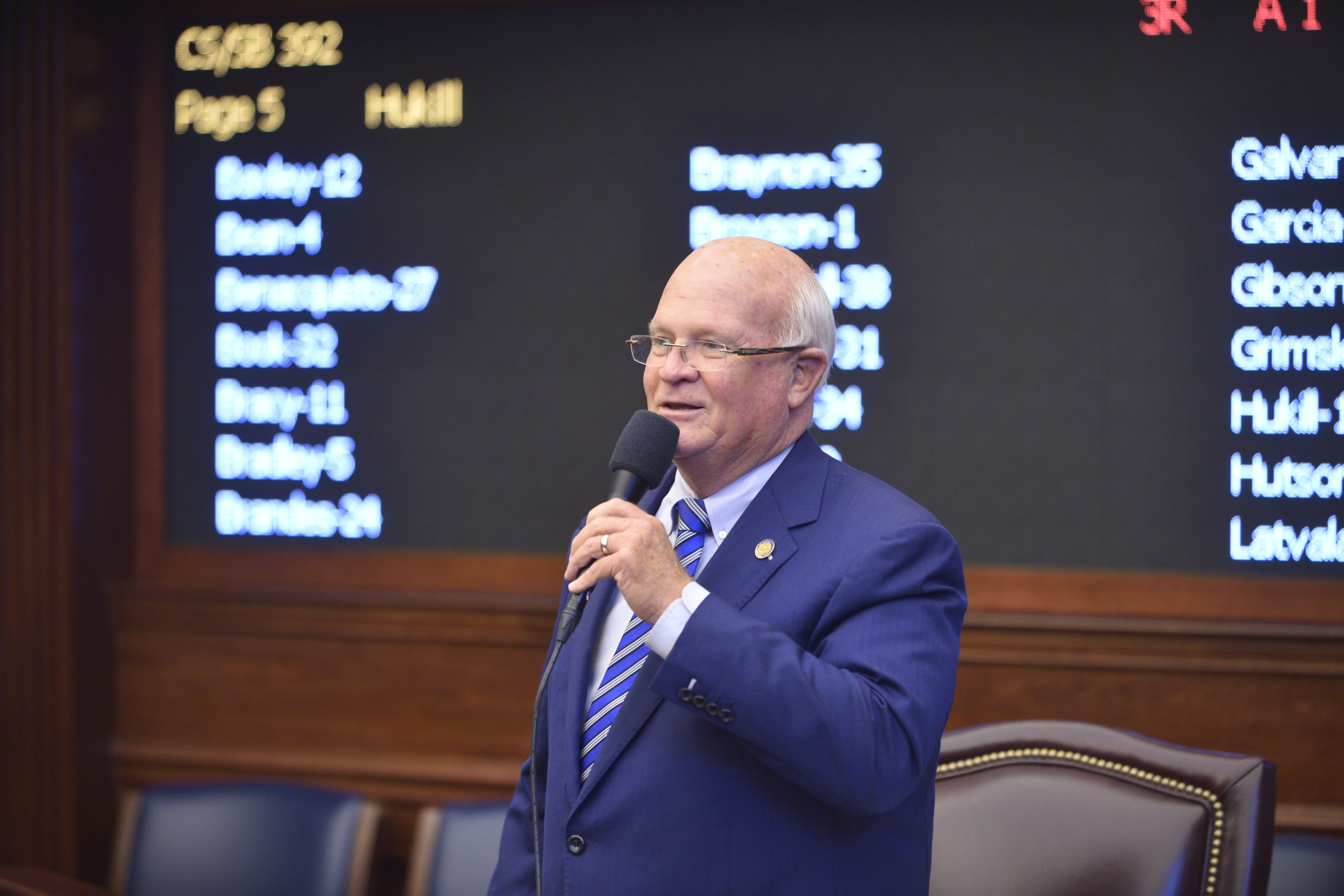 The measure won support from the rest of the Education Committee.
Just one lawmaker on the Senate Education Committee voted against a bill that would allow Florida State University to rename its main law school building. 
Republican Dennis Baxley of Ocala told fellow lawmakers on Tuesday that he could not support legislation (SPB 7076) repealing the state designation that created B.K. Roberts Hall.
It was named after a late state Supreme Court Justice who helped found the law school at FSU but also wrote a pro-segregation opinion, going against the U.S. Supreme Court. 
"This is a road that I hate to see us go down," Baxley told fellow lawmakers. "None of us lived in the time of those who came before us."
He said there is a "rage across the nation" to change building names and remove statues: "There are imperfect players of history," Baxley said after the vote. "I don't wish to cover up their faults but neither do I wish to desecrate every place they've been memorialized."
Baxley has in the past spoken out against removing Confederate monuments. He also is pushing a bill (SB 288) this year that would protect commemorations of veterans of American military conflicts, including the Civil War.
"I defend everybody's monuments," Baxley said when asked about that position, "everybody."
He added: "I don't think we should be doing that to anybody in our history, and I think the artifacts themselves have value."
Roberts, who had served as a Chief Justice, wrote a majority opinion in the 1950s to deny Virgil Hawkins, a black student, admission to law school at the University of Florida.
FSU President John Thrasher is seeking to remove Roberts' name from the edifice after a university group recommended it. A Republican former House Speaker and state Senator, Thrasher created the advisory panel to examine building names and statues following the violent and racially charged 2017 riots in Charlottesville, Virginia.
Thrasher last summer accepted the panel's recommendation to rename the law school. He wrote in a letter to the university community that Roberts' legacy is "complicated."
"On one hand, he can and should be recognized for his instrumental role in creating the FSU College of Law," Thrasher wrote, adding that Roberts also restructured and simplified the court system and is the "primary architect" of the public defender system.  
But Roberts' high points, Thrasher added, "stand in stark comparison to a more troublesome legacy."
Thrasher wrote that Roberts "defied the highest court of the land," referring to the landmark U.S. Supreme Court Brown v. Board of Education decision that desegregated public schools and prefaced Roberts' opinion that later came under scrutiny. 
"To keep the name of B.K. Roberts on the law school building would continue to honor someone whose decisions and actions do not reflect Florida State University's values or the rule of law," Thrasher wrote.
Because of Roberts' contributions to the school, Thrasher has recommended placing a "contextualized recognition" of Roberts' life somewhere inside the law school.
When asked if he knew about the marker, Baxley said it still discredits Roberts.
He recognized, however, that his position is unpopular. The other Democratic and GOP lawmakers all backed the bill. Supporters overwhelmingly saturated testimony.
State Sen. Janet Cruz, a Tampa Democrat, countered Baxley by suggesting that society's honors and recognitions can evolve: "Many of Florida's universities were built in a different era," she said, "but that doesn't mean that they have to remain in that different era."
The bill also directs the State University System Board of Governors to develop a uniform process for naming and renaming university facilities in the future. There is as yet no companion proposal in the House.