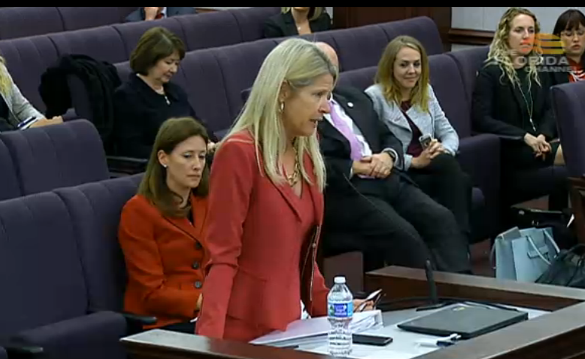 Brodeur has two Demoratic opponents in SD 9. Mayfield is unupposed in SD 17.
Republican state Sen. Debbie Mayfield and Republican former state Rep. Jason Brodeur each padded sizable early war chests in February for their campaigns in the 2020 Florida Senate elections, pulling in more than $50,000 apiece.
Brodeur, of Sanford, who left the Florida House last year, reported raising $51,675 in February, his second-biggest single-month haul yet in a campaign he launched more than two years ago. That included 33 maximum-donation $1,000 checks. It gives him nearly $300,000 raised overall, though just about $165,000 in the bank, in his quest for Senate district 9, where Republican state Sen. David Simmons is leaving due to term limits..
He's drawn two Democratic opponents in a district covers Seminole County plus the southwest end of Volusia County.
Justin Miller of Oviedo reported taking in just $500 in donations in February. He's raised about $4,100 overall, plus $1,600 he lent his campaign. Rick Ashby of Oviedo raised no money in February. He's brought in $433 in donations and another $1,400 he lent his campaign.
Mayfield, of Rockledge, raised $61,000, including 57 $1,000 checks, in her re-election bid in Senate District 17, which covers southern Brevard County and Indian River County. She does not yet have an opponent. She now has about $167,000 in the bank.
In the only other contested race in Central Florida so far, Democratic state Sen. Randolph Bracy of Ocoee reported raising $1,000, giving him a total raised of $58,100 for his re-election in Senate District 11, though he only has about $7,000 of that left in the bank.
He has drawn both a Democratic primary challenger and a Republican challenger for that western Orange County seat. Democrat Charles Law. Jr. of Orlando reported lending his campaign $3,450 to start in February. Republican Joshua Adams of Winter Park reported raising $1,095, giving him $1,295.
In Senate District 13, covering eastern Orange County, Democratic state Sen. Linda Stewart reported raising $3,000 in February, giving her $15,360 raisd so far. In Senate District 15, covering southern Orange and Osceola County, Democratic state Sen. Victor Torres reoprted raising $1,000. He's raised about $42,00 so far but has only about $5,000 in cash. Neither has an opponent.