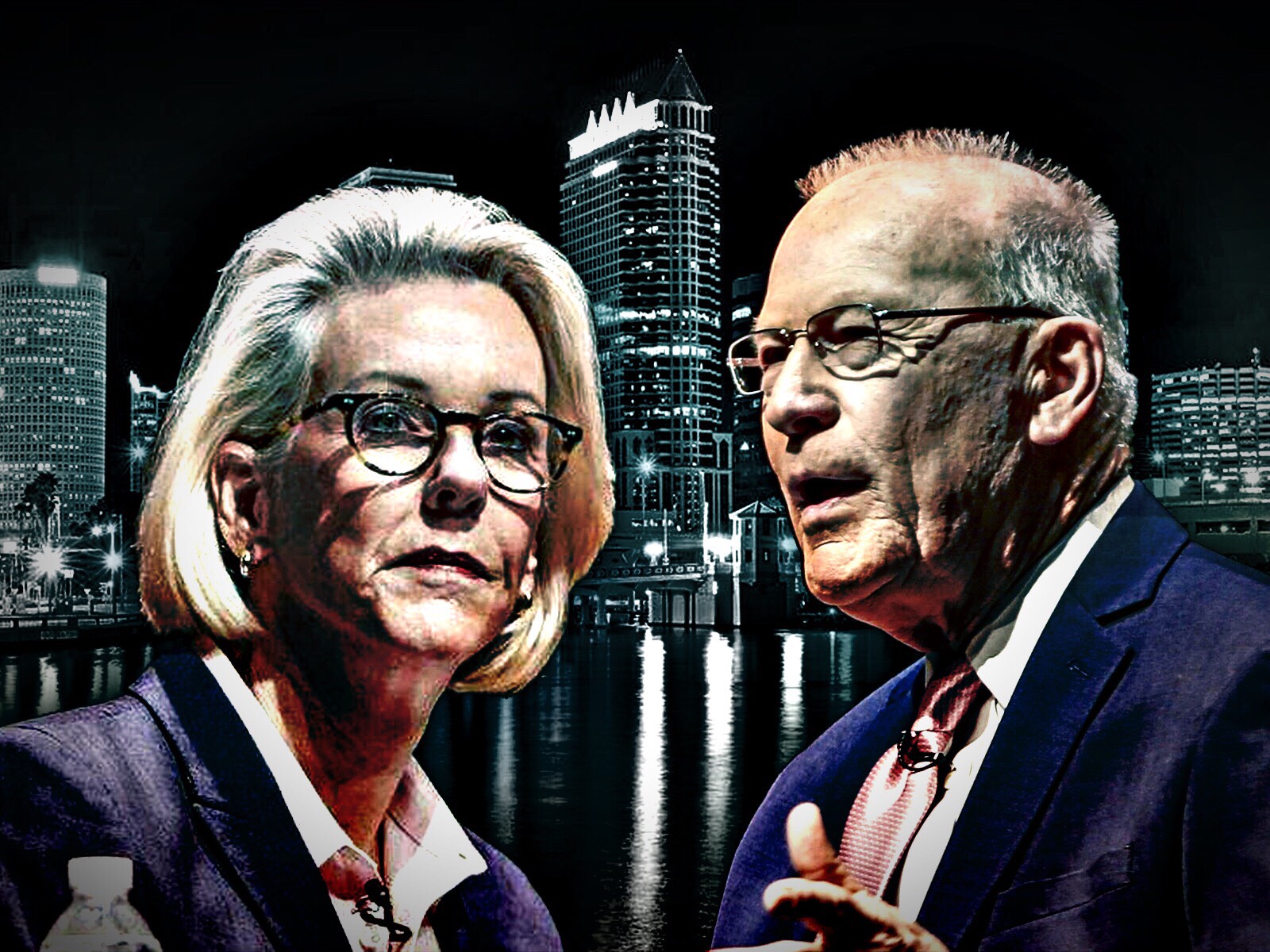 Example: Castor had standout moment Straz could have stopped.
What do you get when one candidate walks into a political forum, but the other one doesn't?
Lots of softball questions. 
And that's what happened when Tampa mayoral candidate Jane Castor showed up to a campaign forum at Tiger Bay Friday and her opponent, David Straz, didn't.
It left one candidate holding the microphone, unchallenged at every question, free to share her positive message while everyone else murmured in the wings, "…where the heck is Straz?"
Campaigning somewhere else maybe? He wouldn't say.
Straz declined to attend the Tiger Bay forum the day before, long after the political club had advertised its event and sold tickets.
Straz said he had a scheduling conflict and offered alternative dates. Tiger Bay confirmed that and said the dates he offered wouldn't have worked with its schedule.
Straz's absence might not mean a thing in the grand scheme of things. After all, of Tampa's nearly 250,000 voters, only about 100 or so went to Friday's luncheon.
But for those voters — some of the most engaged in the city — Straz's absence was Castor's win.
There was little news. Castor offered some familiar talking points about affordable housing, transportation and the environment. Most in the room who had already been to several campaign forums could probably recite near word for word her policy positions.
But Castor had one standout moment Straz could have put a stop to. One Tiger Bay member, through teary eyes and choked words, asked Castor about civil rights.
Had Straz been there, he no doubt would have leaped at the opportunity to bring up the biking while black controversy of which he frequently reminds voters.
The Tampa Bay Times investigated the city's Police Department's policy under Castor's leadership of giving civil citations to bike riders for minor infractions. The policy overwhelmingly affected the black community.
Straz reminds people about it every chance he gets and counters it with his own blanket promise to end racial profiling.
But instead, Castor got to wax sentimental about the good she did while police chief. She said she demanded each new officer sworn in follow the Golden Rule and expected everyone her officers came in contact with to be "treated with dignity and respect."
She then told two stories. The first was a story of learning and redemption. When she was a young officer she had a traffic stop involving a man driving a pickup truck with a license plate that didn't belong on that vehicle. It's an arrestable offense. But Castor said she showed mercy on the driver, a working class African-American man, and instead of arresting him, gave him a traffic ticket.
She left the scene filling good about herself, hospitable even. But a while later she bumped into that same man and asked him how he was doing.

"It's not going good; I'm not doing good at all," he told her.
The man, she said, couldn't afford to pay the ticket she had written him. In turn, he lost his car insurance, racked up more fines and ultimately had to sell his truck to cover costs. Worse, the man was a scrapper. He made his living filling his truck with discarded items he could sell at junk yards.
"You need to understand the neighborhood that you're policing and you need to work with the community to understand the community that you're policing," Castor said she learned.
She then demonstrated how she took that lesson with her to the highest rank in the agency.
In the second story, a woman complained to the police department that her husband was being racially profiled and was getting pulled over on a regular basis. When Castor looked into it, she found out the man had a suspended driver's license. He wasn't being profiled, he was a known offender and officers were simply enforcing the law.
But instead of leaving it there, Castor said she contacted a sergeant in the area where the man was often stopped and told him to stop giving him tickets and instead take him to the courthouse to get a work permit so he could get a job, care for his family and settle the debts that led to his license suspension.
"Instead of taking him deeper and deeper down that rabbit hole," she said. "You're not solving any problems by doing that."
Castor got a thunderous round of applause.
What's more, absent any pushback from Straz, Castor had an opportunity to paint herself a relatable character, growing up in a poor family with limited resources. She credited her success on the love and support from a good family.
"Had I not had that, I might have been on the other side of law enforcement," she said, and then launched into how important it was to her to establish strong community programs for at-risk youth.
Absent an opponent to challenge her feel good stories, Castor left Friday's luncheon surrounded by super voters shaking her hand and wishing her well in the race.