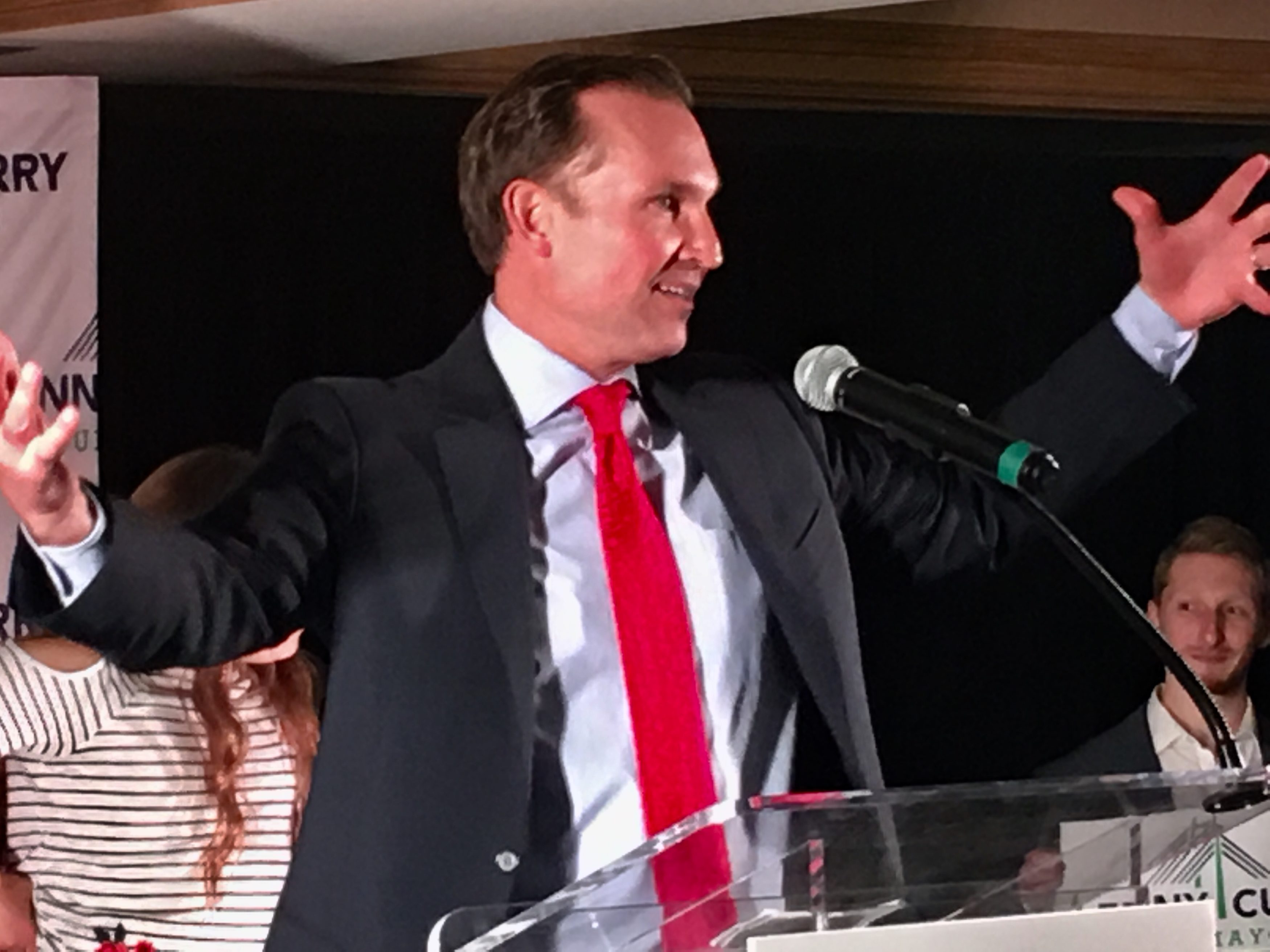 No Democrat ran against Curry.
The big takeaway from Jacksonville elections for Democrats: it might have been wise to field a mayoral candidate.
On Tuesday, Mayor Lenny Curry overcame three challengers (but no Democrats), winning re-election with 58 percent of the vote
Curry stomped challengers Anna Brosche, Jimmy Hill, and Omega Allen. Brosche had 25 percent, Allen 11, and Hill seven.
Brosche and Hill, both Republicans, levied personal attacks against Curry's uncompromising negotiating style; however, in what was a low turnout election, voters didn't seem particularly moved.
Challengers were hampered by Curry's financial advantage, as well as the advantage of incumbency, one reinforced by high-profile stretch endorsements from Sens. Rick Scott and Marco Rubio, and Gov. Ron DeSantis.
Additionally, Curry's road-tested perpetual campaign outmatched Brosche and the others, who opted to attempt to compress the narrative of the campaign into just two months.
Compared to 2015, when national reporters showed some interest in the mayoral race, 2019 was a low-wattage affair with no real interest from outside the area.
Accompanied by the intro to Jay-Z's "Encore," Curry hyped the crowd.
"Soak it in," Curry said, reprising what he said when he won election in May 2015.
Curry lauded Omega Allen for elevating the discussion, but Republicans Hill and Brosche are dead to him.
Per Curry, Brosche didn't reach out to concede. She issued a statement, asserting that she was "disappointed" in results but didn't regret running.
Curry's win was one of many races that went the establishment's way.
Sheriff Mike Williams dispatched Democratic challenger Tony Cummings 61 to 39 percent.
Republican incumbent Jim Overton scored a 57-43 win over Democratic challenger John Crescimbeni. Curry's political committee dinged Crescimbeni, who was not sufficiently cooperative during the JEA privatization issue last year and the Sunshine Law investigation around the 2018 City Council.
And in the race for property appraiser, incumbent Republican Jerry Holland downed Democratic challenger Kurt Kraft. 65-35 the tally.
Curry allies will dominate the City Council. Republicans will hold a majority of the seats on the body no matter what happens in the May general election, and a number of the Democrats on Council are Curry allies.
In District 9, Democrat Garrett Dennis downed Marcellus Holmes, a Democrat who stayed in the race despite apparently incapacitating health problems, by over a 20 point margin.
Holmes had the benefit of roughly $100,000 in mail against Dennis, but to no avail.
And in District 1, Curry nemesis Bill Bishop lost to Democrat Joyce Morgan. A 51-49 spread.
However, the big mo of the night was for Curry and allies.
In District 2, Al Ferraro dispatched Democrat Carson Tranquille. This will be Ferraro's second term. He won by more than a two to one margin.
In District 4, Council VP Scott Wilson downed Democrat Tim Yost. Another two-to-one margin.
In District 6, however,  former public radio executive Michael Boylan, a Republican, defeated Curry Republican Rose Conry. The margin was under 7 points, but that was the highest-profile loss for the Curry machine.
In District 7, Curry-endorsed Democrat Reggie Gaffney garnered over 60 percent of the early count against Sharise Riley, Solomon Olodape, and Nahshon Nicks. 
District 8 and 10 will go to runoffs. Democrats Ju'Coby Pittman and Tameka Gaines Holly emerged in 8; Pittman was the appointed incumbent. And in 10, Brenda Priestly-Jackson and Celestine Mills made the cut.
In District 12, Randy White defeated David Taylor. White, elected without opposition in a special election last year, dispatched Taylor handily.
In District 14, Randy DeFoor will advance to a runoff against Democrat Sunny Gettinger. DeFoor is a machine candidate; Gettinger believes Council members should challenge City Hall. Expect Curry to play in this one.
Several Curry backed candidates have already been elected without opposition: District 5's LeAnna Cumber and District 13's Rory Diamond will be new to the body. And Council President Aaron Bowman likewise faced no opposition.
District 11 Republican Danny Becton likewise faced no opposition. Though his independent streak led to first-term friction with the administration, Becton always played ball in the end.
With big ticket budget items coming down the pipe, he will be worth watching.
Districts 8 and 10 will each go to runoffs.
At-Large contests: a mixed bag for the Mayor's operation.
At Large 1 goes to a runoff: Democrat Lisa King led the field with 45 percent in the early count, but Republican Terrance Freeman will have all the resources behind him for the runoff.
In At Large 2, connected Republican Ron Salem downed former Democratic Vice Chair Darren Mason.
In AL 3, Currycrat Tommy Hazouri is headed to a runoff, barely, against unheralded Republican Greg Rachal. Hazouri endorsed Curry, but that wasn't enough to get the former Mayor re-elected with another Democrat also on the ballot. Hazouri took 44 percent to Rachal's 39. 
In AL 4, Republican Matt Carlucci curbstomped partymates Don Redman, a former Councilman, and political newcomer Harold McCart. No runoff needed, with over 70 percent for Carlucci.
And in AL-5, Curry ally Sam Newby won outright, with 53 percent, against Democrat Chad McIntyre.
Not all Curry allied.
But when one considers the Council slate in totality, even a worst-case scenario sees supermajority support for the Mayor on these issues.