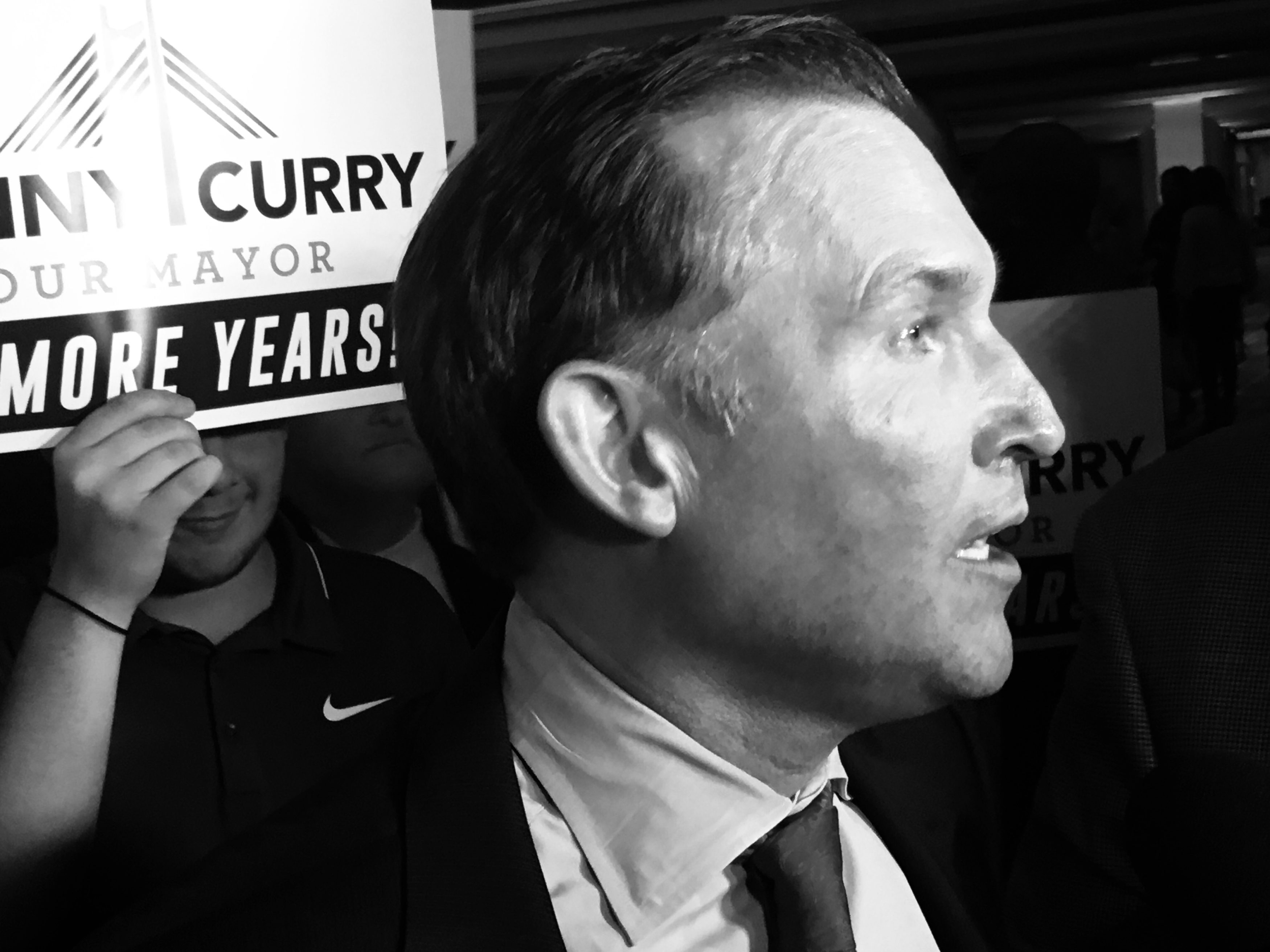 Lenny Curry's machine steamrolled the competition Tuesday.
Tuesday night, as reported, was a night for Jacksonville Mayor Lenny Curry and his political interests.
Not a ton of surprise there. Curry's political machine defined opponents, especially former Council President Anna Brosche, before they even mounted an official operation.
Some lamented that the Mayor didn't fight with Marquis of Queensbury rules. But elections in the Lenny Curry world are bare-knuckle brawl zero-sum games.
That was the context of the race: challenges from aggrieved members of his own party, with a major city's mayoral election held under the rules of engagement of Republican primaries.
Without further preamble, the winners and losers from the 2019 First Election.
—
Winners
Lenny Curry: The critics say he spent too much money: per the Times-Union's Andrew Pantazi, he spent $64 a vote.
However, and this bears mentioning, campaigns are not graded on a curve. There's no "good try" bonus for a Republican who goes to Democratic precincts to wave signs.
Curry said it Tuesday night. It's about planning and having the resources to execute the plan.
He did it on pension reform. He did it in 2015. And he did it now.
"Never say never" was his response when asked if this was his last election.
Indeed.
Tim Baker: Curry's political operative called the race as it happened. His polling models were on point, and there were no surprises for the Curry team last night.
Baker's City Council candidates had a good night also. Apart from Rose Conry, who lost her race in Mandarin, his clients got over. Randy White was re-elected on the Westside. Ron Salem was elected outright. Terrance Freeman and Randy DeFoor move on to a March ballot that will be low-turnout and highly gameable.
Brian Hughes: Though not on the ballot, he was a lightning rod for criticism from the time he took over as Curry's chief of staff last year. Many doubted Hughes' ability to navigate city government. And sure, some veterans on the current City Council complain about tone. That won't be the case after the remodeling job voters are doing now and in May.
Developer interests: Still in the waning days of an economic boom, Curry realizes it's now or never for the Downtown skyline. Projects will move forward: the Jacksonville Landing conversion, the Sports Complex, the Berkman II hotel project, the new JEA headquarters, and others.
People criticize Curry for enjoying the entertainment that comes to town. Lots of concerts, sports events, and so on. But what's clear about Curry's approach to Downtown Development is that Jacksonville needs to become a destination city.
Developers with vision will want to present their best ideas.
Donald Trump: We're going to assume he's running next year. We're going to assume also that he will need, at some point, a big event in Jacksonville. We will assume that Curry, dragged over the coals for emceeing a Trump rally's undercard in 2016, won't be shy about a reprise.
Without functional Democratic opposition, the Mayor can do what he wants now.
Garrett Dennis: Despite Curry dropping over $100,000 on him, committee money supporting a bad opponent who ran at least some of his campaign from a hospital bed, Democrat Dennis got over. Current Council President Aaron Bowman calls Dennis "Mr. Irrelevant." Well, four more years, guys.
Losers
Duval Democrats: The question of "should we run a mayoral candidate every election" has been answered. Apparently, it takes someone at the top of the ticket to drive turnout. Despite a registration advantage, the voter break was R+6. The lack of a mayoral candidate hurt down ticket, with at-large Council candidates Darren Mason and Chad McIntyre defeated outright because of a lack of help, and Tommy Hazouri forced into a runoff against an unknown Republican.
Anna Brosche: Brosche had a unique runway she couldn't exploit, being a City Council President running opposition against the Mayor. She never had more earned media than when she was battling Curry on JEA. Yet she delayed launching a campaign until six months after she dropped the gavel, losing a series of political battles on the dais during her eclipse.
Once Brosche launched, her first move wasn't to define herself for voters who didn't know who she was. Her team floated an attack ad against the "Curry crime wave."
Meanwhile, her team had an interesting way of working the press, such as floating narratives to other media about reporters who asked remotely skeptical questions.
Gaggles, when they were advised, were reminiscent of rushed Rick Scott pressers. Brosche's lead consultant did not trust her candidate with adversarial questions, the kind of thing Lenny Curry has dealt with from this reporter on issues ranging from accepting a donation from the UAE to waffling on the HRO.
Well, Brosche will have a lot more time for media criticism now.
A 34-point loss can't be framed as anything other than the gravest defeat. There are no moral victories, in politics or anywhere else.
When Bill Bishop lost in 2015, he vowed to run for Mayor in 2019, and supporters cheered.
Political capital has a short half-life. Bishop bowed out of a Council at-large race, then squatted in a race in Arlington, where he was the rare Republican to lose to a Democrat.
Is Anna Brosche the new Bill Bishop?
2023 offers a lot of potential candidates: Sheriff Mike Williams, First Lady Molly Curry, Councilman Garrett Dennis, and whoever emerges from the Chamber's invisible primary.
Where is Brosche's lane?
Jack Latvala: I'm sure he thought it was a fine idea to put money into Jimmy Hill's campaign. But he might as well have burned that $25,000.
Local media: No, not the reporters. We were sick of most of these treading-water campaigns a while back. But the corporations that control local media likely were counting on ad buys that will be reduced significantly.
Expect Terrance Freeman, Randy DeFoor, and Tommy Hazouri to have budgets. The other seven candidates in the five races on the ballot? TBD.