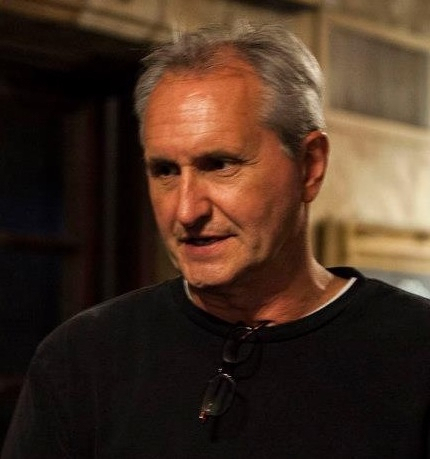 Rob Lorei, News and Public Affairs Director at WMNF community radio in Tampa, was reinstated Wednesday following his abrupt firing by one month ago.
Score one for the people.
Lorei was a co-founder of WMNF 40 years ago and has been its most visible figure. Listeners trusted his evenhanded interviews with community leaders and straight approach to delivering the news.
To many people, Lorei is WMNF. They let station management know how they felt.
The listener-supported station was bombarded with complaints after General Manager Craig Kopp terminated Lorei. Many threatened to withhold financial contributions, critical to the station's survival. More than 3,500 people signed a petition demanding Lorei's return. The station admitted to more than $30,000 in lost pledges.
"I feel like a new man," Lorei said.
David Harbeitner, President of the station's volunteer Board of Directors, announced Lorei's return at 3:30 p.m.
"The Board has reached the decision to reinstate Rob to his role as News and Public Affairs director at WMNF. We believe that both Rob and Craig Kopp, the station general manager, can and should play a critical role in the present and future of WMNF," Harbeitner said.
"This event, unfortunately, has reinforced the value of WMNF and the impact we have in the local community, particularly in regards to news and public affairs. It also has heightened our commitment to support the Tampa Bay community and to give a voice to the underserved."
He later expanded on that with Florida Politics.
"When the grievance comes down to it, it's much focused on the facts that led to the grievance," he said.
"Obviously, we're all humans, and the nerve that was touched was palpable. We're all aware of that. Facts needed to drive the decision, but that doesn't take away from the outpouring from the public. We are not an approver of day-to-day management of the station. Having said that, the board was aware that Craig and Rob were talking about performance-related situations."
Lorei will return to the WMNF air on Monday morning.
"MNF is my life's work. Watching the station grow from an old dilapidated house in Hyde Park where we had nothing, not even chairs or a desk, into what we have now has been amazing. It means everything to me. Even if had been permanently fired, I would have wanted the station to succeed," he said.
"I'm feeling a tremendous debt to all those 4,000 people who reached out to me, came to the meetings, called the station. I don't even know where to begin to thank those people."
More than 150 people turned out Monday for a public meeting with the station's board of directors. The overwhelming majority of comments supported Lorei and demanded his return.
From the start, Lorei contested many of the points Kopp used to fire him. The only point he admitted to among multiple issues Kopp raised was his need to improve social media use.
Lorei said he is willing to what it takes to work with Kopp going forward.
"I made a commitment to the board president that I would," he said. "We're going to give it a go and see if we can work together. I'm certainly willing to try."
Lorei will receive back pay for the time he was away from the station.
He also has a greater appreciation for the depth of social issues in Tampa.
"What do you do when you're unemployed. When you don't have health care? When the paychecks run out? I've known about these problems, but it's different after experiencing even a little bit of it," he said. "I want to recommit to highlighting the stories of people in need and what they go through."