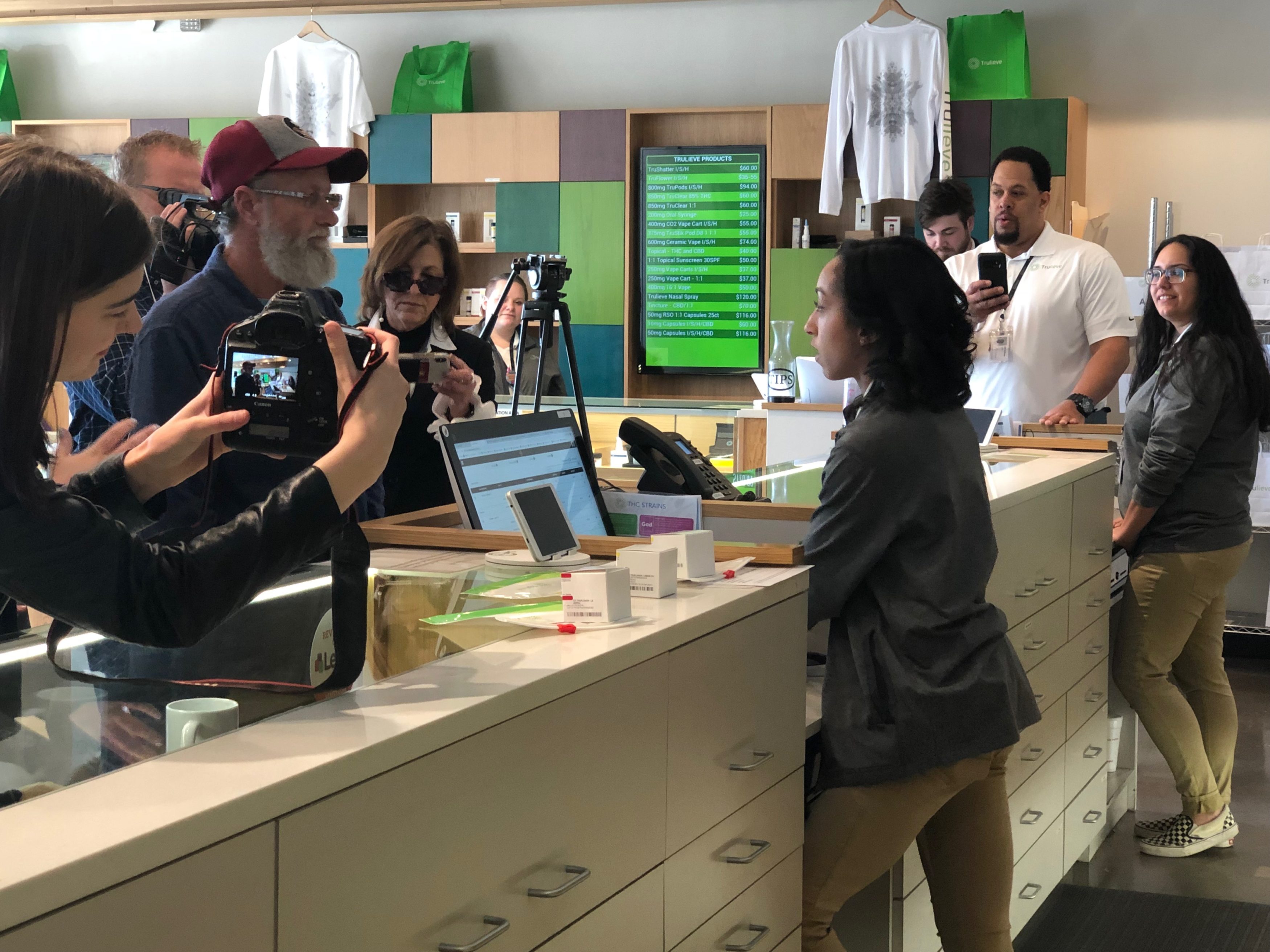 The sale statewide took place at Trulieve's Tallahassee location.
Trulieve CEO Kim Rivers says the company will now offer smokable cannabis at all of its 26 Florida dispensaries after Gov. Ron DeSantis signed a bill allowing the sale of smokable marijuana for medical use.
The company attempted to start the sales Tuesday at its Venice dispensary. Those efforts were tripped up, however, as regulations were still being worked out following Monday's bill signing.
But Rivers now says Trulieve, which has the most dispensaries of any medical cannabis provider in the state, has made the first sale of smokables in the state. The sale took place at its Tallahassee location. Those efforts will expand to Trulieve's remaining locations statewide, including its newest dispensary in Melbourne, which opened Wednesday.
Trulieve's whole flower costs about $10 per gram, or about $280 per ounce. Under the new law, patients can purchase up to 2.5 ounces of marijuana for smoking every 35 days and have a total of four ounces in their possession at any time, if their doctors deem it the proper treatment.
"We are excited about the opportunity to sell whole flower smokable products to patients in Florida and honored to be the first company in Florida to do so," Rivers said.
"Offering these whole flower products to our patients in their purest, most effective form is something we — and patients — have been looking forward to since we opened the doors of the state's first dispensary."
The company says the first sale was based off a recommendation from Dr. Cheryl Fee, who is based in Tallahassee.
"It's an honor to be a part of the first sale and provide patients that need it this smokable whole-flower option," Fee said.
Trulieve's first whole-flower cannabis customer was Doug Dixon, a North Florida man who's struggled with fibromyalgia for years.
Rivers joined the 59-year-old patient and a handful of reporters who watched as Dixon purchased "Tru Flower," a treatment he hailed as a safer and healthier alternative to prescription drugs he once used to combat pain he suffers.
"I smoked back in my 20s, and when I was in my 30s I quit. That's when I got put on pain pills and muscle relaxers, when I didn't smoke then. When this came out, it was a good opportunity," Dixon said.
Dixon, a Crawfordville construction worker who was already purchasing other cannabis products at Trulieve, said he plans to smoke the whole flower in joints, a medicine he had been confident would "one day" be legalized.
"I didn't know if I would ever see it in my time. But it is good to see it. It is good to have the alternative. These pharmaceuticals are killing people. I have lost so many family members," he told reporters.
Although Trulieve was the first to receive approval from the state Department of Health to sell whole flower, other medical marijuana operators are racing to get authorization in an industry that has rapidly expanded since marijuana began being retailed in January 2018.
"We do expect that there will be an increase in the Florida market. I don't know that we'll see as much of a shift of current patients, as we will patients who have not been medical patients up to this point, entering the market because they now see a product that they are attracted to and that works for them," Rivers said.
The move to allow a smokable form of medical marijuana comes after 71 percent of voters approved an amendment legalizing the treatment in 2016. Legislators followed up with a ban on smoking it, however.
That ban was challenged by the courts before Gov. DeSantis took office. He pushed the Legislature to repeal that ban, which culminated in Monday's bill signing.
Trulieve will begin by offering smokable whole-flower buds, but it plans to offer other forms as well, including pre-roll.
Rivers says despite Tuesday's hiccup in Venice, she remains thankful to officials for the quick turnaround in allowing smokables to get to marker.
"Thank you to Governor DeSantis and the Legislature for taking up and approving smokable products in Florida and special thanks to the Department of Health and the Office of Medical Marijuana Use for their quick action to make today a reality for patients in need," Rivers said.
___
The News Service of Florida contributed to this post.