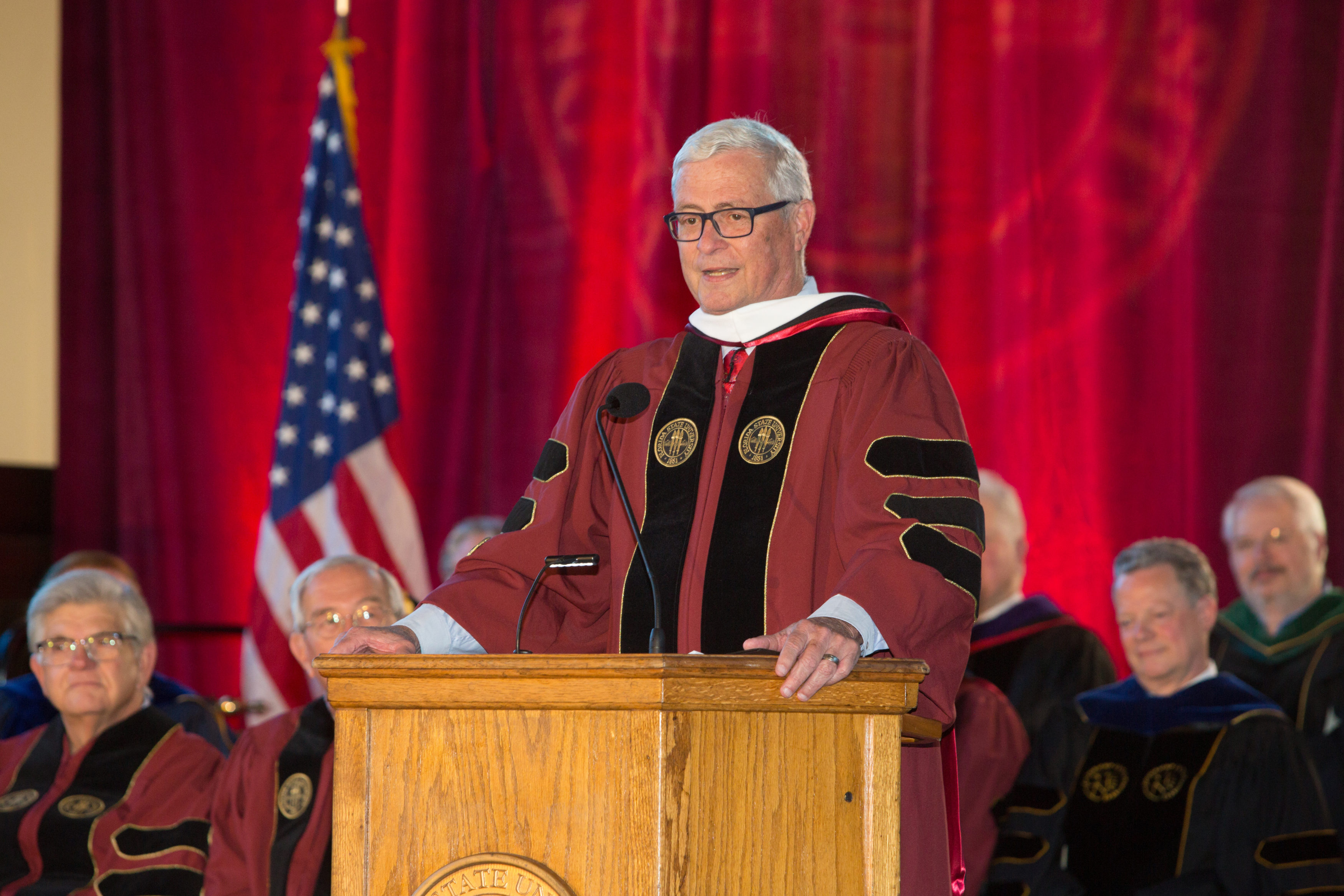 It's the former House Speaker's third FSU degree.
Brass horns, old friends and high praise met Allan Bense at his alma mater to recognize the power broker who is said to give and expect nothing in return. 
Florida State University on Monday bestowed the Republican former House Speaker with an honorary doctorate in humane letters, recognizing the accomplished businessman's philanthropic and public-service efforts. Only 130 honorary degrees have been conferred since the school's inception in 1851.
The event was a culmination of an unlikely life trajectory that's always been tied to the university.
Bense grew up on a dairy farm in Panama City. Before serving in the House and later on the FSU Board of Trustees, he attended the school, receiving an undergraduate degree in 1972 and a Master of Business Administration in 1974, when he had worked as a janitor at the Old Capitol. 
"In 2004, I became Speaker of the House," Bense said, contrasting the 30-year difference. "This is America; it's America. You can do whatever you want to do, accomplish whatever you want to accomplish."
In attendance were nearby U.S. Rep. Neal Dunn, Attorney General Ashley Moody, and former Senate President Don Gaetz. Secretary of State Laurel Lee, wife to Sen. Tom Lee (who had served opposite of Bense as Senate President) also joined. 
As one of the few Democrats at the conferral, former Congresswoman Gwen Graham told Florida Politics that there's a need for people to follow in Bense's footsteps.
"In our world of divisive politics, we need people like Allan Bense who are able to bring people together," Graham said after the event.
Speakers at the ceremony had similar remarks. 
Stan Connally, CEO of Gulf Power, recalled Bense's bout of Guillain-Barré syndrome, which affects the nervous system and can cause paralysis. He beat that, Connally said, and is now focused on his latest challenge: Hurricane Michael recovery.
Connally added that Bense, a board member at Gulf Power, never asked for favors after the storm, which hit Northwest Florida last year. 
"He never made that phone call," Connally said. "His phone call was, 'What can I help you do? How can we do better as a company to make this community better?'"
Mike Cazalas, managing editor at the Panama City News Herald, told the audience that Bense often calls the newspaper after reading stories of people in need, sending checks — sometimes blank — to help the subjects of the articles.
"I could fill this room with families and children and the people who [Bense] has done that for over the last five years," Cazalas said, "and he has never asked me for a thing."
"I've seen Allan at the peak of power," said Will Weatherford, a former House Speaker and Bense's son-in-law. "I've seen him experience wealth, and his humility has never ventured off course."
Bense served as Speaker from 2004 to 2006. His public service later pivoted to university trustee.
"When I think about our state, and I think about Florida State University, our state is better because of Allan Bense," said Ed Burr, who had succeeded Bense as Trustee Chair. "Florida State University is better because of Allan Bense."
A special university committee had nominated Bense for the degree. University President John Thrasher, another former House Speaker, ultimately conferred the honor. 
The event doubled as a chance for the two to trade compliments and stories.
Bense recalled being inspired by Thrasher's leadership as Speaker. Thrasher called Bense an "incredibly generous person" to the university.
Bense remembered carrying a controversial bill for Thrasher only to watch it get stalled in the Senate. He also reflected on legislative negotiating, tagging relative insignificance to the annual fights that plague the House and Senate.
"You don't have to win every battle," Bense said. "It's not about winning in life; it's how you win."
Bense, who had voted on the hiring of Thrasher as university president in 2014, acknowledged the controversy that surrounded the pick.
"Everybody in this room remembers that was an incredibly painful process," Bense said.
But Bense noted that institution had done well under Thrasher, most recently securing the No. 26 spot in U.S. News & World Report's public university rankings.
"He's done an absolutely phenomenal job," Bense said.