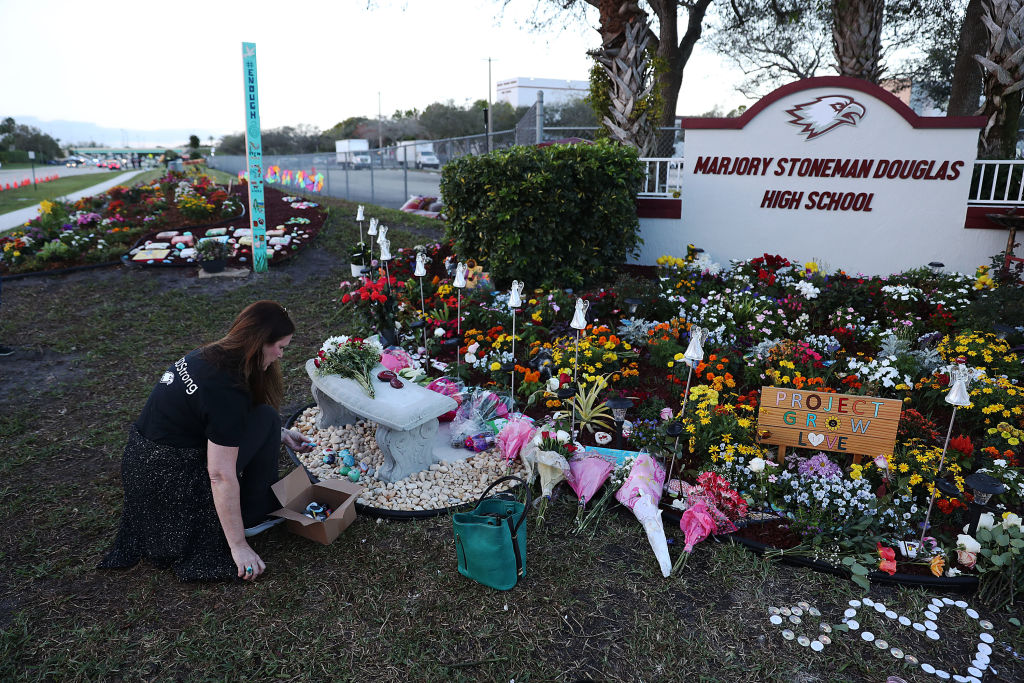 We see this GOP reaction about guns every time, though.
Arming some public-school teachers is a horrible solution to a serious problem, but when has that ever stopped the Florida Legislature?
Once they are fixated on an idea, they never let it go.
The lawmakers' insatiable lust to introduce guns into public schools is like a virus for which there is no antidote. We see the latest example of their insidious love for high-powered weaponry playing out now in Tallahassee.
Two bills with similar intent are winding through the House and Senate. They will almost certainly pass, and Gov. Ron DeSantis has already signaled his support to sign it into law.
"If you're somebody who's working at a school and you're somebody who's trained and who has the ability to do it then you shouldn't be precluded from carrying a firearm that could potentially deter people," DeSantis said recently.

Look at that statement again.
IF you're at the school, and IF you are trained, you could POTENTIALLY deter a shooter with bad intent.
Or, you could turn a tense situation worse and kill or maim innocent victims. That is the more likely scenario.
Republicans say they would leave it up to school districts to decide if they want to allow teachers to carry guns. They want to give the option.
It's still a horrible idea.
"I have hundreds and hundreds of emails and phone calls from parents and teachers and instructional resource folks that don't want teachers to be armed. Who are we listening to?" said state Sen. Janet Cruz, a Tampa Democrat.
They're listening to their own echo chamber that keeps repeating arming schoolteachers is the answer.
A Florida Atlantic University poll in February showed 51 percent of voters oppose allowing teachers to carry weapons on campus, while 37 percent approve. Other polls have shown residents want stricter gun laws, particularly for weapons like the one used last year in the Marjory Stoneman Douglas High School slaughter.
Florida Republicans ignore things like that. The easy answer is that many of them are in the pocket of the National Rifle Association. I think it goes deeper than that though.
Supporters of laws like the ones proposed believe it will help stop the next Stoneman Douglas massacre.
They make many assumptions though. I guess that's because many of them haven't been in a public high school for anything more than a Career Day since they graduated.
A large school like Stoneman Douglas has a lot of stuff going on all the time. During lunchtime or changing classes, it can be loud and chaotic. In some schools, fights can break out in the cafeteria. Students get sassy with teachers and each other.
That creates stress that most of us can't imagine. It's nonstop from the first bell to dismissal.
Now, introduce the unthinkable into the mix.
The Republican ideal is that the teacher will quickly size up the situation and take out the perpetrator before blowing the smoke from his or her gun barrel.
Maybe.
Or, more likely, the teacher will fumble for the weapon and fire at the first thing that moves.
Better hope it's not a student or another teacher.
We see this GOP reaction about guns every time, though.
Opponents warned that enacting a "Stand Your Ground" law could cause more problems than it solved. It passed anyway.
Since then, there have been numerous examples of situations that could have ended with no violence turning deadly instead because a shooter claimed to be afraid for their life.
Lawmakers shrug that off and keep looking for the next place to introduce guns. Florida schools must have armed security in the wake of the Parkland disaster. That isn't good enough.
They want more, more, more guns.
That's how we got the brilliant idea of arming schoolteachers.
Will they learn that when guns are the problem, adding more of them makes it worse?