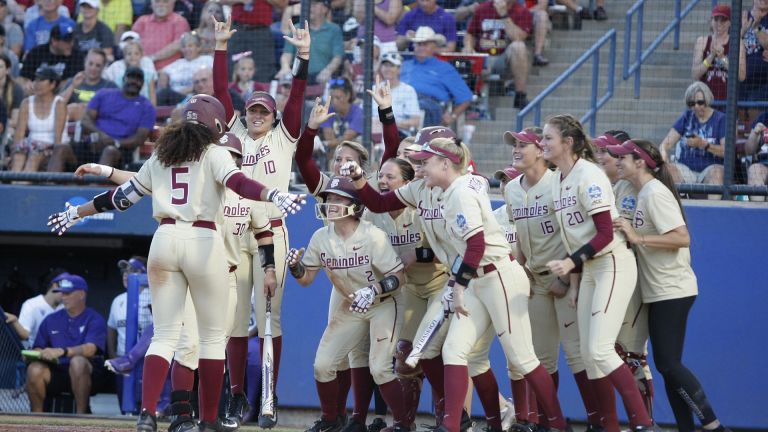 FSU won the NCAA Women's Softball Championship in June.
Debate usually presides as the sport of choice in the Florida Capitol. But will the Legislature come together to root, root and root for a winning home team?
State Rep. Mel Ponder on Friday introduced a House resolution cheering the Florida State Seminoles for winning the 2018 NCAA Softball Championship.
The bill (HB 8025) slides into consideration a good bit into Session. Yet it seems somehow unlikely even die-hard Gators will vote the legislation down.
Ponder's bill notes the Seminoles' history-making victory over the Washington Huskies in June. It celebrates the roster as FSU's first national championship in softball, its standout players by name, and notes a few other broken records.
While the resolution hasn't been scored financially, the Seminoles slid their way to victory before. Just check Dani Morgan's stats. The sophomore stole seven bases during the NCAA tournament this year, a Women's College World Series record.
If Ponder faces any trouble advancing the legislation, he may call Elizabeth Mason to pinch hit. The sophomore advanced eight runners in the tourney, setting her own World Series record.
Then there's Meghan King, the pitcher who posted a record 0.20 earned run average. That's a set of three individual Series records listed in Ponder's bill.
And Ponder doesn't ignore Jessie Warren, whose 13 base hits tied a standing tournament record.
The team already enjoyed honors both as a team and in many cases individually. Warren, King, Mason, Anna Shelnutt and Sydney Sherrill all were named as NCAA all-stars for the tournament.
Warren also earned the title of ACC Player of the Year. Sherrill was named conference Freshman of the Year.
There's plenty of trophies, medals and certificates to fill up mantles and cases at home. But soon, the Seminole players will also have their names in the state records as well as the record books.
And FSU President John Thrasher, a former state Senator, might have a happier reason than normal to revisit chambers at the Capitol.