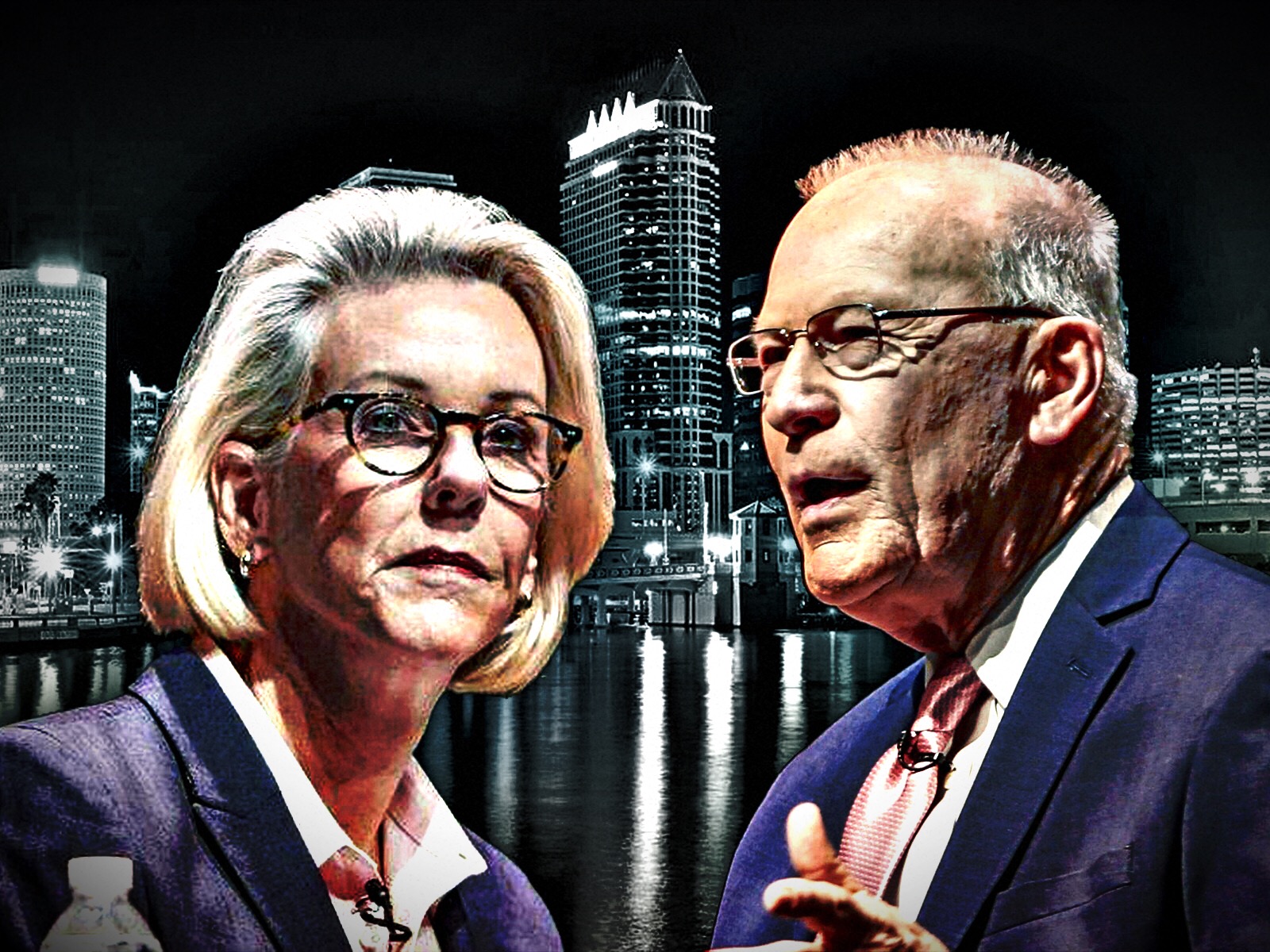 Straz posted a video defending himself against claims that he's lying.
David Straz is firing back at Jane Castor for firing back at him for saying she's a liar.
He said. She said. And now he says again. It's basically a metaphor for the entire mayoral runoff.
Straz posted a two minute video defending himself against Castor who recently said his campaign was spreading lies about her track record as Tampa Chief of Police.
The kicker: He had just got done calling her a liar.
"My opponent has a new TV ad stating I'm running a negative campaign and our ads are not true," Straz begins his latest video. "They are true."
Straz specifically references claims his campaign has made against Castor including that she is double-dipping at taxpayer expense, that she manipulated crime statistics to make it look like crime rates had significantly dropped and that she supported policies that promoted racial profiling.
"Biking while black, that happened on her watch and she never formally apologized for it," Straz said. "Consolidating crimes to make things look better than what they were, it's deception, according to police officers we spoke with, and a 70 percent crime reduction didn't actually happen."
But don't take his word for it, Straz said. Head on over to a new website his campaign, through its Tampa's Bright Future Electioneering Communications Organization, created laying out "the truth about Jane." Like his campaign, Straz is also self-funding that organization.
The site addresses three issues: Castor's campaign claim that crime rates in Tampa dropped 70 percent, in part, on her watch, that she's the reason Tampa has red light cameras and that she's double-dipping. The site has some citations, but fails to further prove some of its claims.
The site features two videos of former Tampa police officer Gary Pruitt explaining why he thinks Castor manipulated crime statistics to make crime rates appear lower.
Pruitt offered no actual proof for his claim and an expert hired by the Straz campaign who said his accusations made sense didn't actually review the data.
Pruitt explains the agency changed the way it filed police reports to bundle similar crimes into one report, making it look like just one incident even if there were multiple victims. The dates he offered, in the early 2000s, pre-date Castor's tenure as police chief.
Straz addresses that in his video: "That practice may have started before she was chief, but she was still second in command," he said.
On red light cameras, the new website says Castor "pushed for the first red light camera contract in 2011 and then fought to renew it in 2014." It also claims the cameras led to "more tickets, rear-end accidents and unwanted surveillance."
The website offers no citations for its claims.
It's true that Castor supported red light cameras and still does.
While it's not clear where the Straz campaign got its information about rear end collisions, a Florida Department of Highway Safety and Motor Vehicle analysis found crashes at intersections that had red light cameras went up and, in Tampa specifically, there were more red light violations in 2017 than there were before cameras were placed at certain intersections.
But that study only looked at four of Tampa's 55 intersections with cameras and it doesn't take into account the increase in overall traffic since the cameras were implemented in 2011.
The site's double-dipping claim calls it a "self-serving approach to government." It cites Castor's 2014 rehire as police chief after she had retired and begun collecting her $113,000 annual pension. In that case, Mayor Bob Buckhorn asked her to return to her duties as a civilian employee.
The Straz campaign did not reference that in its initial claim and instead said that Castor would be double-dipping if she were elected because she would continue collecting her police pension while also collecting the $160,000 Mayor's salary.
The website is still, apparently, a work in progress. It initially included a fourth claim about Castor's alleged support for racial profiling. An image of an ad Straz previously mailed to voters criticizing Castor for the city's "biking while black" policy that ticketed bicyclists for minor infractions linked to a broken webpage. The image has since been removed entirely.
The Straz campaign did not respond to a question about whether or not it had removed the page intentionally.
The campaign mailer previously shown on the page included a photograph of Castor wearing the thin blue line mourning badge officers don after an officer is killed in the line of duty. The photo was reportedly taken in the immediate aftermath of two Tampa Police officer deaths that rocked the city in 2010 and led to a nationwide manhunt for the killer.
The wife of one of the fallen officers publicly criticized Straz and his campaign for using the image saying it was insensitive.
"All of this is true, proven by facts," Straz ends his video. "I'm sorry if the facts reflect negatively on you, Jane, but voters deserve to know the truth."
"Every day is a new negative attack. Is he ever going to unveil a vision or any ideas for Tampa?" Castor campaign manager Tim Wagner said of Straz's latest.