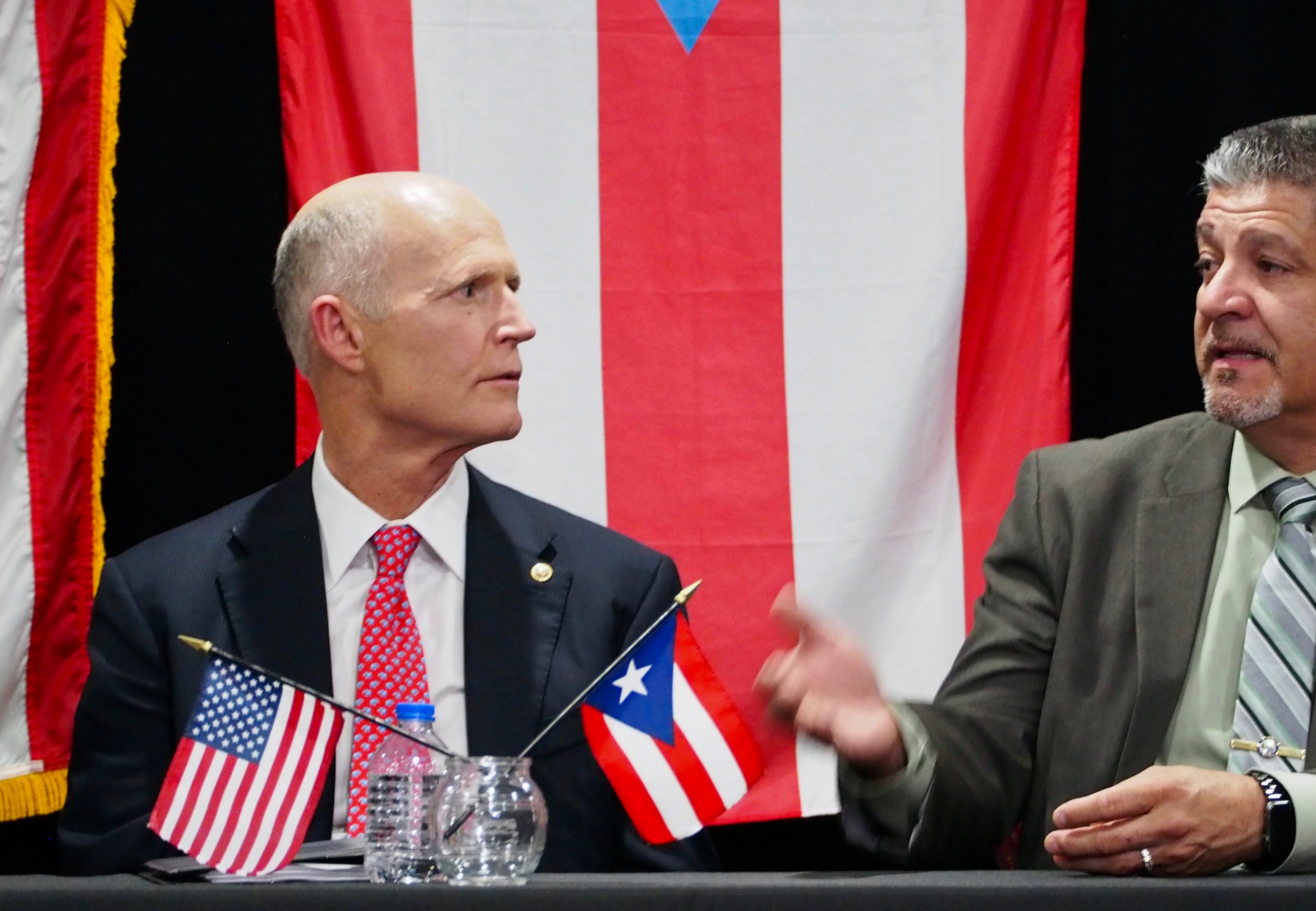 "Let's get done whatever we can get done."
U.S. Sen. Rick Scott told a gathering of Central Florida Puerto Rican leaders on Friday that he's working all the federal agencies, trying to free up Hurricane Maria relief money any way he can.
He's also trying to convince Democrats to support his push for an additional $600 million in food aid.
At a roundtable meeting at the Mision La Cosecha Church in Orlando Friday, Scott said he has been reaching out to federal agencies to free up money already appropriated, and said at least they are taking his calls.
But he also acknowledged his limited power.
"As a Senator, you can't have an impact on how the federal dollars are directed or how an agency works with somebody. You really can't. I've tried to work hard to build relationships with all these cabinet agencies. Whether they like my calls, they take them," he said.
In some ways, Scott finds himself bucking the politics, policies and statements of President Donald Trump, whose tweets and public statements about Puerto Rico have been less than supportive, and whose administration has held up most of the $41 billion in disaster relief funding allocated for Puerto Rico, charging lack of accountability by the island's government.
For the roundtable, Scott sat down with a mostly — but not entirely — gathering of Republicans, mostly — but not all — Puerto Ricans living in Central Florida, such as former state Rep. Bob Cortes, and former Kissimmee Commissioner Wanda Rentas.
Yet even here, there were expressions of frustration about Washington's response to the island, and the limited assistance for tens of thousands of Puerto Ricans who have resettled in Central Florida because Hurricane Maria made the island's life and economy difficult.
Businessman and church leader Peter Vivaldi suggested Scott convince Trump to come down to Central Florida to meet with Puerto Ricans, "to help him understand."
Scott called it a "good idea" but said the way to do it might be to "do it in D.C." Vivaldi said afterwards that if Scott can convince Trump to hold an audience with Puerto Ricans from Florida, they could arrange to get to Washington.
"When I agree with the President I'll agree with the President. When I don't agree with him I won't agree with him," Scott said after the meeting, when asked about Trump's recent statements dismissing Puerto Rico.
"I think one of the things we all want to do is see that the money already allocated to Puerto Rico actually gets to help families, whether for doing infrastructure or nutrition money or whatever it is. Whenever anyone brings that up to me I say, 'Let's make sure we have good accountability but let's get it done.' "
As Florida's Governor till January, Scott had made eight trips to Puerto Rico after Hurricane Maria hit the island in August 2017.
He made another one as a Senator in February. He met repeatedly with Puerto Rican leaders in Florida — many of the same who attended Friday's roundtable — and fast-tracked state aid to the diaspora through executive orders.
So he received praise and applause for his efforts from those attending Friday's roundtable. They sought Scott's help as someone they have faith in.
Scott also touted amendments he introduced to a Senate spending bill that would provide $600 million in additional money for nutrition aid, and he charged that Democrats are blocking the bill.
The Democrats contend that more money is needed. But Scott argued that the amount in his bill is something Trump is willing to support, so it's a more realistic, first step.
"I'm an incrementalist. Let's get whatever we can get done (now) that we know that the President is going to sign, and then keep working," Scott said.
"What I've been trying to do is keep working with each of the federal agencies to get things move things forward," Scott said to the media later. "And try to get people focused on results. And as a Senator, try to get the nutrition money which Puerto Rico needs, the $600 million.
"So I'm going to try to keep working, agency by agency, to get things done. I work with the elected officials over (in) Puerto Rico… just to try to keep solving problems."
Scott bristled a bit when asked if he could support statehood, turning the question to discuss the Puerto Rico statehood bill that Democratic U.S. Rep. Darren Soto of Kissimmee filed, saying that Soto never bothered to call him.
But he expressed support for statehood because that is what Puerto Ricans have said they want in plebiscites.