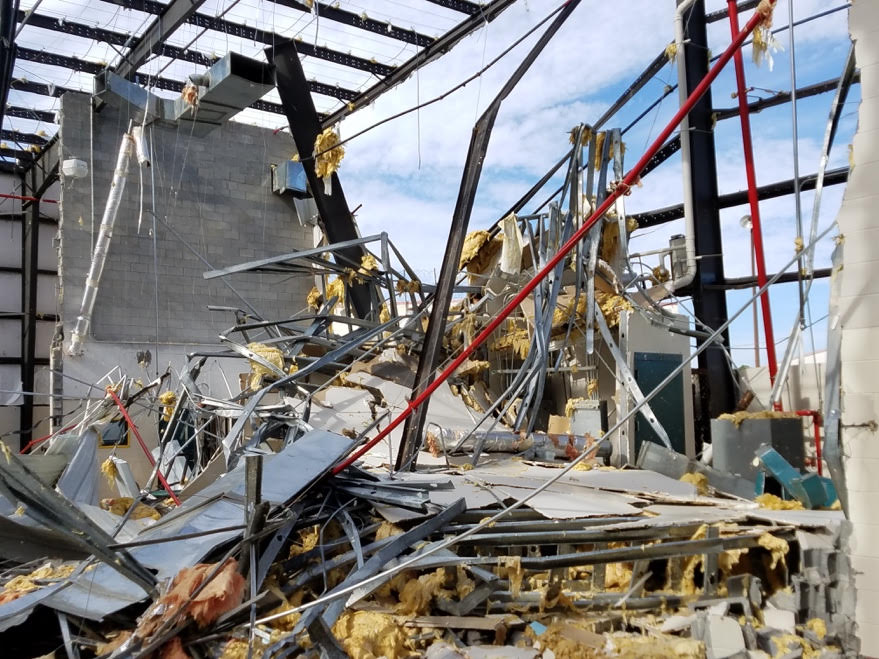 The documentary will study the lasting damage of the historic storm.
For much of the world, the images of Hurricane Michael quickly became a far-off memory. But the consequences of the storm remain close to home for Matthew Farrar.
The 33-year-old, co-founder of Tallahassee marketing firm Strategic Digital Services, today rubs shoulder with political elites. But before that, he was a Panama City kid who graduated from Bay High School. He knows the storm changed his community in countless ways.
Now Farrar plans to recount that transformation in the documentary film "Scarred."
Michael physically changed the look and lay of the land in Bay County: "The community looks vastly different than it did on October 9," Farrar said.
The hurricane made landfall on Oct. 10. Farrar plans to launch his filmmaking effort on Wednesday, the six-month anniversary of when the storm struck.
The storm took a toll in wrecked homes and lost lives—not all of them part of any official death count.
"I think of my family, huddled in a hallway under mattresses during the storm," Farrar said.
That includes his grandfather, Bob Higdon, who hid with Farrar's mother, sister, brother-in-law and niece.
Higdon survived the storm, but died a few months later.
"He wasn't hurt," Farrar said, "but it accelerated the dementia and health problems he had. That's part of the story, the indirect harm of the area that maybe isn't a direct result of the storm, but it's part of the story."
The memory of his grandfather serves as a driving force in Farrar's new cinematic effort. But it's just one of many connections to the region that will serve the fledging filmmaker in the months ahead.
Farrar hasn't ever made a full-length documentary, but the Strategic Digital Services shop does a tremendous amount of work in-house. That includes video production, providing Farrar access to equipment and professional expertise.
He will serve as director for Scarred, but expects to lean on resources around him for help: "It's an opportunity to take our gear and talent and put it forth to a good cause and to tell this story," he said.
The hope is to find stories that have gone unnoticed by a national audience whose attention moved to the next disaster. Through his personal connection in Panama City, he's already been offered numerous stories to write about.
Individuals still living in tent cities six months after the storm. Neighborhoods that rallied together to keep a community intact. Proms rescheduled in public parks because every venue in town lay in rubble.
"With my ties to the Panhandle, everyone I know, without exception, has someone that wants me to talk to or who wants to be involved in the film in some way," Farrar said.
Every story can't be told in full in a documentary lasting maybe 50 minutes, Farrar said. But he plans to release a podcast alongside the film for those who want to hear full interviews with subjects. He expects there will be plenty of tales to tale.
The Panhandle region remains dotted with hospitals still not in full operation, businesses unable to open because of physical and economic damage.
Thousands of people left the area, many of whom will never return. And Farrar understands. That home where his family huddled? His mother sold it to contractors to rebuild. It just made the most economic sense.
Farrar hasn't decided exactly how to distribute the film yet. It could end up going to documentary film festivals, or may be released online. He said his main objective isn't finding a way to make a profit, but telling the story to as many people as possible.
He's considering a Kickstarter campaign to help with production costs, and may also sell merchandise. At the moment, he expects to spend two months filming and another three in post-production.
His goal isn't to turn a profit. Any money that might be made will go to help nonprofits helping the region rebuild.
"For me, it's important enough that even if nobody gives us a dime, we will see it through to the end," Farrar said. "The point of this isn't to make money."