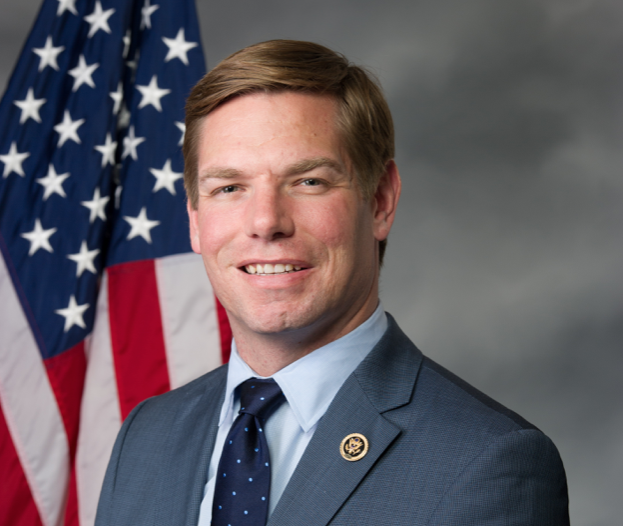 [It's] 'banning and buying back all 50 million assault weapons.'
Where's a hot spot that's left to kick off a campaign if you're the 18th major Democrat to announce a 2020 candidacy for president?
How about Sunrise, Fla.?
U.S. Rep. Eric Swalwell of California is kicking off his newly-announced candidacy tonight by attending a gun control town hall meeting in the Fort Lauderdale suburb a few miles from the site of the horrible 2018 massacre at Marjory Stoneman Douglas High School.
Swalwell, whose congressional district is in northern California, wants to ban and buy back assault weapons.
Technically, Swalwell kicked off his candidacy Monday night on CBS's "The Late Show with Stephen Colbert". But the  Town Hall to End Gun Violence with Parkland-area families at the BB&T Center will offer his first public appearance as a candidate. It's the same place Florida's Republican U.S. Sen. Marco Rubio and Democratic U.S. Rep. Ted Deutch of Boca Raton went after each other in the infamous CNN-televised town hall a few weeks after 17 students and teachers were massacred at the high school.
The son of a retired police officer, Swalwell made it clear on the Colbert show that he's starting his campaign talking about gun violence.
"Too many kids are dying and nobody in Washington is doing enough about it," Swalwell told Colbert. "And so I'm bringing my wife and son Nelson and daughter Cricket were going down there and talk to these kids. They've already figured out what the solutions are. It's background checks, investing in gang violence prevention programs, and banning and buying back all 50 million assault weapons out there. We've got to do that first."
Swalwell is founder and emeritus chair of the caucus for young, Democratic members of Congress, Future Forum, which is now chaired by Democratic U.S. Rep. Stephanie Murphy of Winter Park.  [Murphy already has endorsed former U.S. Rep. Beto O'Rourke of Texas.]
"I've been in Congress for six years. I see an America in quicksand, making zero progress on anything that matters. I hear from school children who are learning in fear because too many lawmakers love their guns more than they love our kids," Swalwell stated in a news release issued by his new campaign. "We can no longer count on the same old people to solve the same old problems. Nothing will change until we have a leader who is willing to go big on the issues, be bold with solutions, and do good in governing."
"So we will go big, be bold, do good, to bring the promise of America to all Americans," he added. "The promise is a simple one: if you work hard, your blood, sweat, and tears should add up to you doing better for yourself and dreaming bigger for your kids. That's why I'm running for President."
Swalwell, 38, is co-chair of the House Democratic Steering and Policy Committee; founder and chairman emeritus of Future Forum, House Democrats' millennial engagement group; chairman of the Intelligence Modernization and Readiness Subcommittee of the House Permanent Select Committee on Intelligence; and a member of the House Judiciary Committee.
He joins a Democratic presidential field already crowded by O'Rourke, U.S. Sens. Bernie Sanders of Vermont; Kamala Harris of California, Elizabeth Warren of Massachusetts, Corey Booker of New Jersey, Amy Klobuchar of Minnesota, Kirsten Gillibrand of New York; South Bend, Ind. Mayor Pete  Buttigieg; U.S. Reps. John Delany of Maryland, Tim Ryan of Ohio, and Tulsi Gabbard of Hawaii; former Colorado Gov. John Hickenlooper; former Massachusetts Gov. Bill Weld; Washington Gov. Jay Inslee ; former U.S. Housing and Urban Development Secretary Julian Castro of Texas; and others.