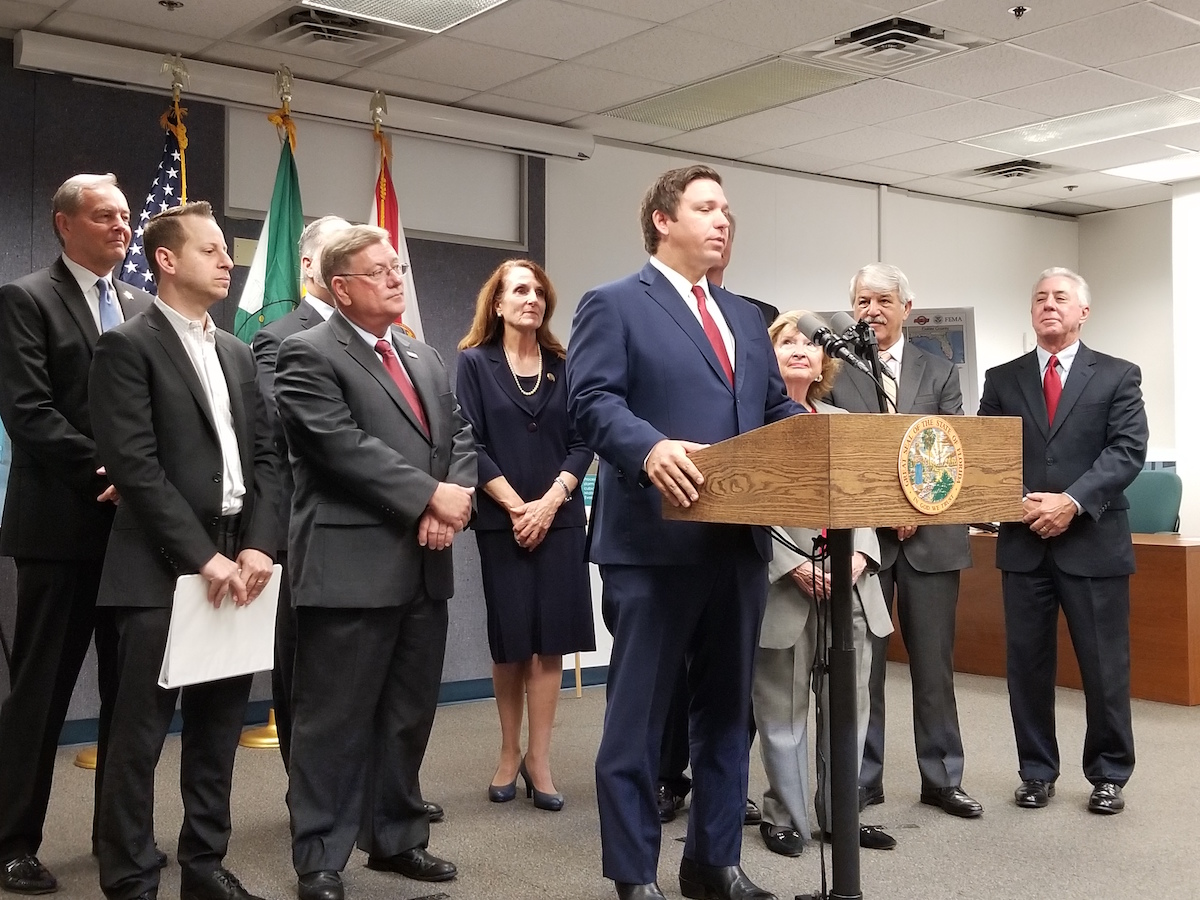 Governor says new policies will deliver reimbursements faster in future.
Gov. Ron DeSantis arrived in Naples on Tuesday with almost $41 million to reimburse the community for Hurricane Irma recovery.
"You are always welcome in Naples," said Dan Summers, Collier County Emergency Services Director. "But you are especially welcome when big checks come from Tallahassee."
But DeSantis also promised to streamline financial support for local communities so that no one must wait 19 months for support. Collier County until now had received $11.7 million related to the 2017 storm.
State officials have worked to speed up payments to areas struck in October by Hurricane Michael, for example.
"We can't be doing this bureaucracy non-stop," DeSantis said. "We need to get this money to folks quicker."
Since DeSantis took office, some $116 million before Tuesday moved through the Division of Emergency Management related to Hurricanes Michael, Irma, Matthew and Hermine.
Emergency Management Secretary Jared Moskowitz said the biggest shift in state policy regarding reimbursement for Michael involved auditing.
For communities struck by Michael, half the state assistance dollars were given quickly, and the state will audit the use of dollars later.
"There is more risk involved, obviously, with it expedited," Moskowitz said. "But it's only a portion of the money, so if we run into issues later on, we can deduct that from the remainder."
Had such a procedure been in place after Irma, Collier County would have received some $20 million in reimbursements months ago, and the rest of the dollars could have come in as auditing occurred.
It's all change DeSantis and Moskowitz have addressed with state administrative funding.
But DeSantis would like to see more streamlining with federal dollars as well.
The former U.S. Representative noted that Hurricane Matthew hit his district in 2016.
"Congress needs to evaluate the way things are done," he said, but he expressed little optimism that will occur any time soon.
Regardless, DeSantis noted that as Michael and even Irma recovery continues, another hurricane season looms. He's hopeful disaster relief tax holiday legislation reaches his desk.
Another hurricane season starts June 1, and the governor urged Floridians to properly prepare in advance of potential storms.