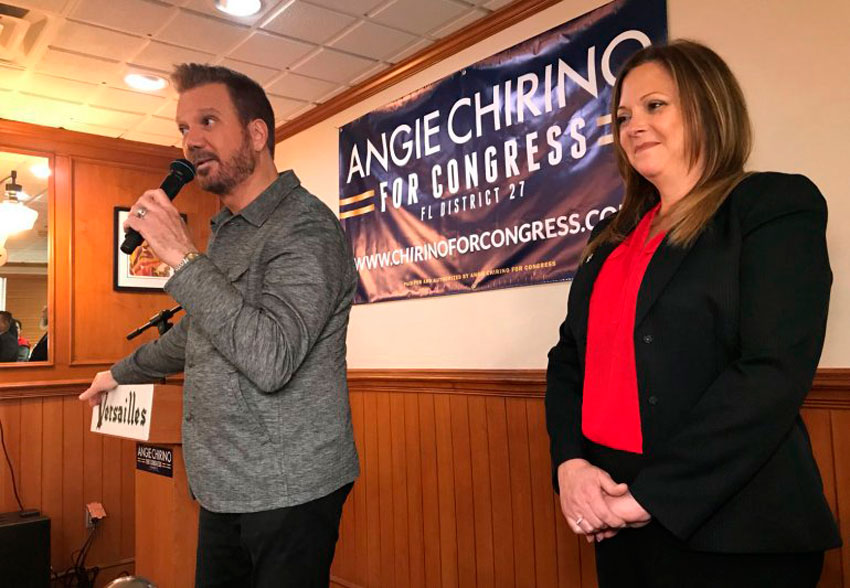 Chirino ran for Congress in CD 27 in 2018.
Angie Chirino, a singer and former congressional candidate, is the first Republican to join the 2020 contest for Senate District 39.
Chirino announced her run in an email blast Tuesday afternoon. Sen. Anitere Flores, who represents the district, is term-limited in 2020.
"I know this community extremely well," Chirino said in a statement launching her campaign. "District 39 is full of extraordinary people, and my diverse professional background has thoroughly prepared me to be a strong voice for all residents of our community."
Chirino isn't new to politics, having angled in 2018 to replace former U.S. Rep. Ileana Ros-Lehtinen in Florida's 27th Congressional District.
She was defeated in a crowded Republican primary by Maria Elvira Salazar, who went on to lose to Democrat Donna Shalala in November.
Chirino is also the daughter of Cuban singer Willy Chirino, who also worked to promote human rights in Cuba.
"It's vital that we do everything possible to give the next generation of South Floridians the best start in life, especially those from challenging backgrounds," Chirino said.
"One of the best ways we can do that is to address critical quality-of-life issues. For too long, South Florida families have been forced to spend too much of their valuable time stuck in traffic and too much of their hard-earned money on tolls.
"I plan to be a tireless advocate for effectively addressing this issue as well as for state policies that protect our seniors and the beautiful environment we all enjoy.
"There's no question these are tough issues, but I believe working together, we can strengthen our economy and make sure South Florida continues to be the best place to live in the country."
The Republican candidate has also worked for the Voices For Children Foundation, serving children in foster care through the Miami-Dade Guardian ad Litem program.
Chirino joins Democratic candidate Anna Hochkammer in the SD 39 contest. Though no other candidates have filed so far, the open contest is set to draw more attention before 2020.