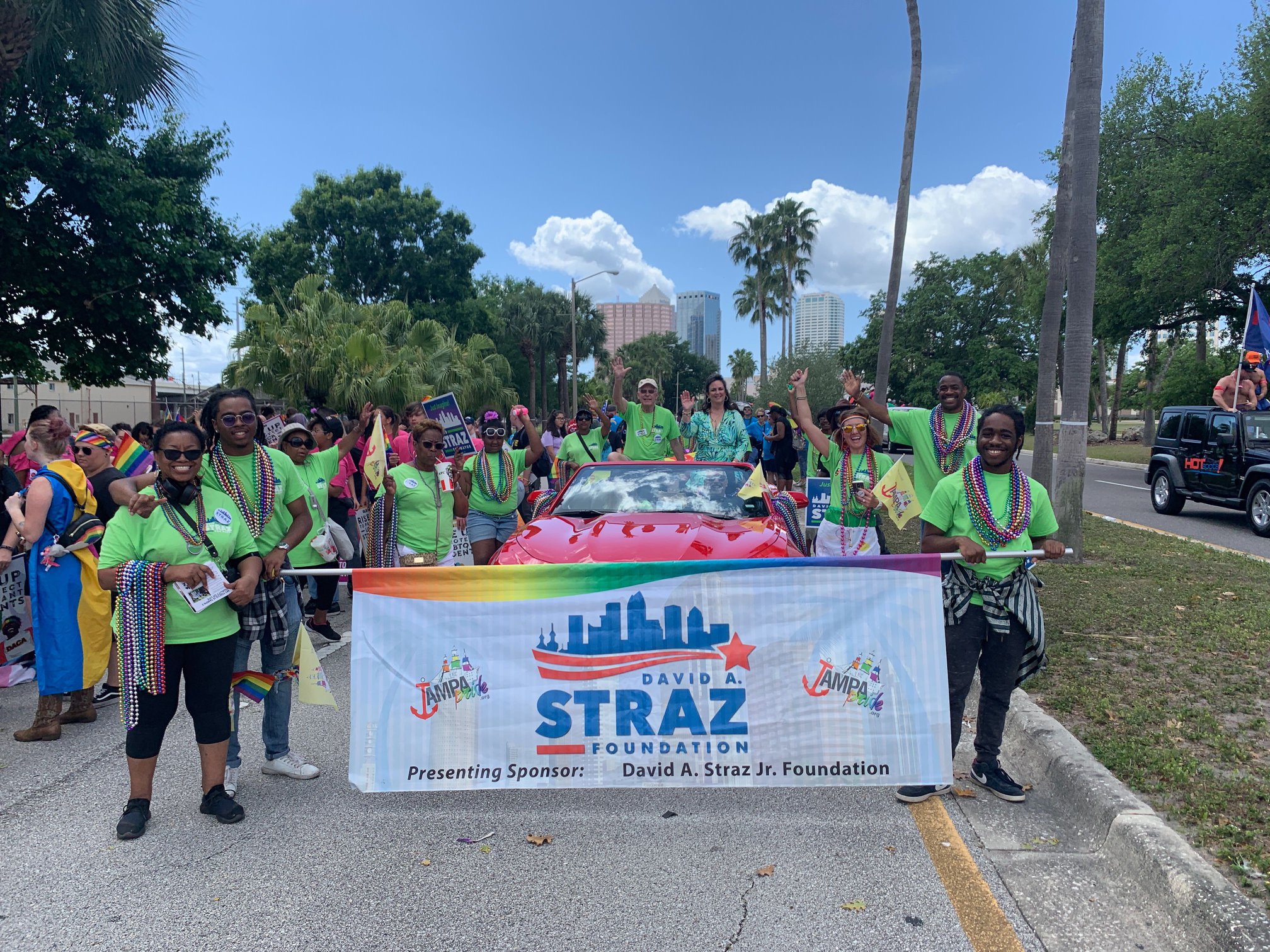 The IRS bans nonprofit organizations with tax-exempt status from engaging in political activity.
David Straz's charitable foundation might have put its tax-exempt status in danger last month when it participated in the Tampa Pride Parade in Ybor City.
The David A. Straz Foundation was a presenting sponsor for the parade. That's no big deal, but the people carrying the foundation's banner are.
A group of about a dozen people supporting Straz in his mayoral bid carried the sign clad in the neon green Straz for Mayor shirts. Some wore campaign buttons supporting Straz's campaign. Others carried Straz's "Just Imagine" campaign signs.
They walked in front of and alongside Straz and his wife who were proudly waving to people along the parade route perched atop a red convertible sports car. Straz was also wearing the green campaign shirt, and his wife was wearing a campaign button.
That could be problematic for Straz's charitable foundation. The IRS grants nonprofit organizations like Straz's tax-exempt status. But one of the rules that come with that status is a ban on engaging in political activity, particularly advocating in favor of a candidate or political issue.
Per the IRS's webpage explaining the restriction, "organizations are absolutely prohibited from directly or indirectly participating in, or intervening in, any political campaign on behalf of (or in opposition to) any candidate for elective public office."
Further, the foundation's sponsorship in the parade and its use of campaign supporters sporting Straz for Mayor swag could constitute a political contribution because it used campaign staff advocating for Straz's election in its participation in the parade.
The Straz campaign sponsored the annual event with at the $10,000 "bronze pirate" level, according to the Tampa Pride website.
If that's the case, it could also be a campaign violation. Campaigns can only accept maximum contributions, including in-kind donations, are capped at $1,000.
The Straz Foundation listed $3.4 million in revenue in 2017 and assets exceeding $68 million.
Straz's campaign has been marked by excessive spending, shattering any former Tampa mayoral campaign fundraising totals. Straz has put $4 million of his own money into the campaign and its affiliated Electioneering Communications Organization.
Critics have accused the retired banking mogul of trying to buy the election. Now his charitable foundation's resources appear to be joining that effort.
A spokesperson for the Straz campaign did not respond to multiple requests for comment through voicemail, email and a text message.
IRS violations of tax-exempt status are typically dealt with as a result of public complaints. The federal agency has a complaint process online. Tax-exempt organizations are also subject to oversight by State charity regulators and State tax agencies, according to the IRS.
Campaign finance violations are handled similarly through the Florida Division of Elections. Complaints there are typically not resolved until after an election is over and, depending on the severity of the offense, are subject to fines and, in rare instances, jail time.
The Jane Castor campaign declined to comment.