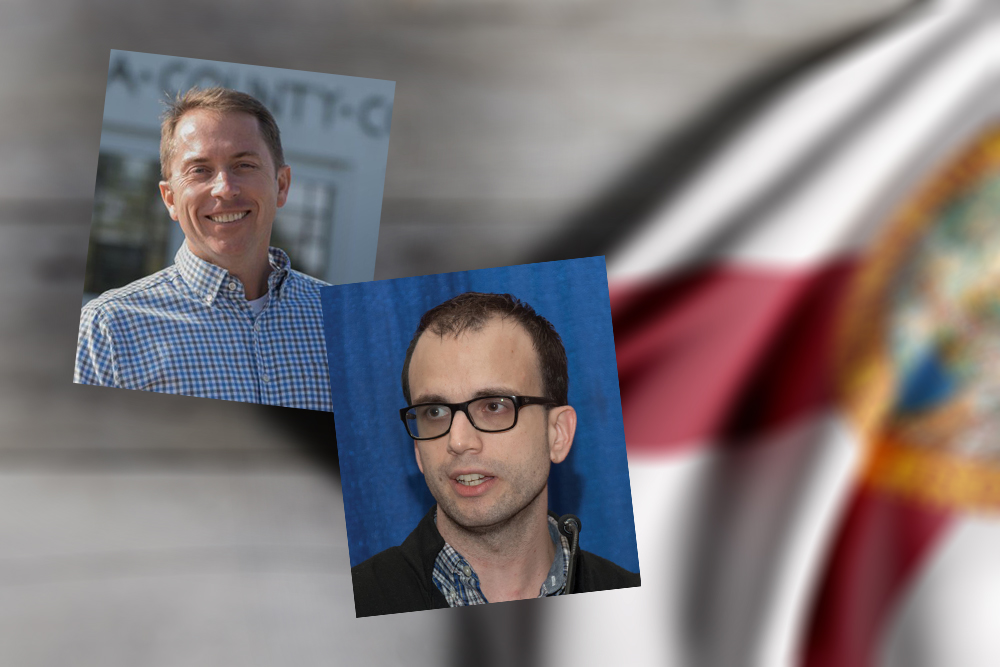 The two will face off in a June 18 special election for the open House seat.
Republican Jason Shoaf, 39, will tell you House District 7 voters want to elect someone who holds traditional values. Someone who balances family and business. Someone who is an unflinching conservative and principled through faith.
Democrat Ryan Terrell, on the other hand, will say voters want a candidate who promises to help reweigh the scales of power and rebuild the district. The 26-year-old doesn't perceive the same "singular identity" that Shoaf sees. And as a gay man, he believes his candidacy is an opportunity for any marginalized group in the district to elect someone with compassion and understanding.
Shoaf and Terrell will face off in a June 18 election to replace former Rep. Halsey Beshears. Beshears left the Legislature after Gov. Ron DeSantis picked him to lead the Department of Business and Professional Regulation.
The seat skews Democratic by voter registration but for years has been occupied by a Republican. No Democratic candidates even challenged Beshears, first elected in 2012, during his three subsequent re-elections.
But Shoaf, who's waged a visible campaign that included television advertisements during the primary, isn't taking anything for granted.
"We're going to approach this full-speed," Shoaf, a lifelong Panhandle resident, said during an interview a few days after he emerged overwhelmingly victorious from a four-way primary.
Facing unique time constraints, Shoaf quickly corralled support after declaring in late December that he'd run for the seat. Through the last week leading up to the April 9 primary, he had raised and spent more than any other candidate.
Shoaf, married with children, is the vice president of a natural gas and propane company in Port St. Joe, where he resides. 
His public service includes a stint as vice chair on the Port of Port St. Joe. Shoaf is currently a member of Triumph Gulf Coast, a nonprofit that will administer $1.5 billion in funds recovered by the state after the 2010 Deepwater Horizon oil spill. He said he will resign from the board if elected. 
As a Triumph member, Shoaf said he spearheaded job-training efforts to help revitalize the region's economy. If elected to the Legislature, he said he'd continue advocating for vocational training programs.
"We need more skills training in our schools — college isn't for everyone," Shoaf said. "But I believe, especially here in North Florida, that our kids have the ambition, right hearts, character and work ethic."
Having to adapt to politics quickly, Shoaf said he spoke "from the heart" on the trail. 
"It's easy to remember because everything that I say is who I am," Shoaf said.
He's made vocal his support for President Donald Trump and the Second Amendment. He said he plans to fight against abortion, something he views in "a one-dimensional light" as a question of whether humans should be able to "terminate a life."
These values, Shoaf said, propelled him to victory because they mirror those of the electorate.
"It was very clear to me from the beginning that [voters] wanted a conservative candidate," Shoaf said. "They wanted someone who was not a politician, they wanted someone who understood our way of life and really we continued to see that throughout the campaign."
Terrell is taking a different approach.
He did not face primary opposition and — despite involvement in the younger and more progressive politics of the Democratic party — is less overtly partisan on the trail.
Terrell works as a consultant for a local political communications shop and he holds a leadership position with Young Democrats of America, which brands itself online as "the largest youth-led, partisan political organization in the nation."
Terrell said he is a "candidate who happens to be gay" instead of a "gay candidate." He carries an endorsement from the Florida LGBTA Democratic Caucus, but said his advocacy would be intersectional to "vulnerable communities." 
"There are those in power and there are those that don't have power," Terrell said, adding that it's his job to "make sure those who don't have power are spoken up for."
Terrell said he is better positioned to hold office because he's previously worked as a staffer in the Legislature, both as an aide and an analyst for redistricting.
"I know how to do the actual bureaucratic process of getting these things done," Terrell said. "It's not just the votes that matter, it's about getting the constituent services that people need."
Terrell pointed to the obvious and the obscure when asked about the issues in the district. Storm relief is a focus. So is water quality in the Suwannee River and the Apalachicola Bay.
"Those are the two big waterways in this district and both of them have major water quality issues going on that we still haven't had to address at the state level," Terrell said.
Having worked with Census information during redistricting, Terrell sees a path to winning in the summer. Registration at face value is on his side, he pointed out.
"People are starting to take the idea that a Democrat can win in North Florida seriously," Terrell said. To him, it's a matter of reaching out to all voters and "not getting bogged down in basic cultural war issues."
While he's lagged on the fundraising front, Terrell said he's been prudential with the money he's received or loaned to his campaign. He's purchased mailers and radio spots set to go out before voters receive vote-by-mail ballots.
A last-minute qualifier for the race, Terrell said he had anxiety about running. But he ultimately decided to take a stab at the seat because he asked himself if the Democratic party would field another option.
"The answer to that question was 'no,'" Terrell said. "We had nobody who was ready or willing to step up at that point other than me."
The contrast is sharp between Shoaf and Terrell. But they both sound alike when they talk about Hurricane Michael, which affected a large chunk of the district six months ago.
"I lived through Hurricane Michael," Shoaf said. "Every morning when I wake up, I leave my house, I drive by homes that were destroyed — homes that burned down — and businesses that closed because of the destruction."
Terrell said lawmakers should focus on relief for timber farmers and access to affordable housing. 
Both acknowledged that people are living in "tents." Both expressed ire toward Congress' failure to pass a disaster-funding bill after the storm, faulting poor-form politics.
The differences between Shoaf and Terrell will play out over the next two months. But the race could be tame; neither appears to have an appetite for divisive politics in an arena that still hasn't recovered from disaster.