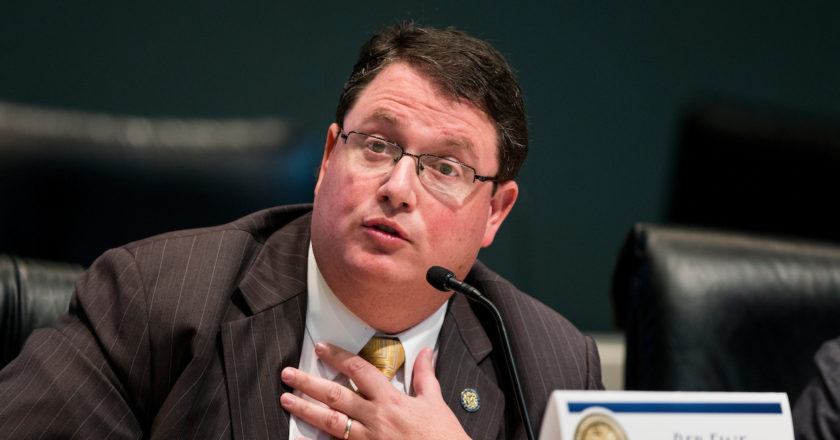 'Even retyping this makes my skin crawl,' Fine wrote.
Republican state Rep. Randy Fine is accusing a Brevard County radio station talk show host of anti-Semitism, racism, and white nationalism, as the Brevard lawmaker called for his removal in a letter he sent to the chairman and chief executive officer of the station's corporate owner.
Fine sent his letter Monday to Bob Pittman, leader of iHeartMedia Inc. of New York, which owns WMMB, a news-talk radio station broadcasting from Brevard County. In it, Fine spelled out his accusations against local talk show host Bill Mick.
In an email response to Florida Politics, Mick declined comment at this time, both on his own behalf and as program director for WMMB. Florida Politics also sought comment from the corporate spokeswoman for iHeartMedia, who has not yet responded.
Fine's concerns focus on comments he said Mick made on the air in late March about Democratic U.S. Rep. Val Demings and last week about Fine; his HB 741, a which seeks to include anti-Semitism in Florida's hate crime statute and require public schools, colleges and universities to recognize that; and Jewish college students. Fine said Mick's comments variously were racist, sexist, and anti-Semitic, and consistent with previous things Mick had said both on the air and to him personally.
"You have an obligation to not allow that platform to be used to promote white nationalism," Fine wrote to Pittman. "I am writing you on behalf of my Jewish and African-American constituents — and all those who oppose racism and anti-Semitism in our community — to ask that you remove Bill Mick, your only local radio talk host, from your WMMB station."
Fine said in an interview Monday that he does not listen to Mick's show but received complaints from constituents who were deeply offended. Mick's shows are recorded and available for later listening on the station's website.
In the interview and in his letter to Pittman, Fine faulted himself for not speaking out sooner.
His letter said he once was friends with Mick but that he "decided to quietly vote with my feet" after several comments, including one in which, Fine recalled, Mick had defended a county commissioner by noting that he "unlike me … was a 'good Christian' — an odd thing to say to someone who was Jewish."
Fine wrote that on March 25 a constituent told him that Mick said on the air that Demings, who is African-American and a former Orlando Police Chief, "was made the Orlando Police Chief … 'because she is a black female, period.' To ensure that his viewers understood that she had no redeeming qualities whatsoever beyond her gender and her race, he stated that she was 'stupid' and 'dumb as a box of rocks.' But still I kept my tongue."
Then in a broadcast last Thursday, Fine wrote, Mick spent much of his show dismissing HB 741, Fine, and Jewish students, mocking the students, according to Fine's letter, with, "We don't want the Jews to feel bad that somebody might say something about them."
In the interview, Fine insisted his response is not because Mick attacked him or his bill. Fine said Mick has regularly "badmouthed" him and his legislation  on the air, and that does not bother him.
"But when it reaches the point that he's belittling the 100,000 Jews in Florida colleges and universities, 75 percent of whom have had anti-Semitism against them on college campuses, that's when it crosses the line," Fine said. "It bothers me when my constituents are calling me upset."
He said much the same thing in his letter to Pittman.
"Even retyping this makes my skin crawl," Fine wrote after detailing what he said Mick said on the air. "But what bothers me even more is that I did not hear this hatefulness live. One of my Jewish constituents reached out to me upset about it. Because of my unwillingness to hold Mr. Mick accountable, she had to listen to this. … It is my fault that I have not spoken up.
"Worse, I realized that, last week, when the Democratic Leader of the State Senate [Audrey Gibson] made similar comments, referring to fighting anti-Semitism as 'divisive' and stating that it was the 'wrong battle' against the 'wrong enemy' I immediately called her out. It is hypocritical for me to refuse to hold those who claim to be of my own party to a lesser standard, and I apologize to my constituents for that. Neither party has a monopoly on hatred."