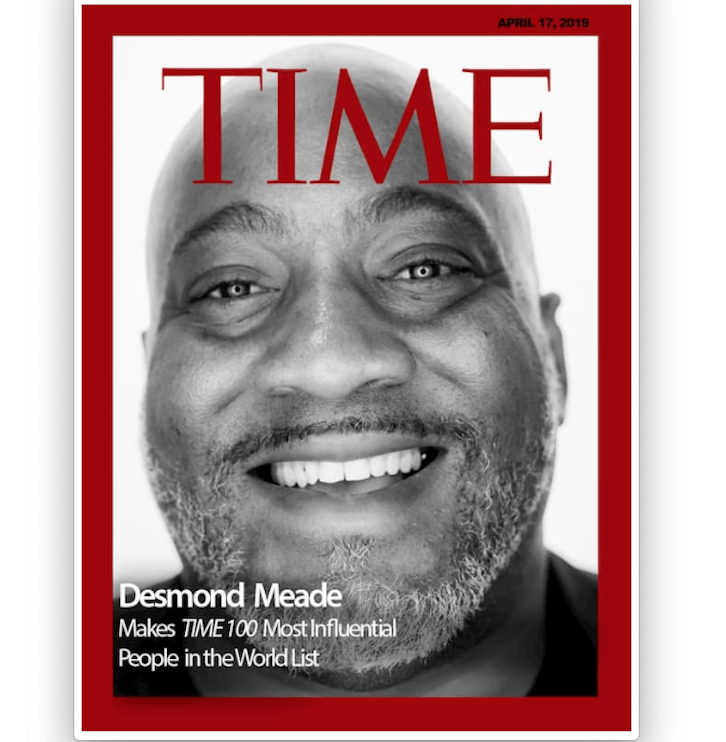 Desmonde Meade singled out as an icon for voting rights.
Florida's voter rights restoration champion Desmond Meade of Orlando is being featured in the latest issue of TIME magazine as one of the 100 most influential people in 2019.
Meade was the driving force, face, and soul of the broad, grassroots campaign last year for the passage of Amendment 4 to the Florida Constitution, restoring voting rights to people like himself who had been convicted of felonies yet served their full sentences. TIME named him as one of influential "Icons", along with such varied others as Taylor Swift, Michelle Obama, and Christine Blasey Ford.
The magazine's top 100 includes a broad cross-section of international figures including divided into categories "Pioneers" such as Sandra Oh and Barbara Rae-Venter, "Artists" such as Dwayne Johnson and Ariana Grande, "Leaders" such as President Donald Trump and House Speaker Nancy Pelosi, "Titans" such as Mark Zuckerberg and Bob Iger, and Icons.
"What an honor to make the TIME 100 list!" Meade tweeted Wednesday morning upon the announcement. "So appreciative of the folks God placed in my life along my journey. Especially my wife @sheena_meade."
Each profile story was written by a celebrity who also has been influential. Meade's was written by Stacey Abrams., who wrote that Meade's efforts were more than just about voting.
"Check the box and you lose the ability to secure a job, rent an apartment or get a loan. The formerly incarcerated—returning citizens—often face a cruel irony in America. Having paid their debt to society, too many are banned from the ballot box that could help them dismantle policies that essentially extend their sentences.
Desmond Meade decided to break this pattern for 1.4 million Floridians," she wrote.
Meade's efforts, which have taken many years, have led to the prospect of up to 1.4 million "returning citizens" getting their voting rights restored, the greatest potential expansion of rights in a half century.
That effort continues, as Florida lawmakers have been pushing through enabling legislation that would restrict the return based on whether the would-be voters have paid all their court-ordered fees, fines, and restitution. Meade and the Florida Rights Restoration Coalition he founded and leads have been fighting against the restriction, arguing that in many cases the financial obligations can be impossible debts for felons who can find only minimum wage employment, particularly in cases where such financial matters have been converted, by a judge, from a criminal sentence to a civil lien.