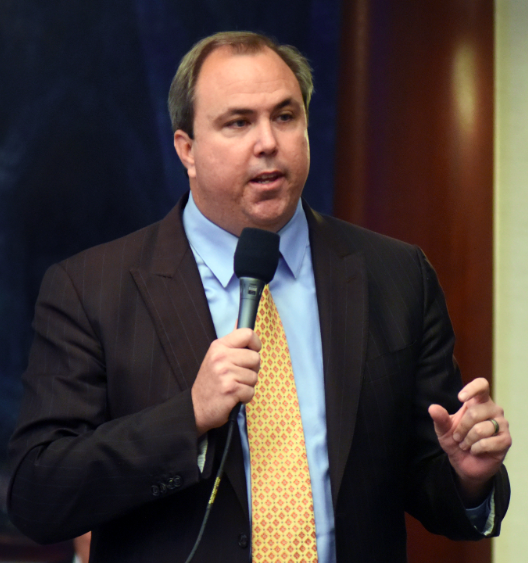 The sponsor says it's about "cooperating with the federal government, keeping communities safe."
What started as a ban on so-called "sanctuary cities" and morphed into a larger "immigration enforcement" bill barely cleared its last committee on Wednesday.
After a contentious hearing, the Senate Rules Committee advanced the bill (SB 168) on a 9-8 vote, making it ready for the floor. A House companion (HB 527) also is ready for the floor there.
"This is a bill about respecting the law, cooperating with the federal government and keeping our communities safe," said Sen. Joe Gruters, the measure's sponsor.
But critics, including the Florida Immigrant Coalition, called it "draconian," saying it would "erode trust in law enforcement (and) force state agencies to report undocumented immigrants." They've renamed it the "Family Separation Bill."
Gruters, a Sarasota Republican and chairman of the Republican Party of Florida, has called the effort his top legislative priority this year.
The legislation doesn't address federal immigration policy, he said, but does require state and local law enforcement to cooperate with U.S. Immigration and Customs Enforcement.
Democratic members, however, argued strongly against the bill. They said it would lead to fear and discrimination in immigrant communities.
They noted no Florida city today identifies as a "sanctuary city," defined as one that "has enacted policies that limit local officials' involvement in the enforcement of federal immigration law."
"There's no such thing as a sanctuary city," said Sen. Jose Javier Rodriguez, a Miami Democrat. "This is a divisive, racially motivated and costly bill."
Rodriguez offered a number of amendments: One sought to lift requirements for Department of Children and Families investigators to cooperate with ICE. Another aimed to protect victims and witnesses to crimes. All were shot down.
Sen. Gary Farmer, a Fort Lauderdale Democrat, asked that the bill broadly prohibit discrimination based on race, religion, ethnicity or national origin.
Gruters countered that law enforcement profiling should face consequences, but said stopping immigration from considering national origin was nonsensical.
The bill drew dozens to Tallahassee to speak for and against the legislation. That included some families of those killed by undocumented immigrants.
Kiyan Michael, who spoke at a press conference alongside Gruters earlier in the day, said weak enforcement of immigration laws cost her son Brandon's life. He was killed in a fatal car crash by an immigrant deported twice before.
"We want the danger removed," she told committee members.
But immigrant families said the bill will lead to family separations and leave immigrant communities in fear.
Ida Eskamani, spokeswoman for the Florida Immigrant Coalition, has worked with survivors of the 2016 Pulse shooting. That's the second deadliest mass shooting in modern U.S. history; the killing took place on a "Latin night" and touched a number of immigrant families.
"Folks feared going to the FBI, sharing stories and helping solve that horrific crime," she said.
And Amy Morales, a Florida State University student senator, said the bill will force campus police to start enforcing immigration policy on students. As the child of a father deported when she was 9 years old, she said that would create a fearful environment.
"This will make all students at Florida State University who are undocumented feel unsafe," she said. She also turned to Gruters during testimony and asked, "Please stop referring to my father as an illegal alien. That is not what he is."
The committee hearing grew tense at various points.
Rules Chair Lizbeth Benacquisto had to shut down a Fort Myers speaker from her district who said the debate made her grateful she didn't live in Miami. Farmer later said South Florida was fine with the woman's residency choice.
Farmer also slammed the legislation as racist for connecting the violent acts of a few to the immigrant community as a whole.
"The suggestion by some that there (is) a direct correlation to crime or increased death is absolutely wrong and patently racist," Farmer said. "We are a nation of immigrants, and we owe it to ourselves to do better than this."
Ultimately, Democrats on the Rules committee all voted against moving the bill, and all Republicans but one — Anitere Flores of Miami — voted in favor.
Gruters said despite the hostile rhetoric surrounding the legislation, it will only impact violent criminals who have active ICE detainers.
"It is unfortunate," he said, referring to rhetoric from both sides, "but this bill is about respecting the rule of law."