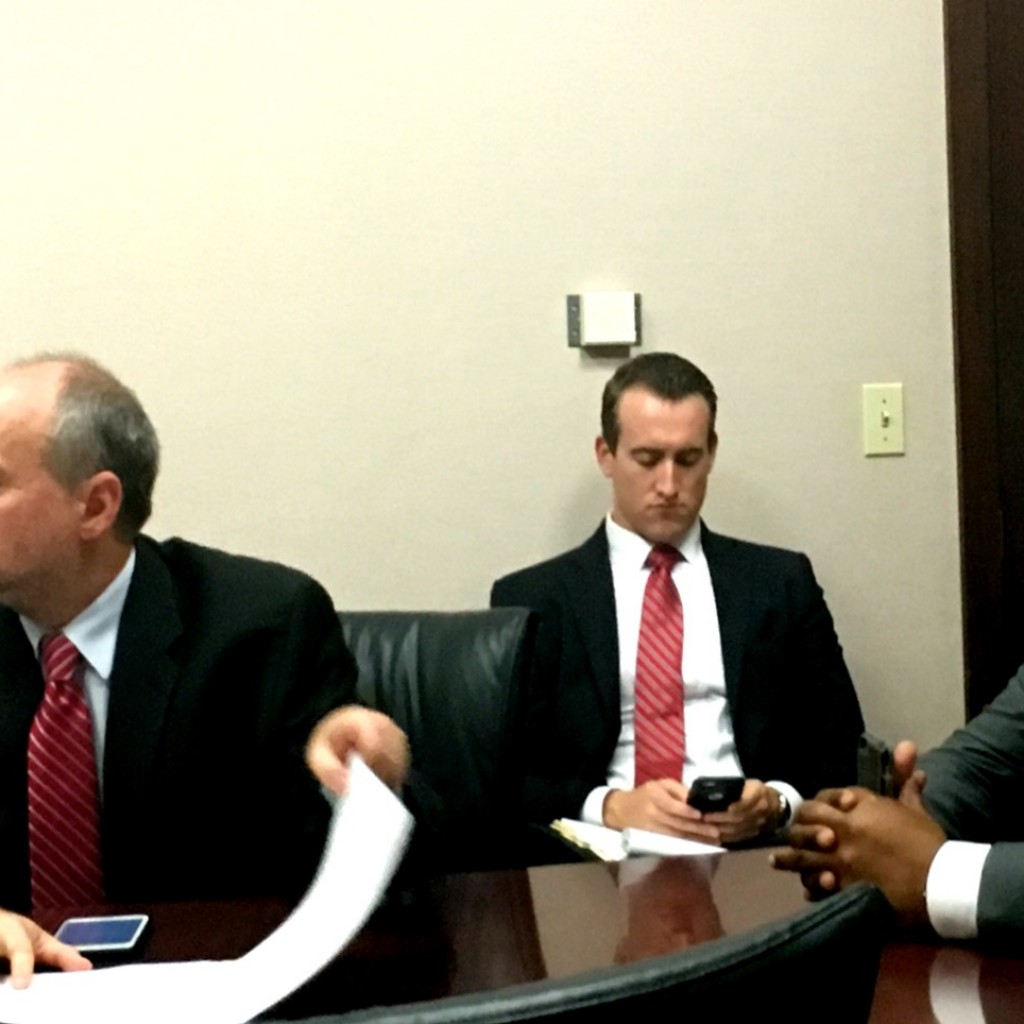 The Supreme Court of Ron DeSantis reversed the court of Rick Scott.
In a rare and stunning turn of jurisprudence, the Florida Supreme Court on Thursday reversed itself on a ruling made just three months earlier and declared that Orange County's elections for constitutional officers such as sheriff and property appraiser must remain partisan.
The 6-1 decision, released Thursday, is the latest and perhaps final — and certainly most surprising — move in a chain of elections, lawsuits, and court decisions that have left Orange County's elections in flux for five years. And it hands a huge advantage to Democrats, who dominate the county's voter rolls and fought to keep the elections partisan. It is surprsing because no one had expressly asked for a reversal, just a clarification of the court's previous ruling.
Essentially what happened is the court with three new justices appointed by new Gov. Ron DeSantis reversed what was decided in the last week of the Supreme Court that had served with former Gov. Rick Scott. Those three new justices joined the previous dissenters to form a new majority.
The decision may throw into flux the status of elections in other counties, notably Hillsborough County.
The latest decision is based on a reading that Florida Election Code expressly provides for political parties to nominate their candidates during a primary election for constitutional offices, so Orange County's law banning that "directly conflicts with the Florida Election Code," the majority wrote.
In Orange County, Thursday's ruling invalidates part of the outcome of a 2014 election in which Orange County voters overwhelmingly voted to change the status of the county's constitutional officers from partisan to non-partisan. Several of those officers, led by Property Appraiser Rick Singh and Tax Collector Scott Randolph, both Democrats, had sued prior to the 2014 election seeking to stop it, contending that the Orange County Commission was violating state law in putting the question before voters. After the election went forward their challenge continued, seeking to invalidate it.
To complicate matters even more, in 2016 the Orange County Commission put another countywide issue on the ballot to clarify the 2014 charter amendment, with the aim of circumventing potential legal maneuvers by Singh and Randolph. Voters also approved that charter amendment by an overwhelming majority.
The Florida Supreme Court agreed with Singh and Randolph on Thursday, essentially tossing out the key part of the 2014 and 2016 Orange County charter amendments, at least as they relate to the partisanship of the constitutional offices. [The courts left standing other parts of the 2014 charter amendment, including one that imposes term limits.]
The Supreme Court's ruling resets the 2020 county elections as partisan only weeks after Orange County began preparing for non-partisan elections.
The decision is not yet officially final. The court allowed for parties to file motions for rehearing, and they have 15 days to do so.
However, the political changes of Orange County could make that unlikely. The nonpartisan election efforts had been led by then-Mayor Teresa Jacobs, a Republican, backed by a Republican-dominated Orange County Commission and a Republican-dominated Orange County Charter Review Commission.
"What's at stake if we let that [appeals court] decision stand?" Jacobs challenged when she announced in 2018 that the county would appeal to the Florida Supreme Court. "Well, first and foremost, at stake is a very clear and decisive will of the [Orange County] electorate, expressed by an overwhelming 70 percent, not once, but twice in the last three years, will not be honored, will not be upheld. Second, the citizens of Orange County and other counties in this district will have less rights of self government than all other charter counties in the state of Florida. How can that possibly be right?"
However, she left office in November, replaced by new Mayor Jerry Demings. Demings not only is a Democrat, he initially was a co-plaintiff in the suit along with Singh and Randolph. A judge booted him from the suit, saying he did not have proper standing. Also, last year's county elections flipped the Orange County Commission from a 5-2 Republican majority to a 5-2 Democratic majority.
In a written statement released late Thursday, Demings sounded as if he's ready to move on, comfortable that voters got a clarification they deserved.
"We knew that the 2014 Orange County ballot initiative regarding non-partisan elections embodied complex political and legal issues, which has now been manifested by the Florida Supreme Courts withdrawal of its former opinion on these issues in January 2019. The voters deserved for the issues to be clarified by the courts and we have a final ruling that allows us to move forward," Demings stated. "A portion of the county's ordinance was invalidated by the Supreme Court, but leaves us with an ordinance and guidance for the future. As the Mayor, I will work with the Orange County Supervisor of Elections to ensure elections of our Constitutional Officers comply with Florida law."
Randolph issued a statement reading, "I agree with the near unanimous decision of the Supreme Court. I look forward to putting this case behind us and building a strong working relationship with our new mayor and county commission."
Singh stated, "Today the Supreme Court of Florida reversed its earlier decision and ruled in favor of fully-informed decision making by voters. We thank the Court for reexamining its stance and for ensuring that local elections reflect the local electorate."
Orange County Democratic Chair Wes Hodge weighed in with, "We are thankful that both Tax Collector Scott Randolph and Property Appraiser Rick Singh fought to maintain transparency at the ballot box. Voters will still be able to identify and vote for the candidates which share their political values."
Singh and Randolph had won in a trial court in Florida's 9th Judicial Circuit, and that decision had been upheld in appeal to Florida's 5th District Court of Appeals. Consequently, the 2016 and 2018 county elections for constitutional officers went forward as partisan elections while the case moved up through the courts, even though voters had said otherwise in 2014. But the Jan. 4 ruling shot that down.
That 4-3 ruling validated the 2014 charter amendment election and allowed for nonpartisan elections. Orange county officials were preparing for their first nonpartisan elections ever for the offices of sheriff, property appraiser, tax collector, clerk of courts, supervisor of elections, and comptroller.
The Florida Supreme Court had declared that Jan. 4 ruling to be final, meaning there would be no chances for a rehearing, and the issue appeared finished.
But the issue was not clear. Parties complained that there was ambiguity in the written opinion, and uncertainty about how Orange County should proceed with nonpartisan elections, because there  appeared to be conflicts in the applicable laws. So Singh, Randolph, and Orange County Supervisor of Elections Bill Cowles filed motions with the court asking for guidance.
Rather than give guidance, the court gave them a whole new opinion.
"There is no ambiguity to be found in this opinion," said Cowles' attorney, Nicholas Shannin of Orlando.
Now those 2020 elections will indeed include partisan primaries in August, 2020, followed by general elections in November, as in the past. So guidance no longer is needed.
What has changed since January? The court, for starters.
Three of the justices who in January voted in favor of Orange County's nonpartisan elections charter amendment, Peggy Quince, Barbara Pariente, and Fred Lewis, are gone now. Their successors, Justices Barbara Lagoa, Carlos Muñiz, and Robert Luck joined with the January dissenters, Justices Ricky Polston and Alan Lawson and Chief Justice Charles Canady, for the new opinion supporting Singh and Randolph, and reversing the Jan. 4 opinion.
Justice Jorge Labarga had voted with the majority in January, and was the only dissenter in the new ruling.
The majority opinion stated: "Florida Election Code expressly preempts the Orange County ordinance, an ordinance that is in direct conflict with the Florida Election Code regarding whether candidates nominated by major political parties in the primary election may appear on the general election ballot for county constitutional officers. Therefore, we approve the decision of the Fifth District, which held that the Florida Election Code preempts the Orange County ordinance requiring nonpartisan elections for county constitutional officers."
In his dissenting opinion, Labarga essentially said he saw no reason to change his mind.
"Court held that the Florida Election Code does not expressly preempt the home rule authority of Orange County to determine that its constitutional officers be elected in a general election without partisan affiliation," Labarga wrote. "I concurred in that decision, and I continue to agree with the analysis and conclusion reached by the earlier majority."