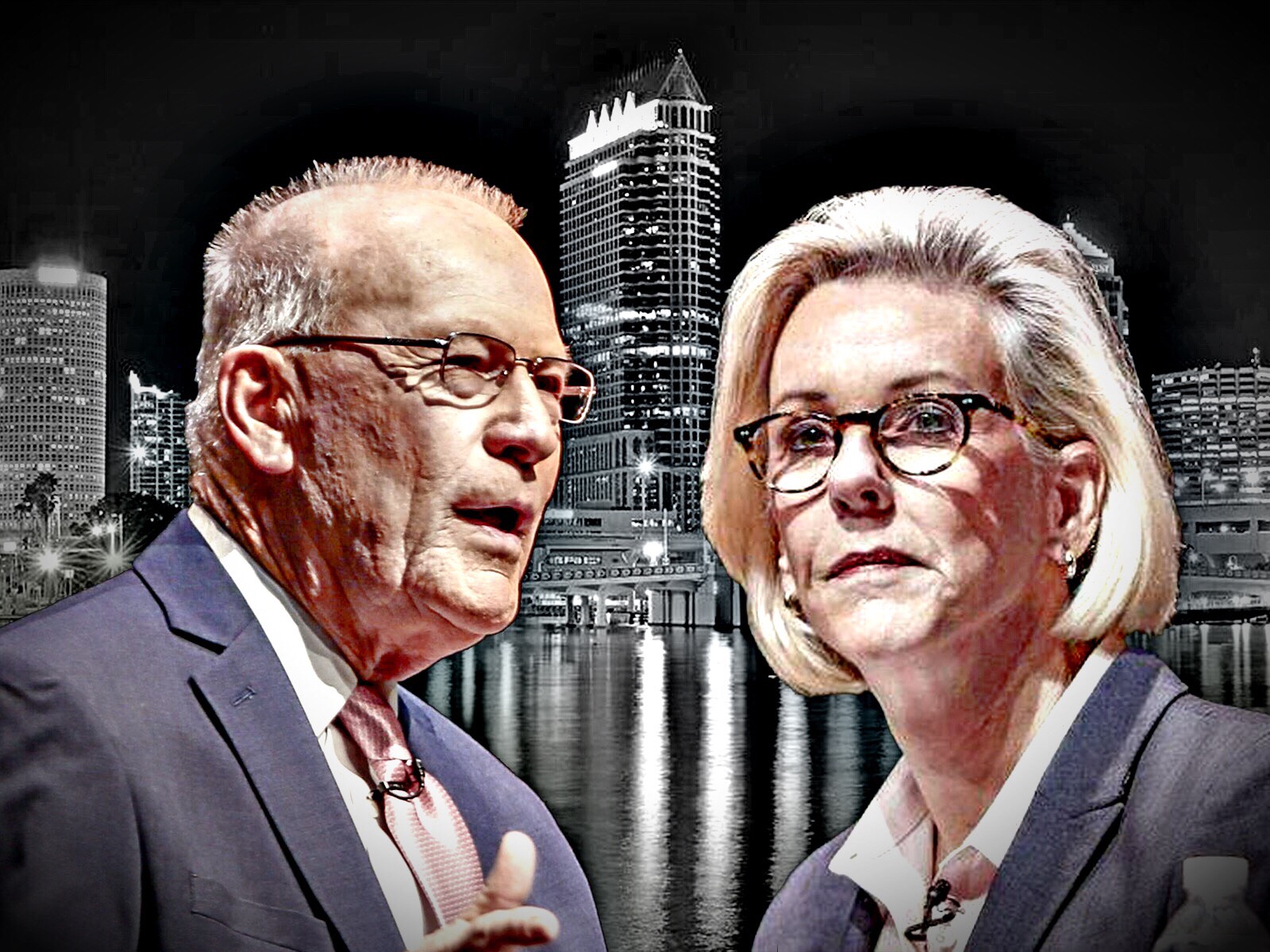 "Beside swaying opinion, it's swaying them in a way to get them to vote."
The David Straz campaign sent out an online poll to voters this week asking leading questions aimed at swaying voter opinion in the Tampa mayoral race against former Police Chief Jane Castor.
The "informed ballot" tactic offers survey-takers a piece of information and then asks for opinions on that information.
In the Straz poll, of which Florida Politics obtained screen shots, the campaign asks voters in one question to indicate if they "think the following statement is definitely true, probably true, probably not true or definitely not true."
"Jane Castor's claim that she lowered the crime rate by 70 percent is simply not true. She manipulated the crime statistics to make her job performance look better. Violent crime, like rape and murder, has actually gone up in Tampa," the statement read.
Another question asks voters whether or not they agree with the statement, "Jane Castor has taken hundreds of thousands of dollars from lobbyists, developers and contractors who do business with the city. I believe these people will get special consideration when competing for business with the city even if it costs taxpayers like me more money."
The Straz campaign didn't respond to questions about the poll.
Campaigns typically use these types of surveys to test messaging. By asking voters what they think about potential issues, it gives strategists an idea of whether or not they will gain traction among voters.
But in this case the poll went out the week before the election, which is far past the time to test messaging. And the questions contain information the Straz campaign has already blasted out to voters in television ads and campaign mailers.
"At this point, beside swaying opinion, it's swaying them in a way to get them to vote," said political analyst and University of South Florida Distinguished Professor of Government and International Affairs Susan MacManus.
Straz has been heavily targeting blue collar and African-American voters, both demographics MacManus said are more likely to be swayed by messages of political corruption and bought influence.
"They are the least likely to vote in a runoff,"MacManus said.
Florida Politics did not obtain all of the questions, but a source who received the survey said the rest of the questions were basic questions about demographics.
The two questions shared echo talking points Straz has been pushing for months on the campaign trail and even more so since the March 5 Municipal Election.
He's hammered Castor over claims from three retired Tampa Police officers that she manipulated crime data to make it appear as though crime rates were lower than they actually were.
Straz's claims are not blatantly false. The agency did update its crime reporting practices under the FBI's Uniformed Crime Report requirement. A 2007 state audit after the agency changed its methods found there was a crime reduction following the change.
However, that same report also found the agency's data was "significantly correct" and listed several other reasons crime might have gone down. A criminology expert from the University of South Florida later explained there was also a sustained trend in reduced crime, indicating the crime reporting change would not have arbitrarily showed lower crime statistics.
Despite evidence that the reporting methods were both accurate and legal, the Straz campaign continues to stick to its claim and has produced several television ads featuring the officers' claims and labeling Castor as a "liar."
Straz's campaign has also criticized Castor for accepting large campaign contributions from lobbyists, developers and other political insiders and makes the case that such donors are attempting to buy influence in Tampa city government.
"It just feeds into the narrative that all politicians are corrupt,"MacManus said.
That plays into Straz's other narrative that he is not a career politician and represents a needed contrast to the "cabal" that currently exists and that Castor would continue.
Castor's campaign and many of her supporters frequently criticize Straz for employing negative campaigning tactics and have called on Straz to focus instead of issues facing Tampa residents. But MacManus said Straz's negative strategy might be his only hope at winning.
Two polls out this week put Straz at a nearly insurmountable deficit. A University of North Florida poll put Straz 36 points behind Castor. Another St. Pete Polls survey put him 23 points behind.
"When you are so far behind in a first election you have to do something that will really mobilize people and positive to positive messaging doesn't do that. You really have no other option than to go negative," MacManus said.
St. Pete Polls pollster Matt Florell offered a different take on why Straz would put out this kind of survey so late in the race.
"Maybe he wants to appear that he's doing better than he is by putting out a poll that is kind of one sided," Florell said.
He added the poll and its timing did seem odd: "But a lot of things that have happened have seemed odd in that race."