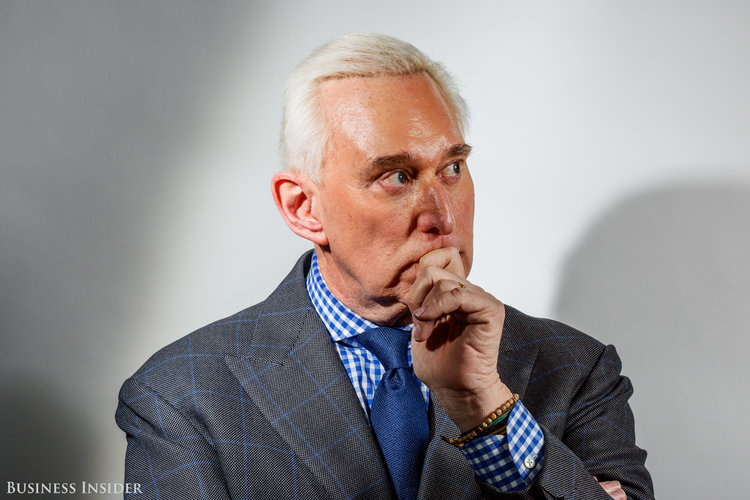 The Special Counsel also asked Trump about Stone's Wikileaks connections.
A full redacted report from Special Counsel Robert Mueller details investigations into numerous people around Donald Trump's presidential campaign.
But there's not a tremendous amount to read about Florida man Roger Stone.
The report does detail a meeting Stone had with a Russian operative trying to sell dirt on Democratic presidential candidate Hillary Clinton.
But as far as criminality for Stone, that information may have to wait for the part-time South Florida resident's upcoming trial.
A federal court filing on Wednesday by U.S. attorneys involved in the Stone case made clear information most information about him will be redacted for the moment.
Attorney General William Barr in a press conference Thursday said a more complete version of the report can be viewed by select members of Congress. But even that will have information related to grand jury investigations withheld.
So what does the Mueller report reveal about the part-time South Florida resident? Most notably, the report details a meeting between Stone and a Russian based in Florida.
Henry Oknyansky, who also went by the name Henry Greenberg, claimed to have derogatory information on Clinton and met with Stone in May of 2016.
Trump campaign advisor Michael Caputo coordinated the meeting between Stone and Oknyansky.
"Oknyansky was accompanied to the meeting by Alexei Rasin, a Ukrainian associate involved in Florida real estate," the report reads.
"At the meeting, Rasin offered to sell Stone derogatory information on Clinton that Rasin claimed to have obtained while working for Clinton. Rasin claimed to possess financial statements demonstrating Clinton's involvement in money laundering with Rasin's companies.
"According to Oknyansky, Stone asked if the amounts in question totaled millions of dollars but was told it was closer to hundreds of thousands. Stone refused the offer, stating that Trump would not pay for opposition research."
Oknyansky had tried to shop information before, the report says. Mueller found no evidence Rasin actually had any business dealing with Clinton.
Caputo and Oknyansky offered different accounts of the meeting. Caputo said he wasn't even at the meeting and only learned from Stone that Okyansky wanted to be paid for information.
Beyond that meeting, it's clear based on written questions sent to Trump by the investigator that Mueller held a strong interest in Stone's interactions with Russian hackers and websites publishing stolen information.
Mueller asked if Trump had any knowledge of Stone interacting with Wikileaks publisher Julian Assange or anyone with the website.
Wikileaks published stolen emails obtained, Mueller found, when Russians hacked Democratic campaign servers.
Emails from the Democratic National Committee were originally released on Guccifer 2.0 and DCLeaks, a Russian-run blog. Mueller also asked Trump if he knew of Stone's communications with either of those sites.
More specifically, Mueller asked Trump if he knew specifically about Stone reaching out to Wikileaks on or about Oct. 7, the day the site published emails stolen from Clinton campaign chair John Podesta.
The questioning suggests Mueller was investigating any knowledge Stone had of the timing of the email releases. The emails ultimately generated significant negative attention on Clinton while she was leading Trump in polls.
The level of communication between Trump and Stone seemed of high interest to Mueller, who asked the President "From June 1, 2016 through the end of the campaign, how frequently did you communicate with Roger Stone? Describe the nature of your communication(s) with Mr. Stone."
Trump's written responses maintain he had no knowledge of Stone or any intermediary communicating with Wikileaks.
"I was in Trump Tower in New York City on October 7, 2016," Trump wrote. "I have no recollection of being told that WikiLeaks possessed or might possess emails related to John Podesta before the release of Mr. Podesta's emails was reported by the media."
Trump did say he spoke "from time to time" with Stone by telephone.
"I do not recall discussing WikiLeaks with him, nor do I recall being aware of Mr. Stone having discussed WikiLeaks with individuals associated with my campaign, although I was aware that WikiLeaks was the subject of media reporting and campaign-related discussion at the time," Trump said.
The President said at no time did he hear from Stone about the entities releasing the hacked information.
"I do not recall being told during the campaign that Roger Stone or anyone associated with my campaign had discussions with any of the entities named in the question regarding the content or timing of release of hacked emails," he responded.
In October 2017, Acting Attorney General Rod Rosenstein explicitly confirmed in a memo to Mueller that he had he authority to investigate Stone.
The Mueller report largely focuses on a disinformation campaign by Russians, and found several Americans shared some of that bad information on social media. That includes Roger Stone and Fox News host Sean Hannity.
The report also said it was Stone who recommended Trump hire Paul Manafort as campaign manager.