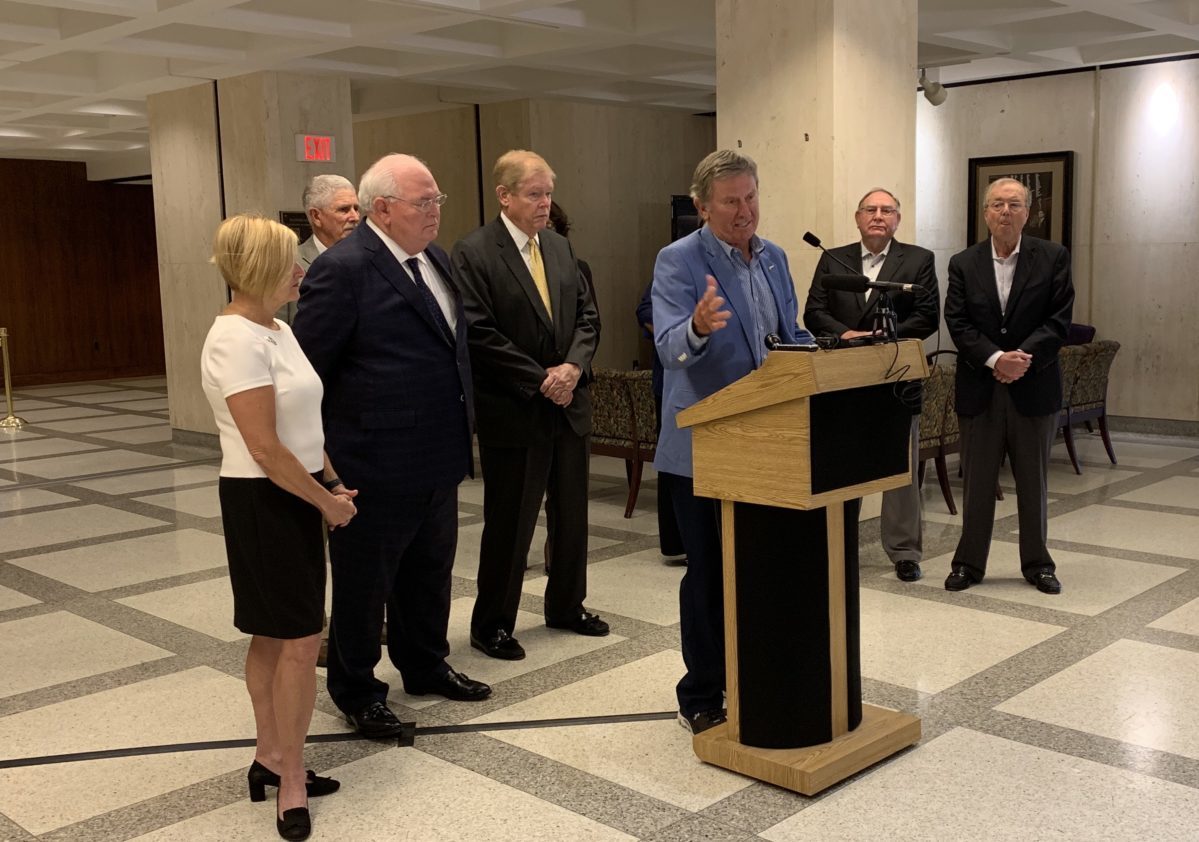 "We need hearts to be changed to help people that are really hurting." 
A trio of collegiate coaching legends came to the Capitol Thursday to ask state lawmakers to pony up funds to get the Panhandle back on its feet six months after Hurricane Michael.
Steve Spurrier, Cliff Ellis and Mickey Andrews took to a microphone and a gaggle of cameras in the 4th floor rotunda, asking lawmakers "to immediately support disaster relief efforts in Northwest Florida," as the media advisory put it.
"More than six months after the Category 4 impact of Hurricane Michael, residents and businesses have yet to recover from the devastation, leaving Floridians unable to rebuild their communities and their lives," it said.
Ellis, the former University of South Alabama, Clemson and Auburn men's basketball coach and a Marianna native, delivered the most impassioned argument on the continued need for help in the smallest, most rural towns.
"I can tell you what I saw. What I saw was my brother, 70 years old, on a tractor excavating his land by himself because there's nobody there," he told reporters. "Everybody is pulled out. He's breaking a sweat, and what hit me was, 'what is somebody 85 years old got to do?' "
Referring to clean-up crews for hire, he added that "some of these people are wanting $20,000 and $30,000 to clear the land. It blows me away when I hear that.
"Not only that, but in Blountstown, I think 250 students have already left that area. The hospital in Bay County? Gone. I mean, where are people getting medical help? Go to Marianna and just drive downtown. You know, something's got to be done."
Sen. Bill Montford, the Tallahassee Democrat whose district stretches from the Big Bend west into the Panhandle, where Michael hit hardest, also spoke at the press conference. He indicted Congress for letting north Florida down.
While praising North Florida Congressmen Neal Dunn, a Republican, and Al Lawson, a fellow Democrat, Montford said he wanted to "make it real clear: The problem is in Washington. Because they're deadlocked. They won't do their job.
"And it's frustrating," Montford went on. "It's frustrating when we know the conditions that people are living in and Washington can't sit down and do their job."
Spurrier, the former University of Florida "head ball coach" whose daughter and son-in-law live in Bay County, said "we've got a crisis in the Panhandle … Bay County, Gulf County."
"… We need to take care of our people in the greatest state in the union. So hopefully, hopefully we can get some bill passed. I think the money is here to do it and to really help these people," he added.
Andrews, who was the Florida State Seminoles' defensive coordinator under Coach Bobby Bowden, said a "tragedy" like Hurricane Michael should be enough to spur people into action.
But too often, it's not.
"Now what we need to do as a country is to unify. We've got people over there … I mean, it's just unbelievable," Andrews said. "It was such a tragedy when it happened six months ago. Folks, it's still a tragedy. This thing's not going to get fixed for years.
"People still don't have a place to live; people have had to leave for jobs," he added. "… The Bible tells us to help those that need help and it's our job to do what we can do and be accountable to help our fellow citizens. Keep praying about that. We need hearts to be changed to help people that are really hurting."