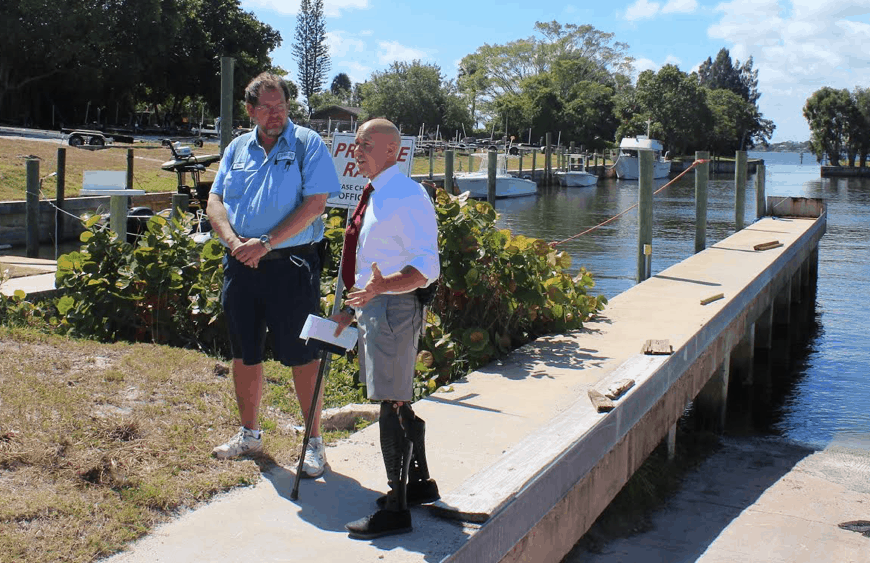 'Total and absolute disaster.'
Republican U.S. Rep. Brian Mast blasted the Army Corps of Engineers policy governing discharges of water from Lake Okeechobee as "a total and absolute disaster" and called on the corps to strongly take into account the impacts on the coasts as it develops its new policy.
Mast, of Palm City, submitted comments as the corps goes through the process of replacing its Lake Okeechobee Regulation Schedule. That LORS policy governs when, why and how much water is discharged from the lake into rivers to make its way to the east and west coasts.
The corps is formulating the new policy, dubbed the Lake Okeechobee System Operating Manual, and accepting public comment, because of a section Mast got included last year in Water Resources and Development Act, Senate Bill 3021.
"LORS has been a total and absolute disaster. Under the false pretense of 'shared adversity,' the entire system was designed to benefit certain water users at the severe detriment of the east and west coasts of Florida," Mast wrote in the comments submitted to Ann Hodgson at the U.S. Army Corps of Engineers Jacksonville District.
Mast was referring to the algae blooms that ravaged both coasts in each of the past two years, fed in large part by the nutrient-rich waters  diverted from the lake, through the rivers, to the coasts, leading to massive algae growth, marine animal die-offs, public health crises, and hard hits to the tourism and fishing economies.
"My constituents have seen their animals killed, their personal health put at severe risk, their surrounding environment destroyed and their businesses decimated — in large part due to the U.S. Army Corps of Engineer's deeply flawed operations system," he continued."
Mast's comments include a reminder that the corps must consider direct and indirect effects on the human environment. He argues that those must include effects on public health and safety; unique characteristics orf the area; potential for controversy; uncertainty about effect or unique risks; potential for establishing precedent; cumulative impacts; potential adverse effects on things listed on the National Register of Historic Places and the loss or destruction of significant scientific, cultural, or historic resources; potential adverse effects on endangered or threatened species or their habitat, or on critical habitat; and potential for violation of another law or requirement imposed for the protection of the environment.
"Moreover, you are required to consider the human environmental impacts, including detrimental effects on ecosystems such as the St. Lucie and Caloosahatchee rivers, the health risks associated with human interaction with those water bodies, and the relationship of human communities to those water bodies, such as detrimental economic impacts," Mast added.
Mast also included 26-page report prepared by his office detailing the environmental and human impacts of Lake Okeechobee discharges. plus more 1,100 written comments he forwarded to the corps from his constituents.